Absolute Proof the Malaysian Jet Disappearance is a Hoax
Regarding the Malaysian Airlines issue of a supposedly vanishing jet this is obviously a fraud of the most extreme degree. No one expected the Malaysian government to act as a perpetrator. This caught many people by surprise.
Yet, it did so, and it proved that, like the others, it is a compliant regime of the Zionist cabal. The Malaysian government and hierarchy, including the military, is a culprit in this hoax, let there be no doubt about it. Tyranny and corruption is certainly not deficient in the Malaysian hierarchy. It has in the past even perpetrated the torture of dissidents.
Even so, are the powerful ones of the Malaysian system capable of perpetrating a hoax to serve their masters, just like the Chinese did with Asiana Airlines? Apparently, they are fully capable, fully willing to do so. An airliner that disappears into thin air, "vanishes" without a trace, as is the standard story line, all endorsed (or at least no disputed) by Malaysian officials? It does so without even a single particle of wreckage being discovered, even though the flight path was surely known, which is unheard of in all history. TWA 800 had ocean related wreckage, and so did Air France and all other crashes of massive jet airlines. Who would believe this vanishing act to be plausible?
It only makes sense if there were no crash at all and, then, if the passengers were mere espionage agents (or paid crisis actors).
Whether for the Chinese or the Malaysians, rather than being a real, dire catastrophe it was instead a fake, a mere a media circus, never a real event. How can there be both fake crisis actors, Photoshopped phonies, plus real victims? That is implausible. Moreover, it is the first time in history that such an media circus was directly associated with crash victim relatives. Never before has there been this degree of involvement of the media in recording facial reactions of shocked relatives of a plane catastrophe:
See the vastness of the cameras. What airplane catastrophe in history has been associated with such a response? The Mossad downing over Scotland of Pan Am 103 never received such a vastness of media attention. Nor did the blowing up out of the sky of TWA Flight 800. Both of these were real airline catastrophes with real deaths, in fact, with all on board being slaughtered.
What a mass of Zionist-controlled media it is. What power these arch-perpetrators hold. It is truly incredible that they could fake such an issue and cause the entire world to believe it.
Now, look at this fraudster. Surely, she is a crisis actor being fully reimbursed for the role. In other words, by no means is she a grieving relative, as advertised. The area is virtually isolated with the exception of the rare traveler. The rest of the people are media moles.
No one could close the eyes tighter than this. There are no tears. She is not a real relative. Clearly, instead she is a crisis actor. The case is closed; this is a terminal hoax, just like all the others, just like the phony Asiana Airlines crash, Sandy Hoax, the Boston smoke bombing phony, and far more.
http://images.gmanews.tv/v3/webpics/v3/2014/03/640_2014_03_09_13_01_04.jpg
Yet, what is the standard story line offered by the Zionist cabal in relation to this image?
Grief seizes kin of passenger on missing Malaysian plane | GMA …
Journalists attempt to interview a woman who is the relative of a passenger on Malaysia Airlines flight MH370, as she crouches on the floor crying, …
There is no evidence that this crisis actor at any time was crying. She often covered her face and her mouth from view: there were never any tears shed.
There it is, the ever-present cell phone as a hoax component. Furthermore, there are no tears in any of her images. Too, like many of the other fakes and phonies she frequently shutters her eyes. The cell phone serves no purpose. Information about the crash would come from airline officials. It is merely a prop, commonly used by the orchestrators who stage these fakes as a key prop for the psychological operation.
The mass presence of media moles and agents alone should cause any scrutinizing person to think, to realize that this is no real event. What about those media moles and camera-people? How are they reacting to the scam?
It is a casual reaction to say the least. Is there not an honest one among them that will admit to the fraud?
Here are additional fraudsters for hire who are faking shock and grief. There are no tears here either. Note hand over the face technique so commonly applied by such crisis actors. Once again, there are no tears being shed. Nor are there any additional relatives or loved ones to console these individuals. They are isolated entities before the cameras, which proves the degree of the fabrication.
Perhaps the most extreme of all crisis actors who feign shock and despair is this Chinese woman. An absolute fraudster by no means is she a real relative of an airline catastrophe loved one. She shutters her eyes like the rest of them, while shedding no tears.
Note the HD cameras surrounding her, as these people are all on assignment to spread the lies. What a classic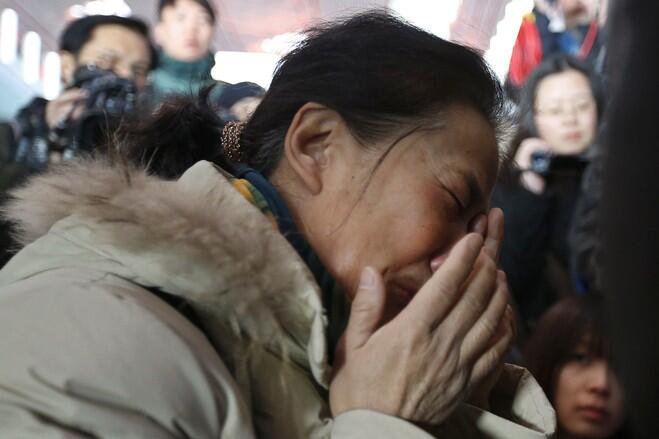 She performs quite an act with the hands over the mouth and eyes technique.
Here is yet another crisis actor using the hand-over-the-mouth-and-eyes technique, while still emitting no tears: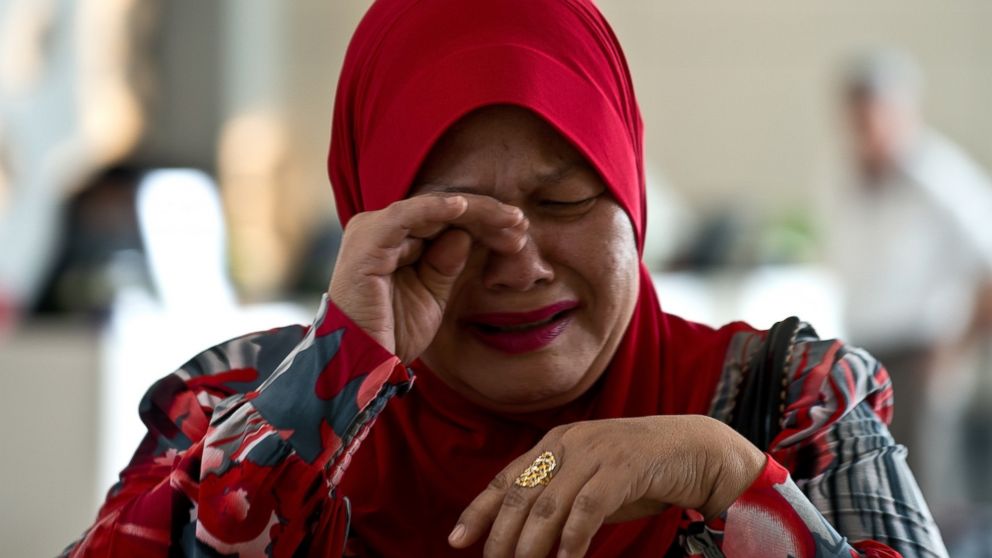 Is it not incredible? The grieving relatives are virtually all in isolation before the cameras. Actual extended families are only more rarely seen. In most instances there is no one to console such actors.
Here are additional fraudsters, Malaysians, also getting into the act with the fake crying. Why would anyone in real life do this, putting their full faces before the cameras, front and center, without attempting to gain a degree of privacy?
Finally, an extended family is seen. Can anyone believe this, that is this image of a person coming unglued due to shock and despair? Moreover, it is occurring in their own home? Who could possibly capture in real life such a picture in a person's home, an Indian family, with the backdrop of all the family photos, then, uploading it before the whole world. This life truly is an illusion, and there are fraudsters of every conceivable degree and level: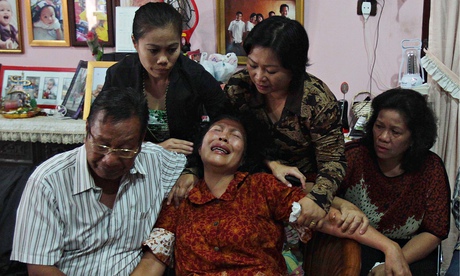 It takes an entire entourage of people to prevent her from falling to the ground. She looks like she is about to die from grief, though fake, just like the Chinese crisis actor.
Regardless, it can't be achieved in a vacuum. Look at this image carefully. What is seen? Is it not anything other than a coordinator of the hoax, the woman in the black scarf, who is acting as the guide for the fake griever: she has her DHS-style badge turned around. What is going on here? It is prohibited in Islaam to lie and deceive for wicked gains.
'Hey, don't give me too hard of a time. It's just a part of my job.'
Note: images of woman removed for further assessment.
Crying or not, all the grieving relatives must be by necessity crisis actors faking it their grief, since there was no such jetliner, no Malaysian Airlines MH370, which took off on March 8th. That, too, was a set-up.
Like the woman above, here is another crisis actor with that ever-present cell phone, once again using it as the key prop:
It was all a set-up, just like the Paul Walker hoax and countless others. It's like a test against the people, virtually by the devil himself. How many people will be snookered? How many will buy the fraud? How much control can be exerted over them through lies and deceit?
Caption: Support: Thousands of people have written messages of support on a wall at a shopping mall in Kuala Lumpur, for passengers on board the missing Malaysia Airlines plane
It would appear the virtually all of Malaysia is bamboozled. Yet, so is the rest of the world.
Here is a supposed Chinese child victim. Who believes the image to be real? There is a cut line, in white, on the edge of the right cheek and chin. The perps failed to color correct for it. The child is an invention out of thin air. There was no such child, named Wang Moheng, who has died on an airline suffering from a disappearing act.
Who would offer such a horrible picture of their child on-line? Here is another fake passenger, named Hu Siwan.
What's going on with the hands? What a mangled mess it is:
He either has rheumatoid arthritis or this is the greatest Photoshop hack job known.
Then, there is Malaysian "Acting" Transport Minister, Hishammuddin Hussein, apparently attending prayers for the passengers. What is he smiling about? He surely knows that the passengers are fakes and that many of their photos were created in a computer lab – or corrupted there to create false identities.  Known as a good man let him come forward to tell the world it is all a scam instead of maintaining the hoax, wasting people's time, emotions, and energy.
It's a hoax, just like Sandy Hook. No one died, and no relatives suffered any losses.
What a filthy hoax, a mere illusion, a wretched lie. That is also proven by the litany of inane stories spewed by the Zionist-controlled press, all of them baseless.
Share
About Author
(16) Readers Comments