Updated, corrected, May 09-2013 with errors corrected about the source of the blood flow tubing, Post Office Box, corrected.
Second Boston Bombing Injuries Are Fake
It would seem that the prop artists did a reasonable job of gore fakery at the second bombing site in front of the Forum Restaurant. Other than a relatively in-depth write-up published on James Tracy's Memory Hole Blog, analysis of this second false flag site are relatively few. One possible reason for this is the lack of overhead camera shots or cell phone videos, which capture the activities at that site. Such photography was essential in the proving of the fraud at the first smoke bomb site.
At first glance the injuries appear realistic enough. It is hope that the human sensibilities will cause the people to stand down: to not analyze and investigate what appear to be horrendous injuries and agonizing trauma. "How dare anyone do this? Let the people be at peace. What kind of person are you to probe into their injuries and even publish their photos on the Internet. You are cruel, evil." This is what the perpetrators hope. It's not happening and, now, not even at the second bombing site, which is ripe for investigation.
Sensibilities aside, all that is claimed is open for investigation. A woman purportedly named Heather Abbott, supposedly lost a foot and more there. She didn't lose any feet, legs, or anything else. Can she be seen anywhere on the scene? Or, is she only available in the photoshopped version?
This hardly needs mention. A Mossad operative, she has simply been cut-and-pasted into the frame; two different perspectives in the walls and depth; the wall socket reveals it is a fake. Rigid, dark cut line on the left arm. More on her later.
Like the first site, the injuries on first glance appear real, with all that appearance of ripped flesh, charring, street debris, and lacerations: plus red material, presumably blood. Yet, contrasting this is the fact that it is the same old story. People in regular clothes, non-professionals, attending the wounded, while EMTs, police, doctors, nurses, and firemen stand down. With what appears to be macerated limbs, no attempt to render the individuals supine, comfort them, and begin the triaging process. Instead, people in regular clothes are patently negligent, obstructing both the view and actions of real life-saving teams. Furthermore, as additional evidence of the scam, like the original smoke bomb site, unauthorized individuals are ushered away, some forcefully, in others acting as a kind of blockade.
In fact, on close examination it would appear that the level of fraud is high. Here is a glaring example, which represents the photoshopping of Dzhokhar Tsarnaev into the frame, clearly and glaringly: one problem, as pointed out in the Memory Blog post, there is an inanimate object in this frame which can't be: the blue U.S. Post Office mail box: To reiterate there is a clear effort to frame these acts directly and solely on the Tsarnaev brothers, Dzhokhar specifically regarding the Forum Restaurant blast despite the fact that there is no actual evidence that he planted a bomb nor does in any way the exploded backpack shown by the FBI resemble his.

Courtesy, Memory Blog: http://memoryholeblog.com/2013/05/04/anomalies-emerge-in-photos-of-second-bomb-site/
That had clearly been removed for the marathon. Thus, the premise must be if the accused bomber photo is faked, what isn't?
This data taken from the Memory Hole Blog, the above inference regarding the mailbox now corrected with the following:
NOTE: The author (of the original post about this frame on the Memory Hole Blog) stands corrected with this portion of the post. Subsequent investigation has shown that this photo was not taken next to the second bomb site. Rather, it appears to have been taken further west of the site, outside 883 Boylston St.
From that premise of the false attribution of a crime to mere patsies let the analysis begin. Even so, the gore does shock the sensibilities. Yet, through the use of analysis, and common sense, it can be seen that these injuries could not be real, primarily since the attendees to the victims are exclusively untrained, non-emergency personnel.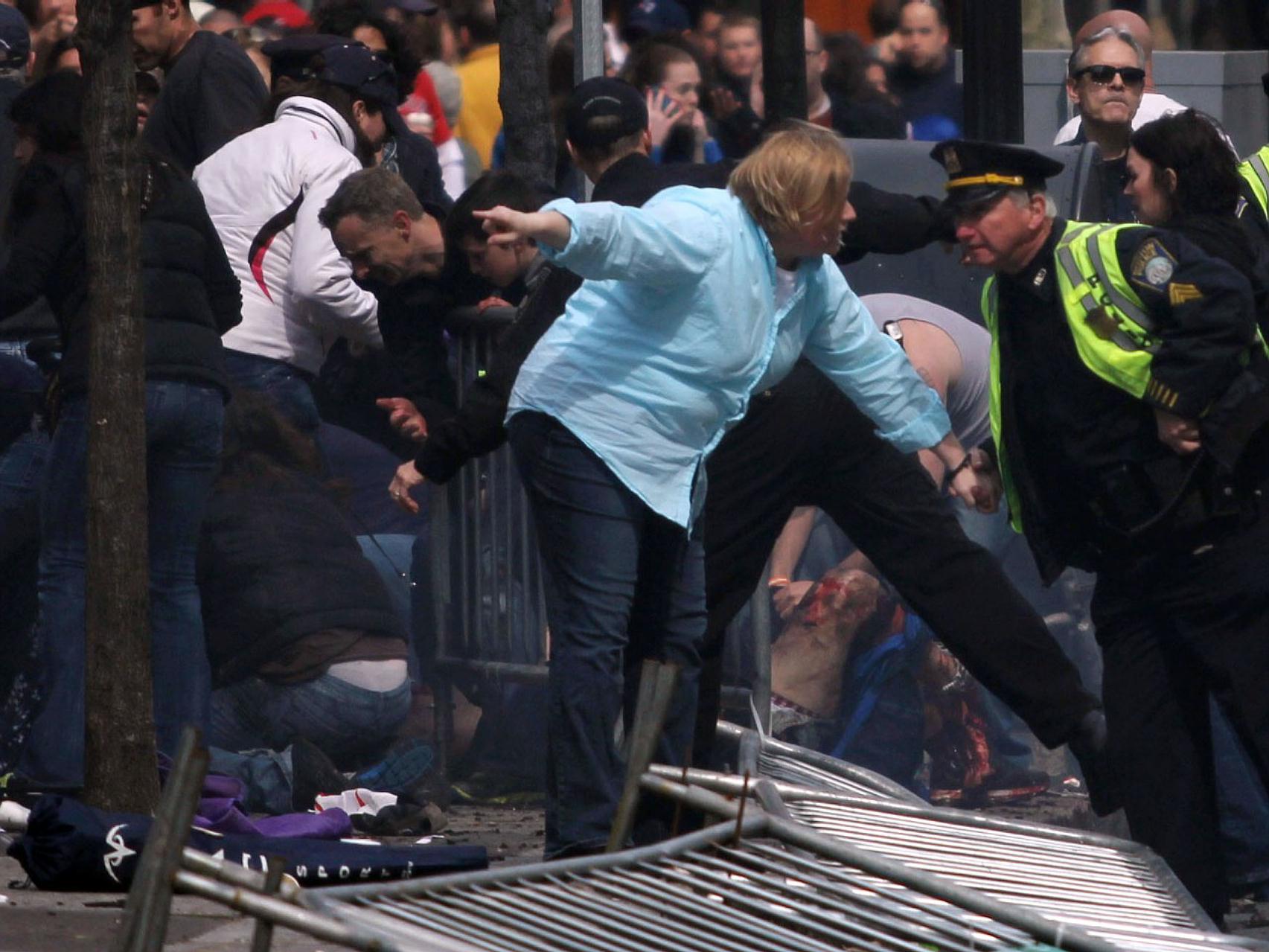 http://cryptome.org/2013-info/04/boston-bombs/boston-bombs.htm
What didn't they want people to see? Is it the core or, rather, the application of fake gore?
Regardless, once again, the people with the visible evidence of wounds are not being taken care of by legitimate emergency personnel. Despite protests otherwise this means its a fake. Most people are sheepish about embroiling themselves in this risky work, and even for liability reasons will remain cautious. Thus, as would be expected from a fake instead of paramedics these people  are being administered by what appear to be Hollywood prop people. There is something dark and stringy visible going on with the seemingly traumatized flesh towards the bottom.
Here it is isolated. It's that same droopy, stringy blood drizzle seen in the first dust bombing site.

Now enlarged:
This is for gore affect. There appears to be a very dark colored hand, here. The exact source of this blood flow is not clearly evident. In the first smoke bombing backpacks were often sources of the fake blood bladders. Initially, it was though, the tubing was at the base; that's the edge of his shoe. Resolution studies might demonstrate the nature of this better. Needs further evaluation but that same gravity-fed drizzle is evident.
Regardless, nothing new, here. Prop and make-up men and women working vigorously and apparently exclusively on the individuals: no emergency care individuals. What appears to be macerated, abrased skin, plenty of char and filth. Yet, this is surely not definitive proof of real injuries. There is as well that same color of matter on the ground and skin as seen elsewhere: suspicion, therefore, would be high of fake blood.
The woman in blue and the policeman could be acting as an obstruction. Let's zoom in more definitively and see what is found:

The typical standard shears cutting of the clothes (it's not confirmed fake blood in that red and white-appearing strip; it could be his underwear, no one, here, claimed otherwise; the cutting down of clothes was merely described!!), often down to the underwear line. However, more importantly, right screen, it is what appears to be blood-pumping Tygon tubing, the kind used for medical piping of blood. Let's look at this zoomed in:
Arrows point to blood-drizzled show, which is pouring down via gravity. This coloration and distribution has the same appearance of the fake blood being pumped through bladders at the first site.
It truly does appear to be medical blood transport tubing, where the fake blood is being squirted through and it can be seen a combination of clear areas and areas where it is coursing, completely and incompletely. This appears to be the person's shoe (correction, not tubing), with plenty of the same colored fake blood as seen at the other sites oozing down. It would also appear that there is a hand in the frame, fake blood stained, where the fingers are acting to control the flow in the tubing.  Fake blood means that the injuries were fake, not just this one but all others. It means all those who claim to be severely injured, including the amputees, are fraudsters.
Now for the ultimate proof against these arch-criminals. Here is a fraudster placing the fake injury right in the view of the camera-person:
http://cryptome.org/2013-info/04/boston-bombs/boston-bombs.htm
http://c.o0bg.com/rf/image_960w/Boston/2011-2020/2013/04/16/BostonGlobe.com/Metro/Images/tlumacki_bombaftermath0902-4186.jpg
Plenty of time for the EMTs and firemen to arrive, and they are still not there, still not triaging the patients.
Once this fakery was created, there was need to make it appear as if it was bomb related. To do so the perpetrators dumped dust on the fake victims:
There's even a guy holding up the instruction cards; seems to have  a smirk on his face; he is not a normal element of a mass trauma scene:


Smacks the dust packs together to get it nice and loose, then, bam:

People were instructed to turn away from the dolomite dust or get down, which they did. Can anyone imagine dropping earth dust on real wounds, macerations, amputations, and abrasions?

It is fake gore, in this case, fake injury of the fingers and to of the wrist, purportedly showing possible dismemberment. Plus, the fake wearing of the gore is showing it off for camera.
Look at this closely:
He is showing it off to the camera, as if he has lost his fingers. Yet, when fingers are amputated there is always the profuse flow of blood. Yet, not a drop of blood seen here, but there was a reason for that. This is even more bizarre. Now, clearly there is no arm in the frame. Yet, what does he have in his hand? He has another hand. Why is he holding what appears to be a dismembered hand in his hand? Or, is that hand attached to someone that cannot be seen?

If it was coated with blood, the gore wouldn't have been visible:
That would have the appearance of fingers on the top side of his hand and also arising down below.
Now turned right side up. Here, it can be seen that there appears to be a wrist wrapping around the palm of his hand. At this time and this resolution much of it is difficult to explain. More on this as research permits.
.
The appearance is also that of an amputated thumb but without the blood. Moreover, it is not just the fake add-on fingers but also the nodules, which are possibly  fabricated and likely glued on. Furthermore, the hand he is holding has wet-appearing bloody color to it, but the top of his hand, with the presumed laceration, has not a drop.
They couldn't even match the color of the fake dismembered fingers correctly. Regardless, mere paper cut bleeds immediately. How about a razor-sharp cut such as the one seen above? There is no blood on the top of the hand. It's fake, and they are not only all actors but also prop artists.
Now for the really graphic images or, shall it be said, graphically enhanced:
http://cryptome.org/2013-info/04/boston-bombs/boston-bombs.htm
Grainy, it may appear to some like a blast wound, especially seeing what appears to be bits of bloody tissue. Even so, there is no evidence of actual tissue such as bits of limbs. Just blood-like spatter. Yet, a close-up inspect calls into question that initial impression:
Clearly and categorically, this is a mere prop made to appear macabre. Note how the clothes have been shredded. It appears that there are two real legs, though, behind this. Or, an amputee actor is being used. Islaamic people are framed for this, one of them murdered. It's all a set-up. See the shred line clearly, especially on the left pant leg. Now, look at the fake stump and macabre gore. See what is happening. There is a swirl pattern noticeable. That's the fake blood swirling through the internally placed Tygon tubing. Moreover, what is the prop man so firmly placing with his right hand? Is that not the bladder, which is pumping to force the red dye-tainted corn syrup through?
The towel appears to cover up the remnants of the real leg. It's doubtful that this person is an amputee. PVC cord can be clearly seen, twisting around, exiting from underneath the pant leg. That swirl pattern is not a natural phenonmenon in a blast injury.
Then, there is this. Make sense. Glass windows all around. Restaurant filled with glasses. There should be some lacerations, even though the glass is tempered to prevent dangerous shards. Still, lacerations would be expected.

It's not lacerations. Rather, it's fake gore. If one's a fake, they're all fakes.
How is this explained? This is most likely a silicon sleeve with PVC tubing running underneath it. Then, the prop men cut through the silicon to slice the inserted tubing, after which the fake blood seeps out, creating one of the more realistic fake wounds of this false flag event. This one had the people here confused, thinking that there may well have been a few modest injuries (though no amputations) because of the surrounds (broken glass effect from glasses on the patio, etc.). This person could well be a double amputee actor; what appears to be two dismembered lower extremities. Yet, once again, as can only occur in the fakery of Hollywood this happens without arterial spurting.
What about the other dismembered leg, the one lying flat on the ground? It appears to be a Hollywood prop:
Nothing in nature can explain this. It's strictly Hollywood. Fake blood appears to be filling he rest of the fake flesh color through some sort of internal mechanism.

This seems realistic enough. Or, is it? How about that for aseptic technique, some unknown man digging in the woman's leg. Nobody is going to be digging with their bare hands into a deep wound on the sidewalk. Medical liability? Or, is it really a wound. Perhaps there is no risk after all:
Perhaps it is silicon. Not the sharp 90-degree angle 'cut': shrapnel? Made to look like blunt trauma (contusions) from a BB and nail bomb; a fairly good replica of the real thing, other than the 90-degree angle fake cut.
Here they are again, all operatives, performing their miserable deeds. Liars and cheats, all of them. Nobody seems to care about any crime scene, because there isn't one. Nor does anyone care about the exploded backpack, since all it carried was a harmless smoke bomb. Where are the dozens of people who were injured? Where is Haslet-Davis and Abbott? They are nowhere to be found. Yet, what can be found in every frame is fraud. What is the man in the white sweatshirt and black cap doing presiding over the 'mortally wounded?'
As expected, he is delivering the fake blood over the fake victim, standard-issue orange bladder in his back pocket. Just one more fraudster in a pack of thieving liars, who broadcast nothing but fraud to the whole world.
This assessment of the picture is an error: photo removed. The error was corrected by a poster, as follows:

It was thought, here, erroneously, that possibly the woman bending over had a kind of tubing curled around. That turned out to be an anomaly from a combination of a branch plus the red design on her sweater. Thanks to a poster for pointing this out.
It is exactly as it is seen: Tygon blood line tubing distributing fake blood to the fraudulently injured. BRANCH, trolls: no one said anything about the branch. It is already known that it is a branch. What was described was the circular tubing and then the remaining tubing that goes under the arm. That's no branch. Know a branch that loops like that and is red in color?
Regarding the restaurant, the patrons were removed: no real witnesses there. However, the workers are bearing witness, saying the opposite of the findings of this post. That will be dealt with shortly. Suffice it to say that one of the 'bartenders' reportedly came from 'overseas' just to work in the facility that day. She was the one who gave false witness on behalf of another suspicious character, Heather Abbott, seemingly shedding tears before a national audience.
Now, it is clear that this is a vast scam. No further proof is needed. It is time to take action against these fraudsters. They must be exposed. This surely isn't difficult to do. There faces are seen. In some cases their names are known, in others mere aliases. Yet who is behind this? Who orchestrated it? That is worthy of the next level of investigation.
Then, there's this. Anyone doubt remaining, now?
A screenshot from a larger picture, http://cryptome.org/2013-info/04/boston-bombs/boston-bombs.htm
See also:
http://nodisinfo.comboston-hoax-confirmed-fake-silicon-gore-mask-found/
Share
About Author
(39) Readers Comments