Updated, May o2, 2013, minor updates, May 22, 2013, again, fully edited and updated
The Strange Case of Krystle Campbell
Update: a number of people are disputing the findings in this post, that is that the entire claim for a real Boston bombing is false and that this is nothing less than Hollywood-style antics. If any such people can prove the information in this post wrong, it will gladly be altered. Meanwhile, we stand by the premise, here, that the standard information about Krystle Campbell is incorrect and that, in fact, she didn't die from a bomb-blast. Other individuals with expertise in the medical aspects have weighed in favor of the findings. We begin with one such quote:
"I have worked with trauma and seen hundreds of unconscious or dead people. I know what it looks like. None of the more seriously injured "victims" in Boston show any of the typical facial signs of chock, blood loss, etc, you would see. Red lips, nice color of the cheeks and so on. And look at the expression in the eyes on both Krystle and the black woman lying on a stretcher… They look like children pretending to be dead."
When viewing the interview by CNN of the Campbell family, the editors, here, did not find the interview believable. This, among other issues, raised the suspicion of whether or not as acclaimed Krystle Campbell really died. There is a history of staged interviews in the midst of terror attacks, for instance, Robbie Parker, Gene Rosen, Krista Rekos, and, in fact, all the so-called parents and witnesses claiming a Sandy Hook school-yard massacre. What follows is a grouping of screenshots of the Campbell family from the live CNN interview:

Reading from a CNN-orchestrated script, it is believed, here, that Mrs. Campbell is a fabricator, just like Robbie Parker. They said it was tearful. She acted sad. No tears, no sadness–no dire grief–are evident. The interview is a fake, just like the various hoax interviews of Sandy Hook and more.
According to the media is was said that the Campbells claimed a body, that is at Massachusetts General. Yet, the hospital says Campbell was never taken to the facility and, what's more, the hospital has no record of her as a patient there. A major hospital doesn't even know if it received an amputee or a corpse? No one there knows about receiving a bleed-out patient? Someone is definitely lying.
No doubt, Krystle Campbell–or the person bearing her face–is a real person. The question is did she really suffer, as the media claims, a dire calamity, which is virtual immediate death from a double amputation?
A variety of reports by the major news agencies claim she died immediately. Photographs prove that was not true. From CBS:
The chief of staff to Medford Mayor Michael J. McGlynn told CBS News that Campbell died instantly at the scene.
Editor's note: instantly means what it says, yet, CCTV camera shows that she was moving about, fully alive, for many seconds after the smoke bomb detonation. She is, incredibly, even seen pressing firmly against the picket fence in what appears to be an attempt to open it up, even break it. That is surely not the behavior of someone who just had two legs blown off.
Through tears, Campbell's mother Patty Campbell called her daughter a "wonderful person" who was loved by everyone who knew her. 
"She was always smiling, friendly," said Patty Campbell. "I couldn't ask for a better daughter. And I can't believe this is happening." 
Patty Campbell and her husband William were initially informed that their daughter was alive and in surgery. When they got to Mass General hospital they discovered that the young woman being operated on was not their daughter.
http://www.cbsnews.com/8301-201_162-57579886/victims-killed-in-boston-marathon-bombings-identified/
Therefore, as a result of these discrepancies the issue must be carefully analyzed.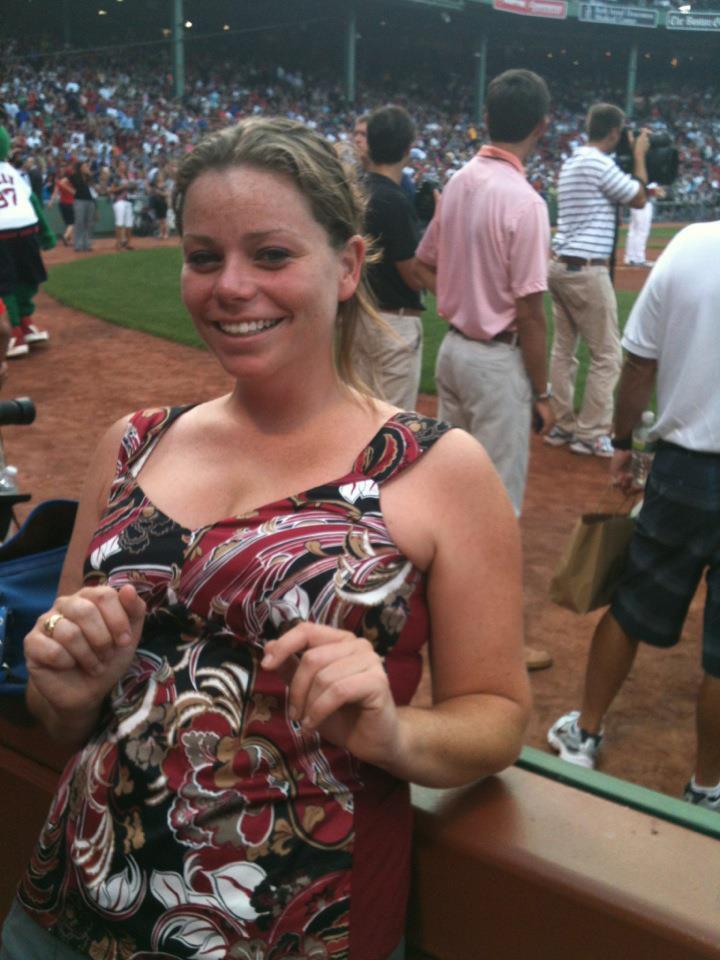 In other words, this face belongs to someone identified as Ms. Campbell. See the shadows under the elbows. In the land of fakery it is always good to double-check.
Ms. Campbell was reportedly on-site with a friend, the lady, here, in black. This picture was reportedly taken on the day of the bombing:
http://www.gannett-cdn.com/media/USATODAY/USATODAY/2013/04/16/kcampbell-3_4_rx340.jpg?228a71852a22ff512d948fddff187818eb64a894
Note: if this was, in fact, the clothes was wearing, which makes sense, her bag is seen, there, who cut her jeans off? There were no EMTs doing so. The jeans of the woman in black were also cut back. This is a crucial observation, since that would be exclusively the domain in a real disaster of medical professionals and trained EMTs. By-standers surely wouldn't do so. Yet, as the photographs are reviewed it becomes clear that without question mere non-emergency people were rapidly slicing up both these individual's jeans.
However, Campbell conveniently quit working at her job several days before the Boston false flag.  It is said that she was at the bombing site and suffered a severe injury, having both of her legs or at least one leg greatly traumatized. As stated previously many reports claim that she died immediately with both legs blown off. Carlos Arrendondo says essentially the same, actually, that she "was gone," his claim also being death virtually immediately, using the words, 'gone, totally gone.'
If she died, then, all the people in the pictures shown, here, are accomplices to murder. That's because they did nothing to save any real double or single amputees. Rather, they descended on the area and ultimately interfered with any legitimate emergency services. Clearly, if this bombing was real their presence impeded real the actions of real emergency workers. Were they too busy dressing up their collaborators to create the false image of a real bombing than to simply stand down and let real EMTs in?
Who is Krystle Campbell?
Here is what the Huffington Post reported: http://www.huffingtonpost.com/2013/04/16/krystle-campbell-boston-marathon-victim_n_3096010.html
ASHINGTON – Krystle Campbell, 29, was the second person killed in Monday's Boston Marathon bombing to be identified. Campbell had gone to Copley Square to watch the race finish. She was standing along Boylston Street when the bombs went off, killing her and injuring a friend.
Patty Campbell, Krystle's mother, read a tearful statement on Tuesday afternoon, standing in front of her house in Medford, Mass. "Krystle Marie, she was a wonderful person,"
Campbell recently started working as a manager at Jimmy's Steer House in Arlington, Mass. A manager, who did not give her name, said she had gone through training with Campbell. "She was a very amazing person," the manager told HuffPost. "All the staff loved her."
Analysis: Campbell was not killed. She was likely not even there. The story of a friend being with her, who was also injured, is another lie. Where is that friend? No one has heard from her. Patty Campbell gave a statement, but there were no tears. The Jimmy's Steer House story is likely a cover due to the fact that she no longer works at the local restaurant where employees are familiar with her, Jasper White's Summer Shack . Reportedly, Campbell worked there as a manager, working in general for the restaurant chain for nine years.
Again, from the Post, first quoting her purported father:
Campbell's father, William A. Campbell Jr., told Yahoo News, "My daughter was the most lovable girl. She helped everybody and I'm just so shocked right now. We're just devastated."
William Campbell says his daughter, who worked at a restaurant in nearby Arlington, was "very caring, very loving person, and was daddy's little girl." He says the loss has devastated the family.
Note: shouldn't he be saying, "my little girl?" Is this really her father?
From the Boston Globe:
After the bombs detonated, Krystle and Karen were side by side on the ground when medical personnel arrived, and somewhere en route from the sidewalk to Massachusetts General Hospital, someone mixed up their names.
When Krystle's father, ­William Campbell Jr., went to Mass. General after the explosions, officials initially told him she was seriously injured and might lose a leg. But when they let him in, he saw it was Karen — not Krystle — in the room, Lillian Campbell said, "and my son was devastated."
Yet, as reported on CNN the hospital shows no record of treating or triaging a Krystle Campbell. The Zionist-orchestrated media then makes the inane claim that her ID got mixed up with that of a friend, "Karen," who was also injured. Note: that is impossible, since all the people at the bombing site had to be signed in, notably as FEMA and DHS moles. Even so, according to the tall-tale disseminated by the family, specifically her father, the family went their to see their daughter and saw instead "Karen." The CBS report claims that they went to be at the side of Ms. Campbell, finding out instead that the care–actual surgery–was being administered to an entirely different person. Yet, as reported by Jason Carroll regarding Mass General, speaking to Anderson Cooper, "a spokeswoman would only tell us…that at this point there is no official record of a Krystle Campbell being here at the hospital."
Then, if she wasn't there, where was she? After all, she was clearly being resuscitated, while being rushed to the ambulance. Surely, in real life she would have been delivered to the hospital as a priority triage patient precisely for resuscitation, the placement of central lines, IV fluids, blood, oxygen, and more. Since none of this was done it would appear that her death would be a phony. That matches photographs on the ground where it appears that Campbell or her likeness is play acting as if dead. It truly is a play; they are all surrounded by handlers and DHS agents, not real EMTs. Regarding this, there can be no dispute. 

Such buffoonery, where the media says one thing and the hospitals another, only occurs in Zionist-operated false flags, like Sandy Hook and the Boston Marathon debacle. Carroll then adds, "But of course her family says this is the place where she is, she was identified." Really, and the hospital has no record of her "being here?" Can anyone make sense of it? Not likely, since lies are hard to prove. Regardless, to summarize what the media says she was mortally wounded and then taken to the hospital, that is Massachusetts General. In contrast, the hospital said no such person was ever treated there and was not in the facility post-marathon. Therefore, since she wasn't there the claim that the family identified her is yet another fabrication. To cover this denial by the hospital the Zionists crafted the story of confused identities, heaping embarrassment on the institution upon which their spokesman countered.
http://ac360.blogs.cnn.com/2013/04/16/remembering-bombing-victim-krystle-campbell/
Here  are the fake trauma photos in sequence, which show a woman in blue, who is reportedly Campbell. Note the man in the tattered clothes who appears to be running in mid-air. Was he simply installed in these frames for shock effect? Or, was he really there, clothes prefabricated, for maximum shock effect? Regardless, one issue is certain, which is the fact that he that shearing pattern was not the result of the Hollywood smoke bomb.
Note the man in the far right with his taxpayer-supplied DHS water bottle. "Stay hydrated" are the DHS rules, "there will be plenty of action."
The tattered clothes man appears virtually out of nowhere and runs away, dodging and hopping over people, while the lady in pink deliberates over the entire scene.
Keep an eye on the lady in the pink vest, well armed with black gloves, at least initially. The DHS is there. Could they all have been informed that there would be a life-like drill and, therefore, they were not to interfere with the process?
On the other side there is that other ever-present mole, the woman in the brown shirt by the fence:
Rather than merely covering her ears for fear the way her fingers are curled over on the left had it appears she is using her cell phone, with the other hand being used to plug the ear so she can hear. Regardless, this woman is purportedly near the blast zone. People at considerable distance from it ran away? Why does she stay there the whole time unless she is an operative? This woman in brown is found constantly attending to the site, not helping victims but coordinating and barking orders as well as distributing fake blood. It is all one grand fraud.
Bauman's legs, the amputee above, are shown as gone. Yet, there are no dismembered legs of this individual found on this site. Hooded man: it makes no sense; he and the woman in black and red are right in front of a man who should be demonstrating massive arterial spurting: no blood is seen anywhere. Once again, there is not a single drop of blood flowing from the man's purportedly dismembered limbs, a physical impossibility. Note the woman in black grabbing the brown sweatshirt woman. Is she snatching a packet of fake blood?
Note: Since the woman in pink has been identified as a Hollywood-style prop expert there is no way this can be a true trauma scene. Instead, it must be fake. It is not possible or even plausible for both to be occurring simultaneously. True, Campbell looks like she is suffering from extreme pain, presumably from massive lacerations, causing a bleed-out, but all that can be seen are facial expressions; no blood is seen pouring out, as would necessarily occur based upon the scope of her purported injuries. Remember, Carlos Arrendondo and the lying major press reported that she died immediately, along with another woman, presumably Lingz Lu. Can anyone see Ms. Lu anywhere? Or, was she supposed to have died at the second fake site. Arrendodo reported two women dying immediately. The story changes to suit the conveniences of the liars.
Regardless, just because she is making this face doesn't mean she is dying. These kind of dramatics are done in Hollywood continuously. She is not the only one. The woman in black is also feigning the terror of great pain and suffering:
It must be said she is doing an excellent job for an amateur.  She does appear to be in shock and suffering in injury. Yet, who is in attendance of these injuries?' It is not any EMT or any similar emergency care worker but instead a Hollywood special effects pro. Is the application of fake silicon-based wounds that painful? Nevertheless, their faces are still pink; still no visible arterial spurting.
It is realized that people are being manipulated through imagery. Yet, think for a moment. What is a Hollywood prop master doing attending to her supposed injuries instead of an emergency care worker? Virtually all people would be aghast at the sight of such injuries and surely wouldn't take over the area, instead of calling in the EMTs. The woman in pink is studiously working near her body, that is her purportedly amputated legs. Keep in mind that if the claim is made that this agony is from macerated and/or blown-off legs, then, there must be evidence for this. The claim can't be made in isolation. There must be the pouring/spurting out of blood. When the barriers against that blood released are removed, because of the power of the cardiac pump, that blood must come out immediately and forcefully, that is unless the legs are tied off with a tourniquet. Thus, the pink vested woman, among others, would be spattered with blood, which was not the case: not a drop is seen on her.
Some claim there would be no blood loss due to cauterization, that is from the heat of the bomb. There is not sufficient heat, here, to cauterize wounds. No one is suffering from burns. Moreover, if the legs were burned/cauterized, why only the legs? Why not the arms, chest, and face?

It can be seen that the women in green and pink are operatives working the crowd, as is the woman in black. So is the man disguised in the grey hood. Suddenly, though, Campbell's face disappears from view, while her arm is still visible, with lady in pink in close proximity. While dressing the fake wounds, Teflon, synthetic blood, and more something incredible occurs. Campbell actually presses hard against the weak picket fence, expanding it and breaking it.

Still no blood pouring out–no spurting or splattering from the source–despite the acclaimed scope of the injuries.  Additionally, it is reasonable to presume that the two women standing next to the fence would attempt to help the victims, that is if this was real. Thus, they, too, are players in this diabolical scam.

You'd think the woman in the brown sweatshirt would do something productive other than just standing there the whole time. Shouldn't she show at least a modicum of shock at the scene before her? After all, Carlos Arrendondo said he had seen at least 30 limbs blown off. In addition, where are those limbs? How about one of them?
Campbell resurfaces, here, prop-meister vigorously working on her. Blood begins to be seen near the double amputee but not issuing from the stumps downward but, rather, from teh ground upward, notably from the orange fake blood bladder seen on the ground. No one is calling 911 or commanding over the EMTs.
In a long-distance run when a runner goes down, EMTs and other medical staff are on such a one in a flash. Not so when Hollywood is doing its play-acting. The EMTs, the real ones, , are kept fully at bay. In these pictures not the facial expressions of shock and awe, especially that of the non-injured, not-dying Campbell (or her look-alike).
Where is the rapid, fatal flow of arterial blood from those thirty or so amputees, as attributed by arch-liar Carlos Arrendondo?
Nearly all the actors portray great agony and fright, even though none of them are injured. The two people in black in the front, the woman and the man with the beard, are also camera-people.
Woman in black, reportedly a friend of Krystle, is now obstructing Campbell from the view. Regardless, what are they doing to her? If she really was an amputee, these helpers would all be covered in blood, the femoral arteries squirting such it virtually in the pink woman's face. Plus, surely, blood from the original bomb-blast blood, tearing off, as is acclaimed, her leg(s), would cause the blood to be splattered on their clear, untarnished clothes.
The finale
In a flash the mission is accomplished and the coordinator, lady in pink, is moving away. Krystle Campbell and other actors are left on the ground, appearing to be dying or near-dying, for more camera shoots and to prepare for wheelchairs and gurneys. Still no EMTs, firemen, doctors, or nurses: they have been restricted from the play site. Despite this being the Boston Marathon, incredibly, there is not a single emergency care worker who has rushed to the scene and can be observed working on these people.
Here it is close-up, with her lying amongst the rubble, right leg, at least, fully intact. If she really is bleeding out to this degree, imagine what kind of people are her handlers, who are paying no heed to her impending doom.
It bears repeating: the major news networks claim that Campbell died immediately. This is clearly not the case. Regardless, in this  there is no clear dismemberment. She's certainly not dead. Nor is there any evidence she is about to die. If this was real, the EMTs would be all over her. Nor is she a real victim of a pressure cooker-based bomb-blast. Wrist, forearm, upper arm, foot, leg, are intact. Hip is in this view is free of damage. Arms and shoulders are free of any obvious injury. No blood pouring out of her body. Pelvis is intact, so she could not be dying from a crushed pelvis. Nevertheless, if her legs are still attached, as well as her arms, how could she be dead?

Note, observation from a poster: On this visible right foot, left side of the shoe, there is no blood seen staining the cloth part of the shoe, which would be impossible if she had a real arterial bleed from that leg. This is after the people who were attending to her have drawn away. Yet, look at the photograph below at the shoe when she is on the gurney: it is blood-stained.
New addition: there does appear to be flesh existing under the somewhat disguised picture, above, constituting the second leg. Look carefully, and this is visible underneath the sliver conduit-like metal pole.
Note: two of these people cannot be found anywhere at the scene. Yet, for instance, according to Carlos Arrendondo, two women died on the spot. Can anyone find Lingz Lu anywhere among these 'victims?' In fact, she is nowhere to be found–anywhere–as if her existence is synthetic.
Let's see it enlarged, focused.On the surface it may look like trauma. It seems like tissue is missing. The piece of clothing is drenched in something. If it was due to an arterial bleed, though, surely someone would have tied a tourniquet or would be at least applying pressure. Regardless, both legs are seen intact with good color. Furthermore, in such a potentially critical case why is the actor-cop in the front and the various DHS operatives transporting her instead of real EMTs.  Moreover, how dare they endanger her by letting her arm flop of the edge of the gurney?
What is this?

Note: there is a clearly appearing triangular area with sharp edges; could be a shadow; could also be anomalous. In fact, it may well be related to the technique using silicon for body casting in the creation of artificial wounds, like the fake maceration seen over the 'knee.' There is, for instance, no blood seen in what appears to be a deep wound on that knee area, an injury that surely would bleed profusely and be highly painful (lots of nerves around the knee-joint). The wound for sure is fake. Is this fake gore made from Teflon?
Again, is this a kind of body molding put on by the prop-meisters to create the artificial appearance of limb injuries? What follows is a silicon fake finger, like a joke prop, finger being ripped off, available for $30.00. It is possible, therefore, with silicon to create the appearance of gash wounds. Believe it: it is just as fake as the Hollywood gore finger, for sale on the Internet.
http://www.hauntedprops.com/product-p/1ladf12.htm
Are these two dead, or are they faking it? Here is what one individual who works in trauma says after viewing this post:
"I have worked with trauma and seen hundreds of unconscious or dead people. I know what it looks like. None of the more seriously injured "victims" in Boston show any of the typical facial signs of chock, blood loss, etc, you would see. Red lips, nice color of the cheeks and so on. And look at the expression in the eyes on both Krystle and the black woman lying on a stretcher… They look like children pretending to be dead."
But it is not easy faking autonomous reactions, like peripheral vasoconstriction (causing a blue, cyanotic tone to the skin and blue lips), especially when you are in a situation where your blood pressure is high on the premiere day of the show.
http://www.veteranstoday.com/2013/04/24/boston-bombing-dhs-contracted-security-out-to-israelis/
Note: why is the blood mainly on the pavement on not on the bodies, the EMT-like workers, or the shoes? Moreover, there is not a drop of blood on these various actors, photo-shoot operatives, and/or any real first responders. Even their gloves are free of any blood-like material.
Yet, when the event first happened and, supposedly, she was killed immediately or nearly so, no blood could be found:
The pavement is dry and free of any blood anywhere in her vicinity. Plus, while she is dying, she is pushing out and cracking the weak picket fence.
She is, no doubt, somewhat pale-appearing in the following view, more so that the woman next to her.  In another view what appears to be a leg with a shoe on appears underneath her, presumably a different angle of the picture above:
It does appear to be a severed limb beneath her. Anatomically, no one can twist a leg beneath them at that angle or position. Now, the same image twisted head upward:

It can't be both. Either she has a severed leg or she doesn't: both of these are pictures of Campbell: look at the shoes. Same blood-stained black clothing is seen as in the gurney picture. Below, a close-up, noting the pools of red liquid on the pavement, but no arterial spurt pattern.

Let's look up close regarding that apparently macerated tissue. Can anyone imagine such a raw-appearing wound NOT bleeding?
That wound is represented as being all the way to the muscle, actually a kind of maceration of muscle tissue. The skin is shown as ripped; the gash is huge. Yet, there isn't even a drop of blood in that wound or around it? Does her muscle lack a blood supply? Moreover, no one can say it is because she bled out, since that would have occurred simultaneously with any injuries on the opposite side. This is a silicone-based artificial  wound, entirely fake. Let anyone prove otherwise.
See also:
http://anywho.simplesite.com/201858941
Share
About Author
(269) Readers Comments