UPDATED-CORRECTED: Mildred Valverde Identified as Brown-Shirt Boston Hoax Twin, While Black-Coat is Sara Valverde?
Editor's note: Originally, brown-shirted mole was wrongly identified (name now withheld) and a retraction, as well as apology, has been issued. The woman appearing in court, Mimi Valverde, is culpable of being one of the fake injured at the Boston smoke bombing hoax and her actions are being used as the basis for framing Dzhokhar Tsarnaev for the fake event.
There is a dispute on just who she played out in the hoax. Regardless, the Valverde family is deeply involved in this scam, Mimi, Sara, and even the youth or daughter, Jocelyn Perez.
One important picture, though, apparently, several years old, is as follows, which shows Mildred, far left in red, Tania, center, and Sara, far right.
Family members have indicated that the woman on the stretcher is Sara Valverde. We shall hold them at their word and presume it so.
Even so, a break in this occurred as a result of the arraignment against the innocent Dzhokhar Tsarnaev the real identity of at least one of these two moles would appear to be confirmed. Mildred Valverde has identified herself as one of the Boston smoke bombing fake injured. Was she one of the blockade twins of the Boston smoke bombing hoax, who acted as a means to obstruct the set-up of that arch-faker, Jeff Bauman?
Sara Valverde is thought to be the woman in the black coat with the purple under-garment, as seen, here, that is posted on Mimi Valverde's Website:
In one case the image is listed as a cover photo, changed with the date, April 17, that is two days after the drill.
The picture arises on her Facebook page and, then, it is mentioned that Sara is in intensive care. So, the presumption is, again, that this faker is Sara Valverde. However, to add to the confusion Sara Valverde did not show up at the sham trial: only Mildred Valverde was there.  Then, too, she has made it easy to identify her, since she showed up at that fake arraignment, walking around faking her injury on a cruch, even though she wasn't really using it.
https://www.facebook.com/Moochs.mama/photos
Sarah was supposed to be severely wounded. Is this really Sara?
Here is black and purple shirt in a rarely seen combo of photos, where she is looking for the signal to act out agony and injury. She is of extremely great right but is tubular, known in body typing also as apple shaped. She is not the pear-shaped person of the brown sweatshirt fame:

Note also the tiny nose, which is a match for Valverde.

Part in the hair is in the same place, hair the same color, eyebrow inner edge similar, nose similar, mouth the same.
Boston hoax black shirt versus a younger "fake wounded" Valverde. Note the tiny nose and the centrally located hair parting: enough to call the person the same.
Mimi Valverde implicates herself and her sister through posting this stretcher woman through her Facebook posts. Below is the fake injury and blockade woman with the black coat.

It is Mimi Valverde's Facebook pages which repeatedly identify her association in the scam with her posts on the black-haired woman on the stretcher:
https://www.facebook.com/photo.php?fbid=4660166858435&set=pb.1121315896.-2207520000.1373607850.&type=3&theater
See the mention of Sara through the terminology, "particularly Sara." Remember, according to the scam it is Sara, who was supposed to be nearly dying in "intensive care," not Mimi.
Here she is faking the role of an angry injured party ready to lynch, as in a witch hunt, Dzhokhar Tsarnaev:
http://www.demotix.com/news/2244767/marathon-bombing-suspect-dzhohkar-tsarnaev-arraigned-boston#media-2244749
Two sisters. Yet, who is who? Stretcher woman is now identified as in all likelihood "Sara Valverde," while brown-shirt is believed to be the woman who showed up at court, Mildred (Mimi).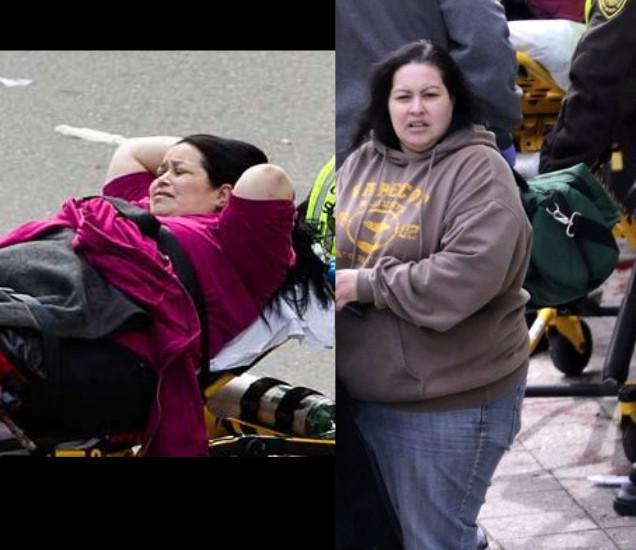 https://m.facebook.com/#!/sara.valverde.7?fref=fr_tab&__user=688914527
Sara Valverde (brown shirt) in pink, multi-colored shirt, left screen, Mildred Valverde (black shirt) black hair, far right screen. Is it merely Sara dying her hair black? Regardless, Mildred Valverde is confirmed as the fake wounded woman on the stretcher. Her wounds and her expressions of anguish were entirely staged.
The woman on the stretcher can't be Sara, despite what some of her relatives say and post. It must be one of the other sisters; could it be Mildred?  Then, if the stretcher person is Mildred, that means that brown-shirt is Sara.
More evidence against the Valverde twins
http://www.usatoday.com/story/news/nation/2013/04/18/boston-marathon-bombings-obama-interfaith-service/2092901/
Here is Jocelyn Perez, daughter of Sara Valverde-Perez: all in the family.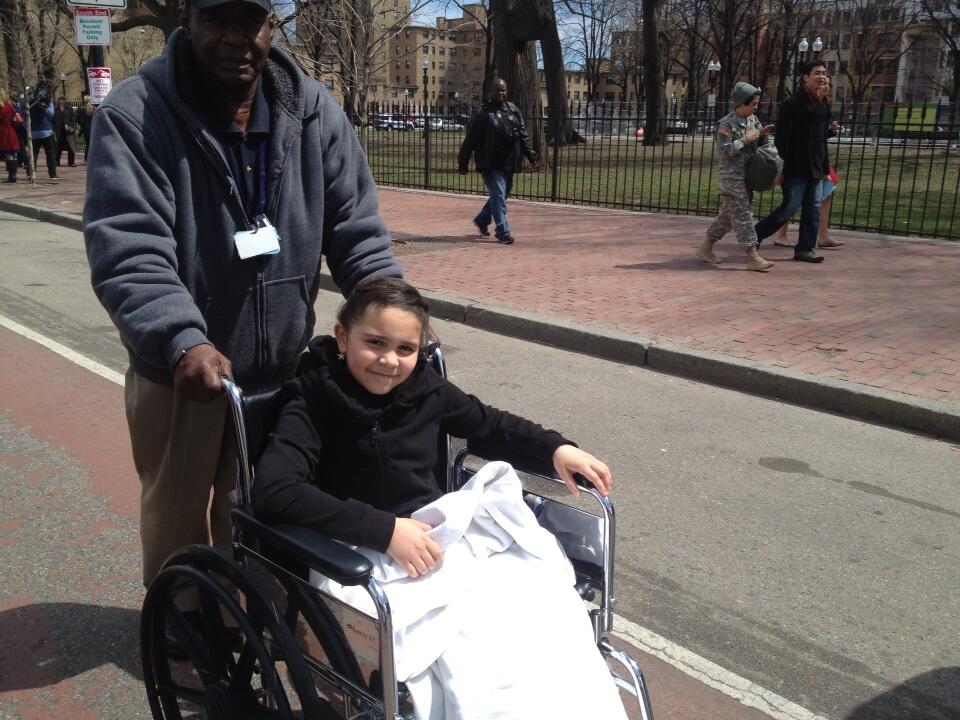 https://twitter.com/MelanieEversley/status/324932878590939138/photo/1
These two know it is a fake, but they keep on faking it regardless–and regardless of the direst of consequences, which includes the murder of the innocent.
Share
About Author
(37) Readers Comments