CORRECTED: Sandy Hook's Jessica Rekos is Not Dead
Note: Error corrected. A comparison of Jessica Rekos to one of the SH choir individuals proved to incorrect and that has been modified in this post.
More great news for Gene Rosen, Lt. Paul Vance, Coroner Carver, and the rest of the Sandy Hook cabal.  Based upon the latest discoveries of finding over a dozen formerly supposedly gunned down in cold blood Sandy Hook children, Jessica Rekos is alive and well.
She was discovered fully alive in the 2013 SuperBowl, where she performed in the Newtown choir, which sang the patriotic song, America the beautiful.
Here, at nodisinfo.com there is great pleasure to know that she really is alive and well and did not suffer a disastrous, traumatic – and untimely – death at the hands of some supposed madman.
It is certain that she is alive. But where?
It is certain that these are the same child. It would be believed that this would be stupendous news for all involved but also for law enforcement and the various judicial apparatus such as the judges and attorney generals. They should be absolutely exuberant at the findings of such posts that, in fact, no child actually died on that infamous day of December 14, 2012.
Don't her parents know she was there? Can anyone find her in the crowd? There is a similarity, there, but that is apparently Anna Mattioli (we were wrong on the comp, there).
http://i.dailymail.co.uk/i/pix/2013/02/06/article-2274221-17545D78000005DC-295_634x520.jpg
Yet, who is seen in this picture? It is several  Sandy Hook children who are alive, including Allison Wyatt, Josephine Gay, Charlotte Bacon, Avielle Richman, Madeline Hsu, and Noah Pozner, a significant finding. By all odds, then, Ms. Rekos, too, is still alive.
Rekos herself doesn't seem to know for certain the status of her daughter. She's still in grief over her loss: an actual death according to her and her family.
http://nation.time.com/2013/12/09/sandy-hook-families-seek-privacy-on-anniversary-of-shooting/
That was as of December 9, 2013. This article was published some 10 days later. Hallelujah- such stupendous news for the family. Time to rejoice as never before. No more fake grief, which was exceedingly dire, at least according to arch-Zionist New York Daily News:
Nearly 2,000 people — their faces twisted with grief — packed the church…
Among those twisted around like spirals was Krista Rekos herself, Jessica's mother:
With her sobbing parents, Rich and Krista, wearing black in the front row, Jessica's tiny white casket was placed before the altar.
Sobbing, really? Twisted in grief, all at the Newtown Church of Satan?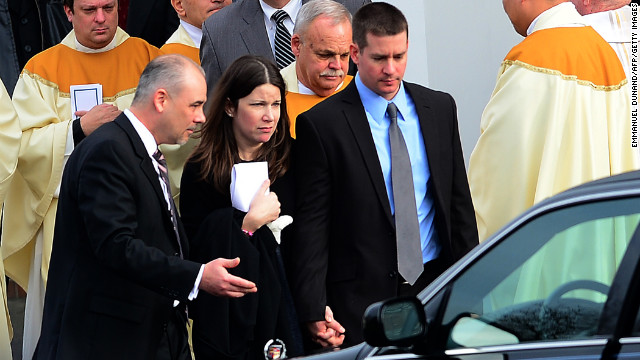 She needs to at least be as happy, now, with this latest news, as she was at the funeral.
No tears, though. Never were.
Too, shouldn't they all be happy, all the different Sandy Hoaxers, on Mr. and Mrs. Rekos' behalf?
Long faces not more: Jesse Lewis, Emilie Parker, Jessica Rekos, and, presumably, Ana Marquez-Greene are all proven alive.
Even the obituary stands corrected. Don't the Rekos' know that it is fraudulent? After all, millions of dollars have been extorted on the basis of such a fraud:
It just doesn't make any sense: fake obituaries, phony funerals, fabricated wakes, corrupt interviews, and treasonous gun control acts.
What is the problem, is all that purple CIA-Mossad psyops scheme driving them out of their minds?
http://www.courant.com/news/connecticut/newtown-sandy-hook-anniversary/#
Major psyops plot, the CIA purple, the photoshopped-in flag, and useless police tape.
No need for any further ponzi schemes, as Rekos helps launch the new money-grubbing Website. Time for instead a Website collecting information on donors before the litigation strikes. Better to give all the people refunds than to end up being prosecuted in court. Zionist moles all, let there be no doubt about it.
Older children were used, but the earlier photos were loaned to the hoax generators to create the gun-grubbing and pro-UN Agenda 21 scam, all for the benefit of Zionist machinations. The hair pattern is the same, and a careful look reveals that the eyebrows are precisely the same, and the eyebrows are among the most distinctive features of the human face. The right eye is narrower than he left and it droops down, which means she has critical expression: seen in both photos. It's here: no doubt about it.
If she doesn't regret getting involved in this, as well as her husband, she surely should.
This part of the hoax is solved. It is hoped that the families of Sandy Hoax can finally gain some relief for the sake of their overused 'grief and anguish' facial muscles.
There is empathy, here, for the Rekos girl and what she is going through. Regardless, who in this universe would sign on to fake the death of their own child?
Share
About Author
(21) Readers Comments