The Boston Bombing Hospital Patients Are Fakes: Proof
Note: because of the urgency of disseminating this information an initial version of this post, The Hospital Patients Are Fakes: Proof, is initiated, here. More to follow, later.
Fraudster Marc Fucarile is a liar and a fake. Nothing that he says can be trusted. Nor can anything that is said by his so-called relative, friends, and girlfriend be held as anything other than a falsehood.
This nasogastric tube was photoshopped in. It doesn't reach anywhere near his nostril. It does NOT go into his nose. Moreover, the right nostril has been taken out. Remnants of the blur tool are seen. He's a fake, make no mistake about it.
Now fully enlarged:
The entire picture is man-made, that is it was never taken. Look at the proportion of the medical pad in the back; plus it is more detailed and crisp than the images of focus, which would be the two people. This is a fake: the family is fake and virtual. They're all in on the scam.

Finger ghosts out, background anomaly, impossible crease in the skull (cut-and-paste defect), Photoshop-drawn hair, use of the blur tool in bracket; features exceedingly soft.
Therefore, are his injuries also virtual? Can't be real, otherwise the family photos would be real.
What nurse put those tattered bandages on? Seems like they've been on for days. What about those severely injured limbs and the amputation?

Is that the cookie monster? Whatever it is, it isn't a real injury, and it didn't happen on April 15, 2013.
This is painted on. It's not a real injury. You can see the paint, here:

No evidence of any injury to this leg of any kind. No cuts or residue of a laceration/abrasion. No scabs, suture holes, residual suture components, elevations, bumps: nothing. How about a bit of scar tissue? Bionic healing?
Regardless, what's that brown swirl? Is that supposed to be blood? Or, a vein? The artificial is surely uniquely different that the real. Moreover, that is that brown component on the knee? How is that real, with those tight nearly perfect edges.
There are no sutures. Just paint. Another view of the cookie monster (silicon-Teflon fake):
Looks like he has a leg for sure, just going out of frame and hidden by the white object. More paint on the front of the knee going down the tibia. Let's have a closer look:
The brush strokes are clear and evident. No way around this one. Look, too, at the attempt to cross the line with a stroke of paint horizontal and one vertical to give the impression of a suture. This is his knee. The leg goes down. He is likely even faking the amputation.
See his interview, here:
http://www.wcvb.com/news/local/metro/Marc-Fucarile-of-Stoneham-remembers-every-moment-of-bomb-aftermath/-/11971628/19993612/-/stnjpi/-/index.html
What are these people doing lying to the world?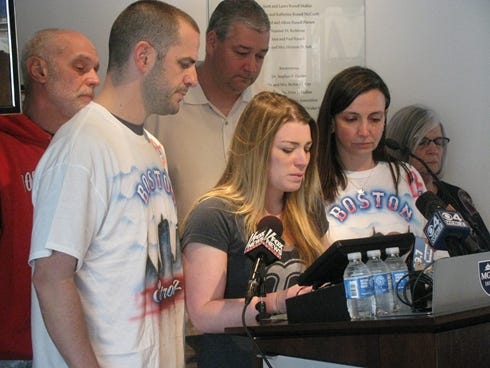 BOSTON РWith tears on her cheeks and determination in her voice, Jen Regan of Stoneham, Mass., spoke publicly for the first time Monday about the challenges facing her fianc̩, Marc Fucarile, who was severely injured in the Boston Marathon bombings.
At Massachusetts General Hospital, Regan detailed Fucarile's condition, which the hospital lists as serious. His right leg had to be amputated above the knee. His left leg suffers from multiple fractures. Half his body is burned, including some third-degree burns.
"Shrapnel litters most of his body, the most serious being his heart," Regan told reporters as six of Marc's family members stood by her. "Even though his heart was physically damaged, it did not lessen the size of his incredibly loving heart."
Fucarile is one of nine bomb victims still being treated at Massachusetts General. Five others are in good condition, while three are listed as fair. They're contending with injuries similar to those seen elsewhere in the city: broken bones, damaged tissues and shrapnel penetration, especially in the lower legs, according to trauma surgeon David King.
Fucarile recently regained consciousness, Regan said, and spoke to Regan about her and their 5-year-old son, Gavin. As she spoke, a photo on a wall nearby showed Fucarile and Gavin smiling at a New England Patriots football game.
"The first words he said to me when he woke up were, 'I am sorry for being there. I love you and Gavin,' " Regan said, reading from a written statement. "He then proceeded to ask how his friends were, just proving how Marc is always worried about everyone else before himself."
Though wounds have required close monitoring, none of those treated at Massachusetts General had developed infections, according to King. He attributes that remarkable record largely to techniques learned in Iraq and Afghanistan, such as conducting multiple surgeries in stages and letting affected areas heal a bit before doing the next one.
Discharged patients have generally moved on to rehabilitation facilities, King said. There they are continuing various types of therapy – physical, mental and emotional.
"We're at the very beginning of treating and curing their medical and surgical problems," King said. "The amount of rehabilitation, (plus) psychiatric and psychological healing that will be required, will honestly result in a lifetime of care and therapy."
To aid Fucarile in his recovery, a cousin has created a website to collect donations at helpmarcfucarile.com. As of Monday, the campaign had raised $62,000 toward its $500,000 goal.
Fraudster #2 Adrianne Haslet-Davis
Haslet-Davis is lying, and she knows it. Relative to the Boston event all that comes out is a lie. She claims she's a dancer. In fact, she may have been at one time, but not recently. She lost her leg, long ago. Not this comparison. Her dancing photos are a fabrication. The lower left leg was put in artificially, no doubt about it.
They are virtual patients: for a virtual massacre. However, the money may well be very real. Let it be said again ANYONE who claims to have suffered an amputation from the Boston hoax bombing and is/was hospitalized on that basis is a fake and fraudster.
Share
About Author
(25) Readers Comments