Zionist-Controlled Gay Politician Lindsey Graham Tied to S. C. Fake Shooter
It truly couldn't get anymore inane than this, in fact, fake beyond belief, that is this so-called mass shooting of blacks in a Obama Administration-favoring Charleston, S.C., church. Then, there is arch-pro-Zionist Presidential candidate Lindsey Graham, who is on a national tour speaking about this terminally wretched fake.
Graham has a decided history as a terminally corrupt Islamophobe, for instance:
Sure they are, entirely radical, so much so that they will kill Americans if they don't forcibly convert or simply turn them into slaves if they refuse to relent.
The man is, essentially, a promoter of mass murder, in this case by invading sovereign nations and the killing innocents in large numbers. Graham has helped give great backing the subsequent slaughter secondary to his so-called interventionist 'policy.' All he is, though, is a Rockefeller agent: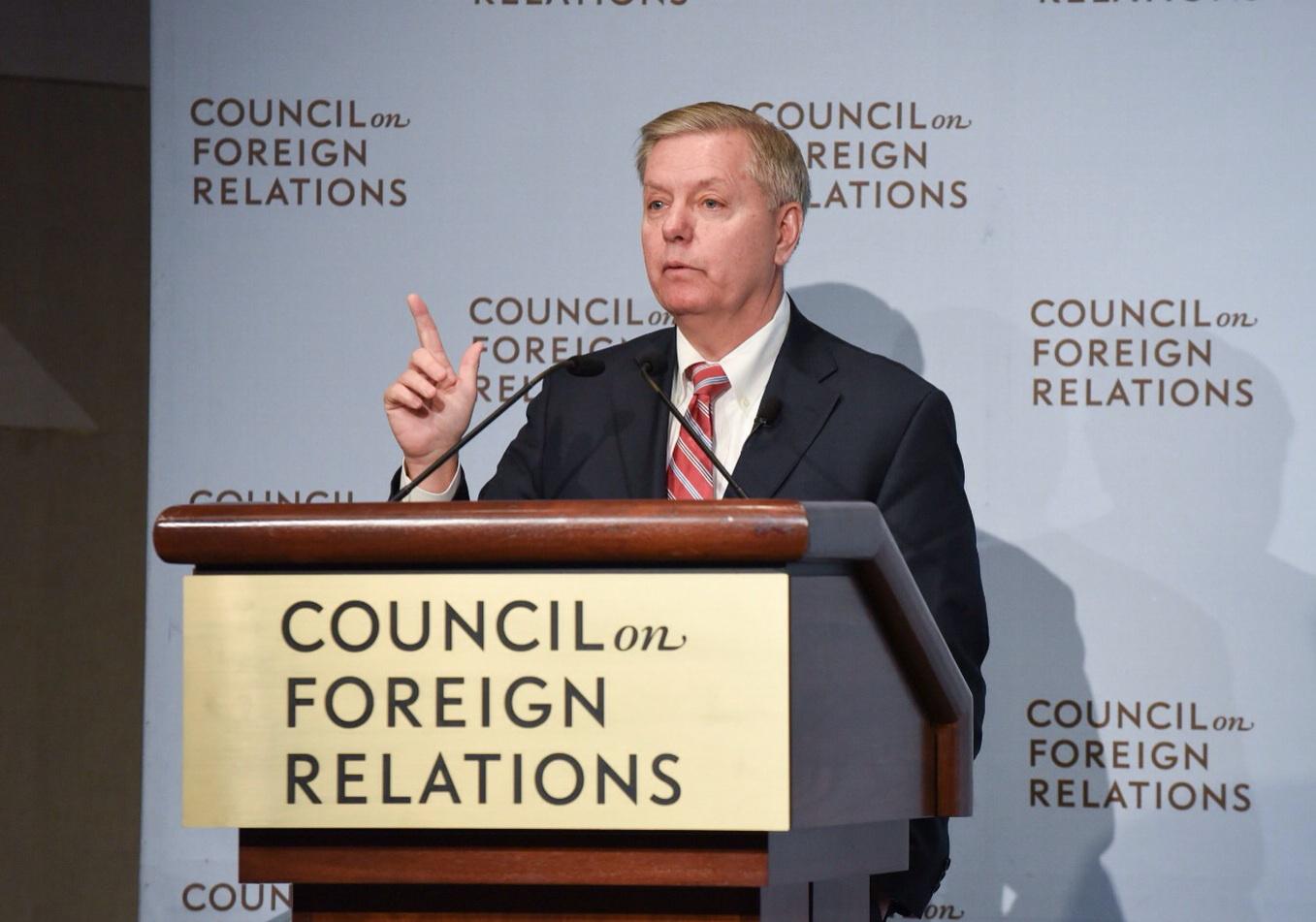 By being acclaimed as a "war hawk" it merely means he is a paid mole for the arch-antagonist Rockefeller cabal. Consider his extremist role in the post-911 climate, where he acted as one of the lead falsifiers for the creation fake conquest and war, once again on behalf of his Zionist masters.
Here are some of the consequences of the vile acts of CFR collaborator Graham, the one who cavorts with terminally vile Zionist agents Lieberman, Schumer, and McCain:
The vile, godless, hedonistic Graham is corrupt beyond imagination, make no mistake about it. He is a child-executor a murderer of mere women and the elderly, the supporter of the mass slaughter of countless innocents. Like Lieberman, he was a main agent to cause acceptance by the Senate and Congress for this brutal invasion of not only Iraq but also Afghanistan.
Islam is the enemy, sure it is: of the morally corrupt, the vile, the terminally wicked: the morally bankrupt.
So, it is he is the ideal agent for the perpetration of yet another treacherous scam, in this case the fake shooting of nine black people at a prominent Charleston-area church:
Really, Graham is connected by his sister, his niece also just coincidentally being associated? Who in the world would believe this to be a real event considering that extensively recognized connection. It's Adam Lanza land again, with the 'lone wolf' of S.C. being yet another 'strange duck', a loner, in this case, like Lanza, described as "awkward."
The New York Times is happy with the news of a heavy involvement of Graham with the vile hoax. Even so, this seemingly direct connection to the fake shooter, Dylann Storm Root, is not only bizarre but also highly revealing:
In his interview on The View Graham, like Obama, claims he knew some of the top people in the Church, including a pastor that 'died.'
Islamphobe Graham is an obvious homosexual, whose compromised position people have attempted in the past to expose:
It was in 2009 lesbian Linda Ketner who attempted to make the connection, claiming that, in fact, the entire state of South Carolina is infested with power-positioned gays.
By all appearance Graham is, in fact, a highly placed compromised homosexual:
If this interview can be confirmed, then, it is certain that he is gay. Let us see what is said, which is, rather incredibly:
that there is in the Constitution a "right to marriage equality," meaning equal rights for homosexuals versus heterosexuals
that the allowance or disallowance for gay marriage in the United States is a "human rights issue."
that "some people just have urges" and that this doesn't make it wrong, regardless they "can't help it."
that not only do they not "choose" to have such sexual desires culminating in acts but they also "don't even want any other people to know about it."
Graham speaks like a homosexual, not like any other. Moreover, just as he proclaimed as in most cases of public officials he has chosen to "hide" the nature of his terminally perverse activities.
Surely, this is the case. Who could consider otherwise? He's never been married and has no children? The so-called rumors are not without cause:
His company includes well-known, politically active homosexuals, which is obvious from the following image:
Little of what he says makes any sense. Surely, this individual is heavily compromised and therefore must do his masters' bidding:
The 'hawk' element is a fake. In real life he's among the most impotent men that could be found.
On The View he made the play for supporting the fake shooting as a real event, a horrible act:
With facial expressions and his words he does not create an air of confidence for what he claims: not to any degree.
The Senator gives the nature of speaking from the corner of the mouth a new meaning. Regardless, clearly, Mr. Graham is doing all that he can to manipulate the consciousness of the people. He will not be successful to the least degree.
Graham has plenty to hide, as is evident by his facial expressions and behavior. What does he really have to hide? Is he dealing in drugs, as is so common with highly placed gay men?
He loves to dress up in military garb. Surely, his entire claim to fame as a military hawk is an arch-scam.
Now, with the backing of gambling mogul Sheldon Adelson, among other arch-Zionist agents, he's making a run for the presidency. How will he fare when it becomes evidently clear that this so-called single man, who often protests against gay rights, is himself a  homosexual?
Sources:
http://downwithtyranny.blogspot.com/2014/10/no-lindsey-graham-would-not-be-first.html#sthash.OlTE7hkc.dpuf
http://www.slate.com/blogs/outward/2015/06/15/lindsey_graham_gay_rumors_are_they_hurting_his_presidential_chances.htm
lhttp://goqnotes.com/2710/former-candidate-linda-ketner-outs-sc-republicans/
http://downwithtyranny.blogspot.com/2007/02/is-lindsey-graham-homo-does-pope-go.html
http://dish.andrewsullivan.com/threads/the-iraq-invasion-ten-years-later/
Share
About Author
(13) Readers Comments