Zionist Controlled Espionage Agencies Behind the Lahore Easter Attack Massacre
Regarding the murderous false flag attack against Pakistani innocents the names that are leveraged are familiar: the TTP and its splinter groups, Malala Yousafzai, Anjem Choudary, and more. Regardless, why pick Easter Holiday for a massacre of unsuspecting civilians, in this case in Lahore, Pakistan? Why do so while specifically targeting women and children, including children and families going to play at a public park? Only the so-called security services would do so, those fake terror groups who are government-funded: in other words, the Mossad and its collaborators.
This clearly is an act by Zionist Jewry through their well-established espionage systems. The attack is meant to polarize Christians against Muslims and to, once again, create global demonization against Islaam. People were randomly slaughtered in this act. It is attributed to a suicide bomber. Yet, no one has proven, yet, the source of the bombing and or the parties responsible for the detonation.
It is the Zionists who control the media assets that give false story lines to this horror. Right away, the Zionist powerful ones spun this massacre as a specific targeting of Christians by radicalized Muslims: it was Islaam against Christianity, once again. This turned out to be a false front, as the majority of victims were Muslims themselves.
Rescue spokesperson Deeba Shahbaz said the toll had risen to 72 Monday, with 29 children among the dead. Senior police official Haider Ashraf confirmed the number killed, adding the majority of the dead were Muslims, AFP reported.
"Christians were not the specific target of this attack because the majority of the dead are Muslims," he said. "Everybody goes to this park."
Yet, it is said that the Muslims did it. Sure they did, right: real Muslims. That means for the supposed 'Muslim radicals' behind this slaughter countless punishments in the fires of Hell, endless residence there, as per the dictate of the Qur'aan: that the killing/murder of any innocent human is a cause for such eternal punishment, full condemnation by God: extremes in punishment.
Once again, only Zionist-funded false fronts would commit such a cowardly act, murdering people in cold-blood for maximum global impact, while picking Easter weekend to do so.
How could anyone perpetrate this and yet freely claim responsibility on the Internet and through the press? Yet, this is precisely what this man,  Ehsanullah Ehsan, has done:
He's the happy-faced, mass-murdering 'Mooslim,' one who seeks to draw as much blood as possible not merely from Christians but also from Islaamic people themselves. Who in the world believes such nonsense?
These men are mere criminals lined up and paid for by the Mossad and its collaborators. Who funds them, and who gives them their weapons? It's the same criminal minds that also fund and support ISIS. They work against Islaam, not for it. Thus, it is said in respect to two known Zionist agents, Malala Yousafzai and the Jewish Anjem Choudary:
Taliban faction Jamaat-ul-Ahrar has claimed responsibility for Sunday's suicide blast outside a public park in Pakistan's eastern city of Lahore that killed at least 65 people and injured more than 280. Most of the injured are women and children. Ehsan even lists his skills as "jihad and journalism" and provides details of his school, employment history and language skills. After the attack, Ehsan said: "She was pro-West, she was speaking against Taliban and she was calling President Obama her idol. She was young, but she was promoting Western culture in Pashtun areas."
It was also noted:
One of Choudary's closest confidantes, Misra Tariq Ali, an NHS surgeon, has joined Ehsan in hiding in Pakistan. Ali, 39 – as first reported by The Sunday Telegraph – fled the UK, where he faced assault charges, to join TTP Jammat-ul-Ahrar. Ali, who lived in east London, also appears to have a LinkedIn account, although his details are not visible to the public.
Thus, it is mere paid government moles and arch-thugs who are behind this crime, that is if that claim of responsibility proves true. Even if it doesn't the fact that they make it, while associating the act with known MI6/Mossad moles such as Choudary is highly revealing regarding the source of this murderous, blood-thirsty plot.
Regarding Yousafzai, once again, Ehsan had invoked her: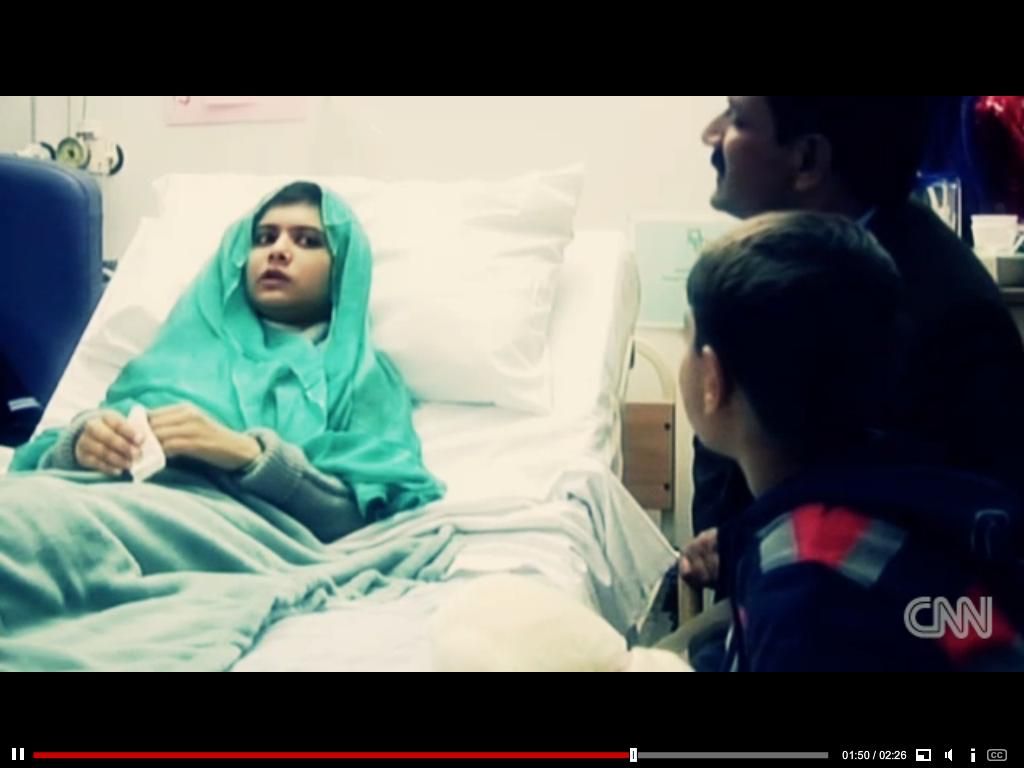 Talk about a furtive glance; sure, it is furtive; after all, it is said that she got half her temporal skull blown out, and yet she appears as if not a single injury of any kind happened. She is clearly a liar.
Incredibly, it is true; it is said that she had gotten part of her skull blown off, which, then, would require a titanium plate. This is obviously a hoax. She was never shot; it was all merely staged.
ec 10, 2014 –
17
–
Year
–
Old
Malala Yousafzai Accepts
Nobel Peace Prize
… "I'm the first
Pakistani
and the youngest person to receive this award," she said.
Ms. Nobel Peace Prize had supposedly been shot as follows:
One wonders how many takes they did of her with this fake injury and phony blood in order to get the message embedded in people's minds? It was one of the most grandiose, extensive psyops and false fronts ever created. That's fake blood smeared on her head; she is not bleeding out in any way that would account for the red stains on the sheets.
That is by a bullet that had supposedly entered through her head above her eye and they went through her jaw. The bullet went through the area above the "left" eye. Then, why is the read matter coming, here, from the right side? Why is there no entrance wound? What are all the pictures about? Why is there such a media circus surrounding this 'event?'
Yet, here is another image, little seen, of the teen just after the supposed shooting, listed by one Pakistani blog as "right after the attack:"
There is no way this image represents a teen who had a part of her skull blown out nor anyone who had actually been shot just above the eye, then, the bullet exiting from the jaw. Her color is perfect; she is not in pain.
Here is another image provided by the blog that demonstrates the degree of this hoax:
Circled above is a top military official. What is he doing there? Furthermore, there is no basis for the read matter seen about the legs. Also, it is clearly diffused, as if water-soluble fake blood.
Oh, for the poor people of Pakistan: how many more of their innocents will be slaughtered for globalist schemes?
The role of the Mossad and its collaborators is demonstrated by the claims of responsibility and those involved in such claims. The involved parties are directly connected to the Zionist-controlled espionage agencies, notably the MI6 and Mossad. Per the Telegraph:
What is the group claiming responsibility and/or its spokes-people doing having "close links" to Zionist-run England? Regardless, despite the fact that this is a real, horrific massacre people may even think this is fake. This is the nature of suffering under the Zionist Empire, where countless fake massacres have been perpetrated. Instead, the Gulsham Iqbal Park act was a false flag event, real murderous acts meant to be blamed wholly and exclusively upon Islaam as a terror source, as if to put the final nail in the coffin of its image.
There is no doubt that these people instead have been martyred by the great powerful ones, the same ones who are responsible for the hoaxes. Those with Muslim names who are involved are mere thugs and hooligans; no one legitimately supports them, that is other than the Mossad and its ilk. Thus, regarding Ehsan and his associates it is said:
Ali and Ehsan later appeared in a recruitment video in which they goaded the Pakistan Army and urged its soldiers to rise up against the officers.
In a further message, Ehsan warned that his terrorist group planned attacks against the UK and its citizens abroad unless Scotland Yard ended its investigation into Choudary.
***
Yet, the fake attacks occur in France, England, and Belgium, while the real ones, as usual, strike the heavily Muslim populated Middle East and Far East, as, clearly, Muslim blood is fully expendable, as is that of the region's Christians. Yet, the latter are played up as the targets as part of the false flag front:
"The targets were Christians," Ehsanullah Ehsan, a spokesman for the faction, said, threatening that more attacks in the region would follow.
"We want to send this message to Prime Minister Nawaz Sharif that we have entered Lahore. He can do what he wants but he won't be able to stop us. Our suicide bombers will continue these attacks." 
The slaughter was extensive, God rest the souls of all this victims:
Salman Rafique, a health adviser for Punjab's provincial government, put the death toll at over 60 people.
"There are more than 280 injured people," Rafique said. "Many are now being treated, and we fear that the death toll may climb considerably."
Police say the blast had been carried out by a suicide bomber.
"Most of the dead and injured are women and children," Mustansar Feroz, superintendent of police for the area told Reuters.
Following the attack, the local government also ordered all public parks to be closed and announced three days of mourning in the province. The main shopping areas have also been shut down and many of the city's main roads are now deserted
***
Once again, the Christian vs. Muslim nature of this psyops is revealed through the words of the Zionist-controlled media, which can say whatever it wants and can never be held accountable:
"The United States stands with the people and government of Pakistan at this difficult hour. We will continue to work with our partners in Pakistan and across the region… to root out the scourge of terrorism," White House National Security Council spokesman Ned Price said in a statement.
Islamist militants in Pakistan have often attacked Christians and other religious minorities over the past decade, while Christians have accused the government of doing little to protect them.
***
The Zionist plot is to constantly demonize Islaam. This is essential for their control- and conquest-based schemes. No one can know the real nature of this faith as a divinely created system for productive life, with its powerful approach to social advancement and finance. After all, for instance, this faith completely condemns the arch-Zionist-based usurious financial system, which is systematically destroying the world. It says a powerful "no" to illicit wars and materialistic conquest. It is a decided and absolute force against tyranny and oppression as well as racial hate and Apartheid. It is, in fact, opposed to all that Zionism represents. Thus, it is no surprise that secretive Zionist forces are precisely behind the Gulsham Iqbal Park murders, the maiming, the injuries, the slaughter, and far more.
Sources:
http://www.siasat.pk/forum/showthread.php?213251-Malala-Path-of-Bullet-Skull-replacement-Depth-of-Wound-!-Magical-recovery-or-Classic-Makeup
http://www.dailymail.co.uk/news/article-2270648/Malala-Yousafzai-Taliban-shooting-victim-undergo-final-brain-operation.html
The Staged Malala Yousafzai Story: UK Medical Report Does Not Conform to Photos or Previously Reported Treatment of Malala
http://www.telegraph.co.uk/news/uknews/terrorism-in-the-uk/11323599/Taliban-commander-caught-networking-on-LinkedIn.html
Nation in mourning after suicide blast in Lahore kills 72, including 29 children
Share
About Author
(159) Readers Comments