UPDATED: Paul Walker's Hat Planted in Car Crash Hoax
It is now confirmed that a hat was planted in the Paul Walker hoax to help support the claim of actual fatalities. Did this hat belong to Walker or his associate? This is purportedly Paul Walker departing the charity scene with friend, Roger Rodas, the driver. While  Walker is not wearing a hat it would appear that Mr. Rodas may well be doing so. The hoaxers of Hollywood are capable of anything: they are specialists at creating fabricated reality.

From one of our posters a picture of Rodas just before the car burning event. In fact, his associate (corrected) was wearing a black hat, which has a white logo on the left side. Did he, too, have such a hat?
In the high resolution photos well after the 'fire' was put out, a hat can be seen in the road. That hat is not damaged or burnt in any way? Did it fly out of the car?
Rodas was wearing a hat as the two departed. Then, too, did Mr. Walker have a hat, perhaps, held out of view?
Now, look: Walker, too, has a hat. He is holding it in his left hand, and this is shortly before he gets into the car.
Let's have a closer look:
That appears to be precisely the hat that was planted on the scene. This would be good news. It would mean that Mr. Walker is alive and did not die a gruesome, horrific death, being burnt up alive, while no one could help him escape. It means that it is all a hoax, and that the downed pole and moving, then, charred trees were props, as were the fire extinguishers and more.
The hat is clearly seen below:
It is not the same hat as the racing one he was wearing but is instead highly similar to the one held in Mr. Walker's hand.  Note that it is situated right on the stripe in perfect condition: not burnt. That is a planted hat, strewn there: not ejected from a burning car.
http://i.dailymail.co.uk/i/pix/2013/12/01/article-2516303-19BF93FE00000578-655_964x680.jpg
Yet, was that hat always there? It is not seen, here. The white line is fully visible. Where
The items that are circled are done so in the inane suggestion that, somehow, those street reflection devices caused the accident, a lame claim currently being made the Zionist-controlled media outlets.
Regarding the interior or seat component, how did it get just off the curb? Another one is found in the street, a considerable distance away. No one witnessed any kind of explosion that could have jettisoned this part to that distance. Clearly, this is strewn (planted) wreckage, just like the hat. Simply put, it was planted there by the perps, just as was the fire extinguisher, which was later removed.

Jim Torp makes wild claims, saying that material was ejected when the car exploded as far as the roof of the white warehouse, which is obviously a gross fabrication. If he had to tell such lies, then, this proves that this is a set-up. He even says the explosion jettisoned material all the way up into the warehouse in front of the car, including the starter, which was hurled towards the building, a ludicrous claim.
Once again, why isn't the hat in these earlier scenes? This proves that the hat was in place only after the fire was extinguished.
The hat is also NOT seen here. Obviously, then, it was planted as a part of the hoax. No other conclusion can be made, since it is laid there perfectly. Keep in mind that this is evidence of a supposed double fatality, and could even be a crime scene.
   Hat on the line                                                                       No hat on the line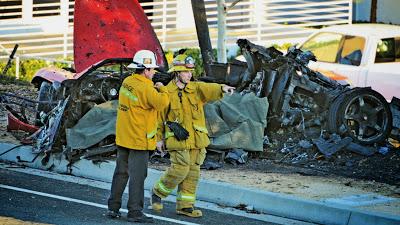 See the water. This hat scene was well after the fire was put out.
Planting evidence or removing it is a crime in itself. Was not it not a major ordeal about someone who supposedly 'stole' a few parts to the car, offering them for sale on EBay (if this even really happened)?
Nor is the obviously black hat seen in this image, either.
What is seen are a number of people down in the parking lot. Who are they?
Of course, it is also gone as night closed in. Removing the hat would be the removal of critical evidence, explaining the nature of the impact and the state of the car; that a window would have had to have been open or blown open. Why would anyone remove the hat unless it was placed there purposely as a Psyops prop? Were they afraid someone would step on it?
Moreover, even though it was there in the police officer scene  it's not there after the moulage mole sets up the cadaver dummies, making them appear as if they are mortally wounded humans. She can be seen standing about mid-picture.
Caption: hats and dummies don't mix; it's simply not to be found during the cadaver dummy skit. Who in the world would really think that this cadaver dummy is Paul Walker?
So, there is no use in pontificating about how the hat survived the fiery furnace. It was never in the vehicle in the first place. Nor was there anyone in there that could have been wearing it. That's because it is all a hoax, where no one died, and no one was injured, all carefully and methodically contrived, and most people have fallen for it.
Fire extinguisher in the man's hand who is seemingly walking casually away but no hat, at least not yet.
Share
About Author
(37) Readers Comments