Black Lives Matters is an Arch Zionist Psy Ops Plot
Updated, August 7, 2016, with more information on the homosexual basis of the BLM plotters
What good is an entity that terminally rabid arch-Zionist and God-hating Jew, George Soros, supports entirely and fully, Black Lives Matter, with his dirty billions? This criminal mind has given tens of millions of dollars to the entity, fully demonstrating his role as the key force behind the corrupt organization.  Zionist-controlled Google is also a main source, giving some $2.35 million in grants to activist organizations such as Black Lives Matters, that those organizations supposedly addressing the "racial injustices that have swept the nation."
Soros is deemed a "leftist," as are his collaborators. This is an elaborate disguise. The so-called leftists are not leftists but are, instead, merely arch-Zionist moles. Yet, it is said, for instance, as in Politico:
…Politico reports that "some of the biggest donors on the left plan to meet behind closed doors next week in Washington with leaders of the Black Lives Matter movement and their allies to discuss funding for the burgeoning protest movement." This is via the arch-hostile entity known as the Democratic Alliance.
Who meets with such power-brokers other than fellow agents of the arch-Zionist, pro-Jewish mob? Regardless, what were the meeting about, the plot to commit additional fake DHS-orchestrated shootings, all to create gross confusion as well as to instigate further divides in consciousness among the people?
Regardless, it's a filthy arch-scam, categorically corrupt. Funding comes not from real black or white freedom fighters and true activists but, rather, virtually strictly from powerful elements of the arch-Zionist cabal. God-fearing and justice-seeking people should have nothing to do with it, rather, they condemn it for its treachery. It is rather than merely a 'terrorist' organization an agency of deception, a means of chaos, an entity of provocation or at the minimum grandiose distraction:
People look at this as an entity sustained by misguided and/or foolish blacks. This is not the case. This is a plot orchestrated solely and exclusively by the criminal minds of the Zionist mob. It's purpose is strictly to foment social and inter-culture strife, while creating the necessary distraction: through the countless billions in the hands of pro-Israeli Zionist criminals.
A key Soros-sponsored entity is the so-called Democracy Alliance, supported also by the mega-wealthy donors Tom Steyer and Paul Egerman. Both are involving in supporting the BLM organization. This is, clearly, a arch-world-Jewish Soros clique:
The invitation-only Alliance, co-founded by far-left billionaire philanthropist George Soros, calls itself a "first-of-its-kind partnership of change-makers who are committed to a stronger democracy and a more progressive America." All three of these men, all these Zionists, that is Soros, Egerman, and Steyer, are in the billionaire league.
It is two Satans in a row, hiring and financing other Satanic ones to do their bidding. Moreover, all of them, the entire clique of these four individuals, are Zionist Jews, including Obama himself.
Deray McKesson is an agent of the cabal, and has represented the fraud with numerous fake arrests. This is in order to increase his stock before the real world as if a real activist. How can he be real? He is extensively compensated for his role, by Soros and his litany of lower-level moles themselves.
Here is yet another arch-phony arrest:
It's all for public consumption, a total fake: a phony activist, a mere agent provocateur and a highly poor one at that.
Black Lives Matters is a Zionist plot for divide and conquer, with McKesson among many of its well-paid, embedded agents.
Another key element is lesbian co-founder, so-called Executive Director, Patrisse Cullors-Brignac:
Said this antagonistic one:
Let's focus on this one issue that's called blackness, as if blackness doesn't encompass all of everything. As if blackness is one thing. And once we get that down, we can focus on other things. But that's actually a very harmful narrative, because blackness is everything. You can't tell me I'm also not a woman. You can't tell me I'm also not queer. It shapes how I see the world."
No one wants her to "shape" the nature of activism for human and social advancement for the African-American community.
Yet another agent for the terminally vile BLM entity is none other than purported Executive Director for 'just' immigration, Opal Tometi. Said Tometi:
"When we say #blacklivesmatter — we mean all Black lives matter — regardless of gender or sexual orientation, immigration status, physical disability, income level, criminal record, etc.
Then, there is Alicia Garza, another Soros agent and paid element. She is listed in the BLM propaganda material as the  Special Projects Director for the National Domestic Workers Alliance, which sounds highly Communistic to say the least. Here she is with an entire clique of BLM agents of the Bay Area:
Garza's tie to Zionism may be more deep than merely the taking of Soros monies:
Additionally, she is 'married' to not merely another lesbian but, rather, apparently, a transexual man:
In 2003, she met Malachi Garza, a gregarious, twenty-four-year-old trans male activist, who ran training sessions for organizers. They married five years later.
All this proves that BLM is a Zionist-orchestrated gay-lesbian plot.
The trio of lesbian agents provocateur are seen, here:
For instance, did Malcom X get paid for his activism? All that he suffered for his words of truth was loss. These agents of BLM are mere hucksters and arch-frauds, and it is impossible to demonstrate otherwise.
Thus, Black Lives Matters is nothing other than a front group for deceptive acts by the homosexual community. All that it is associated with must be considered fraudulent and corrupt, categorically.
Do these Toronto-based BLM elements look like anything other than paid hoax agents. What, then, is their sexual orientation?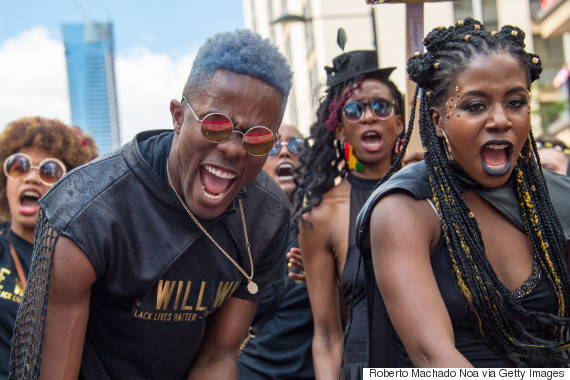 How are these real protesters for the concerns of any oppressed community, black or otherwise? The arch-hoaxer and fraud-meister McKesson has full access to the Zionist-controlled media, for which he is the darling child:
BLM is a side-show, a phony element, a means for scheming and plotting by the Zionist mob. No one should take it seriously. In fact, all people should fight it vigorously by publishing about the hard fact that it is a fraud and an element for provocation and the spreading of corruption.
Sources:
http://www.newyorker.com/magazine/2016/03/14/where-is-black-lives-matter-headed
http://www.theamericanmirror.com/blacklivesmatter-leader-deray-lives-home-owned-by-soros-connected/
The "Vast Left-wing Conspiracy": George Soros's Democracy Alliance remains a potent force in the 2014 elections
Share
About Author
(51) Readers Comments