Nigerian Schoolgirl Kidnapping is a Zionist Plot
Revelation thanks to one of our posters
It is the Zionists who are behind the so-called kidnapping of Nigerian schoolgirls, not the Muslims or, rather, 'Muslim terrorists.'
Actually, this is an oxymoron. There was no kidnapping. In other words, it is all fake.
First, it was 200 schoolgirls, then 233, and now, 275. This alone should cause the thinking mind to realize that this is a staged event; in other words, it is a hoax. That means, simply, that the entire claim of the kidnapping of such youths is an absolute fabrication.
Boko Haram, Nigerian terrorist extremist entity extraordinaire, is rather than a Islaamic group an agency of the Mossad, just like al-Qaeda. It is the Israeli Mossad which has fully infiltrated the Nigerian infrastructure. For instance, the 2011 so-called Christmas and/or Underwear Bombing was perpetrated by a Mossad agent or patsy (yet to be determined, even so, it could have readily have been a staged act at all levels by Mossad agents).
Sure they did, sure agents of Boko Haram kidnapped 200-plus school girls. Sure – and the world must believe it – and then just as believable is the claim that he his now about to "sell them off" on the open market, meanwhile retaining them as slaves to do his bidding. He just took his fellow militants and waltzed into a girl's school, kidnapping some 200 of them. How did he do so? Furthermore, how did he manage to haul them away? What kind of vehicles did he use, and how does he keep control of such a mass of humanity now? Then, too, how could he do so without anyone noticing?
Moreover, it happened without a single witness, a single person who could bear legitimate witness to the event.
How sly are these Muslim terrorists.
The organization, if it even exists, is headed by Abubakr Shekau. Is he really a Muslim terrorist seeking to destabilize the country?
Clearly, this is not the case. He is an actor, in fact, a Zionist mole. Notice the Kalashnikov's painted as a logo in the background, along with an open Qur'aan. It is all a fake. Worse than this, it is a fraud to attempt to, once again, make Islaamic people appear demonic. He's thrilled. He has 200-plus little girls in his haram.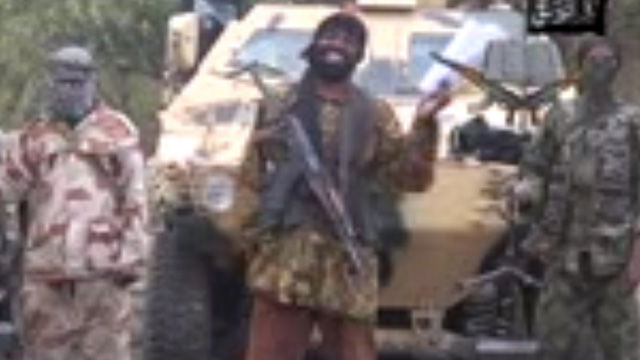 The mole is a Mizrahi (black African) Jew, not a Muslim. He is an enemy of Islaam, not it's savior:
Who believes this is a Muslim? What devout Muslim must wave about a foot-long tooth-cleaning stick (miswak) as a prop when doing a YouTube video?
Clearly, the man works for the Zionist cabal, not for any Islaamic cause. He is belittling the Islaamic faith through hs fake display. If he is even a real person, his eyes appear diseased. Shekau, Zionist mole, is surely one sick individual, living in lies, although he clearly takes relish (or his effigy) in attacking and undermining Islaam.
That's a mighty long index finger. It is also one massive tooth stick. The video needs to be analyzed more fully.
This is a plot to solicit US intervention into Muslim North Nigeria. The Israeli Army won't do the Zionist's bidding. Only the goy grunts will do so. Imagine that: a Muslim group, Boko Haram, does the bidding precisely – to the most exacting degree – of the Zionist cabal. This is by setting the necessary platform for military intervention into the country. Well done, Muslims. You brought the full force of tyranny, once again upon yourselves (sarcasm).
The demonstrations and placards, the signs, the shouting, the facial expressions, and more, are all fake:
No one is distressed in the least. It's a business transaction, and the involved hoaxers were surely paid.
There is yet additional drama, here, right before the camera. Notice the people in the rear shooting cell phone footage. Another woman gets into the act, plopping her hands on her head yet keeps her purse in the left hand while doing so. It is not believable in the least.
Now, here is where the plot becomes clearly evident. Notice the ring-leaders or coordinator in the front. Notice, too, the man in the background in the white shirt, smiling and laughing. It's megaphone city, with yet another staged event for the Zionist hoaxers.
All the demonstrations are staged. Yet, the plot – and it's purpose – now becomes clearly evident in this next series of images. "No one is safe," help us.
Why all the vagueness, "our sisters" or "my sisters" or "our daughters" or "my daughters?" Doesn't anyone in Nigeria have a name, especially the missing schoolgirls?
'We are no longer safe.' Thus, 'We need you, Zionist-controlled Britain and America.' In other words, 'Our government is incompetent and our military corrupt. Help us. Save us. Intervene with your strike forces, your Special Ops and Marines.' Notice, too, how organized they are with the placards and posters, with the names (presumably of the missing) attached in the red bars.
5 days ago
Oh, mighty Zionist-controlled cabals, please protect us. Bring your mighty metal here and save us. Invade our country immediately and rescue us from this threat – these Islaamic boogeymen, these Mossad agents posing as Muslims. Save us from them. We will so ever be grateful. "Rescue" means military intervention, and so does "Let Peace Reign, Please Protect Us, Bring Back Our Girls (the placard held by the coordinator in the burnt orange clothing), and Can anyone help me?"
Help is on the way, as the Zionist assets in the US Senate have put forward the platform for murderous intervention:
There is no doubt about it the kidnapping is fake. Moreover, once again, the plotters and schemers behind this hoax are Zionist Jews.
Share
About Author
(24) Readers Comments