Colorado Shooting Hoax Includes Crisis Actors
Preliminary post only. To be updated shortly, but because of the importance, for your perusal.
The Arapahoe, Colorado, shooting wasn't a shooting. It didn't happen. It is merely a hoax, like all the others.  See the crisis actors in this video. There are many of them. All those who claim to have heard shots or witness a shooting (no one thus far has stated they saw anyone physically wounded; no one claims to have seen anyone with a gunshot wound or who was bleeding): anyone who makes the claim is a fabricator.
Here are two crisis actors on the track and field track; note the oft-held cell phone, which is a standard for such fraudsters. Man in the grey sweatshirt is likely a producer.
This is a preliminary post for your review: to be updated shortly with commentary. The crisis actors are everywhere in this event. Note the cell phones and water bottles plus the director with the clip board.
Same two people as in the previous picture; different people in the background; slightly different pose. Note the phone position: she has switched hands: 100% fake.  The young man is looking on in a relaxed pose, hands in his pockets. Nothing here to consider. No adrenalin. It's a Sandy Hook  supportive hoax to give some basis for the so-called anniversary and also act as a cover for the systematic exposure of that wretched event.
Two additional crisis actors. Note the absolutely relaxed nature of the countless students in the background, with the occasional smile caught incidentally.
These SWAT team members seem to like the attention of the camera, looking right into it.
Now, watch this set of images derived from the NBC footage. Not much time should be wasted on this scam: it's a farce.
Producer mole is revealed in the background; seems to be a kind of coordinator.
They are all actors, but he seems to be saying something to the actor in the blue and black jacket.
Pencil in hand, there is some kind of interaction with the actor-fakes. He is saying something. 'Hey, at least wait before you do the gig for me to get out of the view.'
A still shot derived from another video of the same two crisis actors in another pose; note that it is the same purse. This time, though, she is caught smiling.
Here are two additional fraudsters. Water bottle, courtesy of the US taxpayer and it would appear a free lunch for all at Burger King. Plenty of wasted police tape to boot, used senselessly and well squandered plus all that wasted gasoline and much wasted energy: fraud, fake, phony – absolute.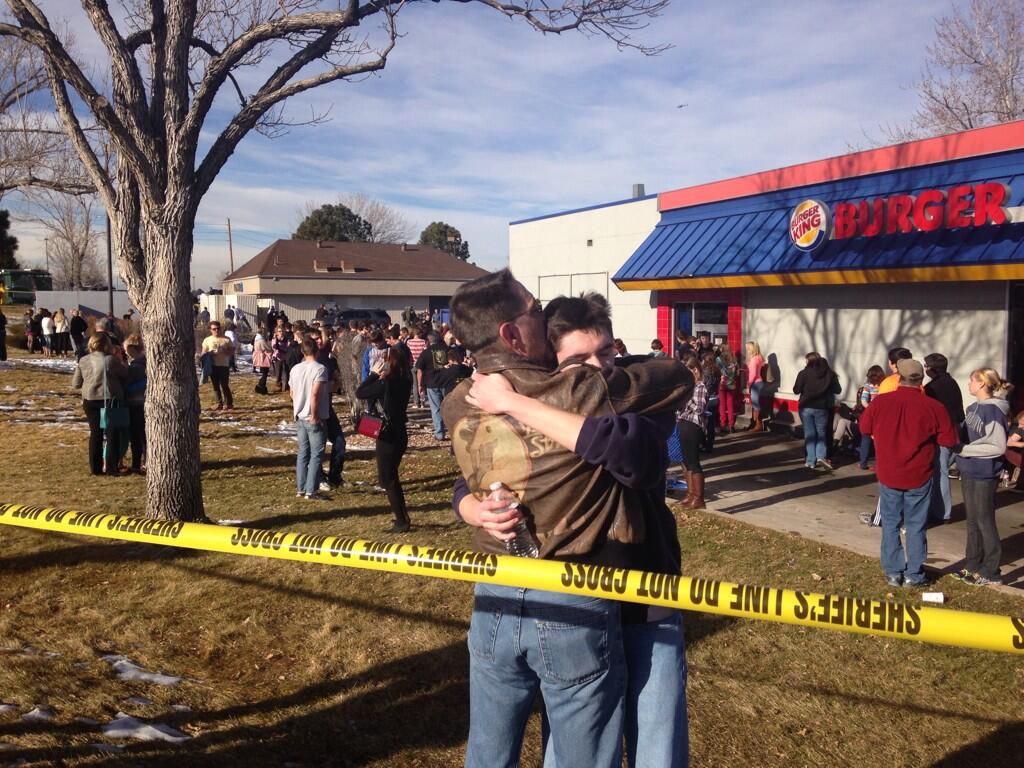 A well secured water bottle and another object wedged between the man's arm and chest; 100% crisis actors. Nothing to be emotional about here, except a bit of righteous rage against all these hucksters and fraudsters.
The Araphahoe  County school shooting is a fake, 1000% a hoax, where there was no shooter, despite the occasional crisis actor/fabricator, who claims otherwise. Who can prove that it is not a hoax? Let anyone try. The Sheriff: just announced his retirement, just before the hoax. That is no coincidence. There were some favors exchanged for this scam. To what degree is yet to be revealed.
Share
About Author
(19) Readers Comments