Evacuation Pictures of Grenfell Tower Fire Prove it is a Hoax
UPDATED, June 24/2017
It is the evacuation pictures, provided by the Zionist-controlled media, which themselves prove that the Grenfell Tower fire, acclaimed as a real and fatal catastrophe, is nothing other than a scam and a hoax. These are the images provided by the media itself. A person can take its word for it. Within these is an image of a crisis actor, who gives video interviews but also acts as a fake wounded person.
Make no mistake this "evacuation victim" is the same person seen in the video acting as a fake grieving person. Even so, a horrific five-alarm-type fire with people being injured by falling debris and fire, with actual people being burnt alive, is not synonymous with smirking and smiling. Even so, crisis actors cannot be used in a real event. It's too risky. If they are there in-force, then, it must be a fake.
Furthermore, the individual acts as an investigator if not a coroner, saying, incredibly, that he can "confirm that lives have been lost." He adds, "There were people who were jumping out…"
Once again, it is a crisis actor acting as if he is grieving, while obviously not being in shock and also demonstrating prior to this, duping delight:
Nor does anyone find it plausible that the reporter would hug and kiss him. What for?
Even so, there is no panic anywhere. No one acts as if in shock. No one is seriously grieving. Tears, even fake ones, are hard to come by.
Here is one of the original evacuation images. Notice how fire workers are protecting the crisis actor with flat shields.
Here is a very early image, first 25 minutes, of a crisis actor coming outside carrying a child. Notice the people in the lobby area coming down during the early phases of the pyrotechnic, set, staged fire. If pyrotechnics were used, the danger would be minimized in terms of the types of noxious, gaseous fumes that would be produced.
Here, two firemen can be seen, once again, in the early phases, right at the base of the building, the same area where the evacuation is occurring.
Here are some people at considerable distance from the fire. Notice the police officer standing before them, along with two persons feigning shock and grief.
Here are people associated with an oxygen tank. Do any of them look like they have been in a fire? Why are no people suffering from actual burns?
As well, see this image. Do these people look like they are dealing with a crisis? Why don't they take the victims to the hospital? Why, instead, would they rig them up with oxygen tanks on-site?
Who was there to take such a perfect HD-quality image? This is a stage. Life is a stage. Grenfell was a movie set, well orchestrated.
Recall the images about the tree? The tree seems to have been a staging zone, as follows:
Then, there is this image of this crisis actor, complete with the kitty. She seems to be looking to another person for instructions:
Here are a group of very well-dressed children reportedly at the scene, yes, right there at night. What are they doing there? Why aren't they out of harm's way? What in the world is going on? Why is the boy, left screen, looking directly at the camera, seemingly smiling? Where are their parents? What an arch-fake it is.
It's the same girl, as well as boy, right screen, in both images. This means the children were used in staging. That means the claim of deaths and injuries was faked. It is all too fantastic, regardless, the claims of parents dropping their children to the ground, people jumping out to their deaths, people being told not to come down, and more.
Once again, what are the children still doing there? By no means does this make sense to any degree.
Again, do any of these people look like they endured an actual horrific fire, with burns and smoke inhalation or any degree of risk or panic to any degree?
People act like they are in a panic, but they are not. As well, where is all the acrid smoke?
What in the world does this represent? No wonder the man in the background is smirking.
Here are the supposed victims of the catastrophe. But,first, here is a screen capture of some of them as they move towards 10 Downing St:
Notice the woman with the red scarf. She has a major smirk on the face. Once again, smirks and smiles cannot be coincident with a real event, as advertised.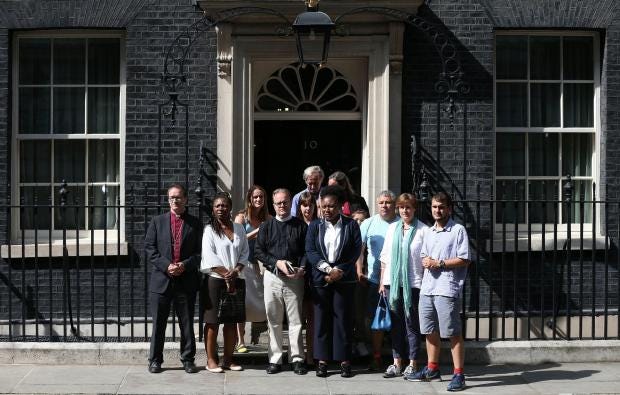 'We just met with the president, er, Prime Minister, for two and one-half hours.'
Then, will no one tell the truth about what happened, here? Everyone was way too calm to have lost loved ones. Plus, there is way too much posturing and acting.  This is an elaborate hoax, committed Hollywood-style, highly sophisticated in scope and nature. There can be no other possibility. Therefore, no one died, and in all likelihood, no one was injured.
Share
About Author
(13) Readers Comments