Fake Blood and Phony Blood Packet Detected in Manchester Bombing Hoax
Despite protestations otherwise, no doubt, the acclaimed Manchester suicide bomber by, as the Mirror puts it, "pure evil" so-called radicalized Islam is an absolute hoax: a fraud and a scam. Moreover, the nature of the hoax is obvious and no one can demonstrate otherwise. This is demonstrated by fake wounded people dressed with useless bandages and artificial blood.
It's the same in all such hoaxes. Do people forget so easily? Doesn't anyone remember 'Igor the Smoke Bombing Victim?'
Via the moulage moles he was dressed up for the role, with his pant legs being shredded artificially to make him appear as a real bombing victim. The same moulage style was used in the Manchester suicide bombing hoax: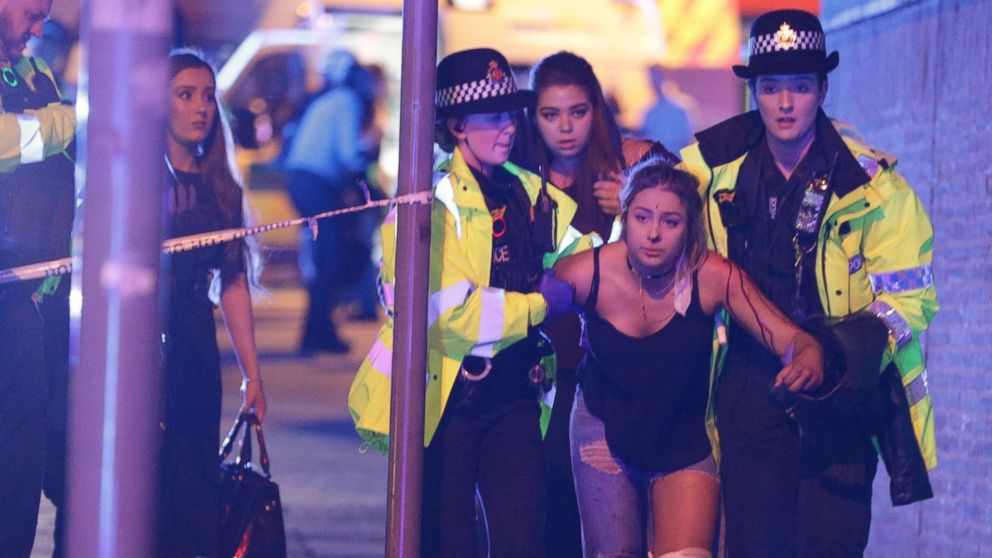 It's just that it is an 'Igoress,' that is a female example of the same. If she is a bomb-blast victim, where is the evidence of blast injury? 'Oh, my, look at this poor victim of all that evil, of ISIS, pure evil, that criminal, treacherous group, the Israeli Secret Intelligence Service.
Does anyone see any wounds, here, any shrapnel injury, any embedded nails or other matter, any char or bomb-blast damage, any open wounds, any lacerations?
What about this man? He has a head wound, and he is allowed to walk about: no one cares? Who dressed that 'wound?' Where are the EMTs? That is, why are only good Samaritans transporting the 'wounded?' Regardless, that isn't real blood but is fake blood, mere moulage, applied on.
Hard proof of the hoax: fake blood packet confirmed
See this hard proof of the hoax through the finding of a seemingly hidden fake blood packet. In the first image what is seen is a moulage mole. The mole is seen to be putting his fingers into a kind of bag. Then, what happens?


Notice the curb. There is no red matter on it. Now, see what is seen:

Suddenly, there is red matter drizzled about, obvious food coloring or food dye, or mere tempura paint, not the color and consistency of real blood and unrelated to any wound(s). It is obviously dripped out of the bag rather than being from real wounds. Even so, it can be seen that this matter is precisely the same color and consistency of fake blood:
Moreover, when the image is rotated 90 degrees that does look like a fake blood packet in the form of a Ziploc bag:
How, too, is this representative of a terror attack victim? That's just a grouping of scissors cuts on those white pants. By no means is this woman a bomb-blast victim.
Obviously, then, these pant tears were staged. They are symmetrical; there is nothing about this that gives the appearance of an actual bomb-blast consequence. Too, no one is in a panic, not the people, not the public officials.
The staging is also clearly evident by the litany of government agents or contractors with long-guns, full gear, abounding. They, too, are being staged for effect. This is the militarization of the world care of the Zionist criminal mob.
Moreover, this cannot be a coincidence that this is all occurring simultaneous with the visit of crypto-Jew and Zionist apologist Trump to the Apartheid Zionist strip.
Regardless, fake terror, that is staged phony bombing events, even fake suicide attacks, are not new to Manchester, as these have been fabricated previously, complete with crisis actors and fake wounded.
This post was placed, in particular, because of the finding of the fake blood drizzler and possible fake blood packet. To be updated as soon as possible.
Sources:
http://www.manchestereveningnews.co.uk/news/greater-manchester-news/trafford-centre-terrorist-training-video-11309172
Share
About Author
(16) Readers Comments