The Fake Dead and Wounded of the Las Vegas Mass Shooting Hoax
Updated, Wed., Oct 4, 3:55 p.m.
What better place for a treacherous, arch-corrupt shooting hoax than Sin City itself, Las Vegas, Nevada. It is here, too, where the Zionist criminal elements, such as Sheldon Adelson and Steven Wynn, operate, and it is they and their ilk who back such treachery, all on behalf of world Jewish government.
It is the Jewish-controlled media which led in the delivery of this scam, which contrived it, orchestrated it, and controlled it, which gave it an element of credibility. It was all headed by psyops-news itself, CNN.
How can it be seen that the dead or fakes? It is through their imagery, which demonstrates digital manipulation. What right-minded person, what relative or other, would provide PhotoShop manipulated images as representation of murdered loved ones? Yet, this is precisely what was done, easily proven by careful analysis. Even if the images are real this is irrelevant. It is still contrived, and the sources of the uploaded images are also dubious.
The fake wounded are easily identified. They are not gunshot victims to any degree. Nor are they being treated medically. Nor are they transported via protocol. Here is a perfect example. Look at this woman. Look, and look, again. There is nothing real about this. What in the world are they doing wheeling her about in a desk chair? Apparently, in this case they cannot haul her away like a sack of potatoes for fear of herniating their lumbar disks.
.
Upon closer inspection, clearly, there are no gunshot wounds:
There is no blood flowing, and there are no open wounds. Nowhere can be seen actual entrance or exit wounds. No one can find it believable that this woman is a gunshot victim.
Here is a further glaring example of the degree of the fake, proving the use of moulage and fake blood for the desired effect:
It is highly evident that this is not an injured woman and that, rather, she is an actor. Clearly, this is paint, specifically tempura paint:
It is applied during movies and other acts in order to create a sense of realism for faking injuries and deaths. This is all that is seen in the Vegas-related images. There is no spillage of real blood. Here is another glaring example. Where are the gunshot wounds? Where is the exit or entrance lesion?

That's not real blood on the arm; it's merely smeared on.
Here is another one. How is this a gunshot wound? This man was reportedly shot in the head? Who is it that is placing his bare hand over a 'gaping head wound?' No one would do this. Contamination would be rife. The man would die of sepsis.

One eye closed, the other eye open: fake to the extreme.
Regardless, it is not plausible that this happened as acclaimed. The purported gunman had 20 guns plus associated ammo. Just how did he transport this load to the 32nd floor?
Yet, even more implausible, once again, are the fake wounded and how they are being handled. Who believes it? They were being transported in wheelbarrow.
In one case a woman was accidentally virtually dumped out of such a device:
Now, perhaps, at this point the person might have gotten injured, surely not before by any gunman.
It was also seen that these phony wounded were being transported on wire wracks. No one in this universe finds this plausible. The medical-legal implications of this are vast. This is inane beyond belief. It is not possible that any element of this is anything other than a charade.
Here's another wheelbarrow. They are being transported back and forth to the staging area. Then, presumably, people were loaded from these carriages onto pick-up trucks. Really, this is being done to people suffering blast wounds from long rifles?
Look at this fake. Mr. Muscle-Man is fake pumping her upper chest (wrong place and method) to create a sense of realism. This is arch-Zionist, Jewish-controlled Hollywood that is staging this and about this there can be no doubt.
Here are some examples of contrived images for the so-called deceased. Notice how soft is the image and how corrupt it is compared to the background. the woman has full light on the left side of her face, but this is lacking in the male.
All these people are supposed to have been shot dead. Where is the outcry from their relatives? Why are there no tears of grief and sadness? What where they paid for their images to be used?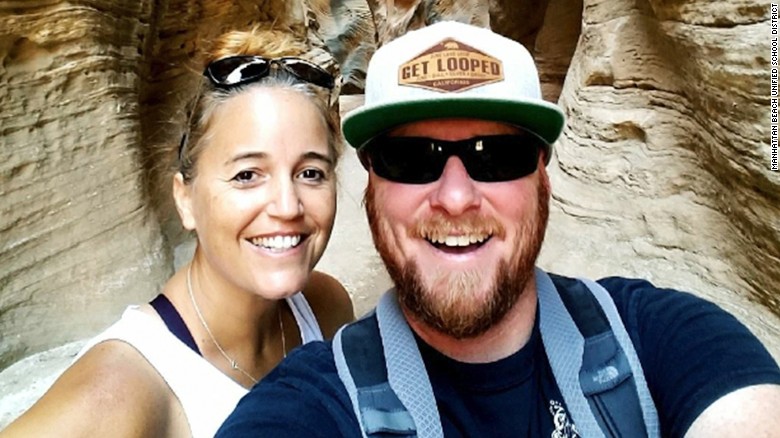 The man seen in the video lead photo is one of the coordinators. In this case he removed his black cowboy hat. That hat was an identifier for the crisis actors.
For the acclaimed element of some 600 people either killed or wounded, why is there not even the slightest evidence for a single gunshot wound. Not even one exit or entrance wound from a long rifle or any other kind of gun can be seen anywhere.
Sure, it was, right: absolutely. It was white-man violence, once again. All those gun-loving Americans. They love to draw blood, senselessly. Sure, they do, right. No wonder all the people that were paid for this view it as a joke, unable to control their internal emotions. Too bad the fully bamboozled world public can't see it, buying the entire story-line, fully believing this absolute phony is real.
NOTE: the above image was taken as a screenshot from a network news video, where this woman, among others, can be seen acting out the hug after being bused in to the site. It just proves the absurdity of it all, confirming the degree of the fraud.
Share
About Author
(82) Readers Comments