The Fake Death of Dallas DART Officer Brent Thompson
The entire claim that actual Department of Rail Transport or DART officers in the Dallas area were shot and killed and/or wounded is a monstrous lie. By no means were any of them engaged by an actual shooter and shot to any degree. This is all fabricated, fully proven, here.
The arch-Masonic DART police chief knows full well the nature of the scam and fully reveals it when he is interviewed in public, including at the staged funeral itself:
He's making a mockery of it. Why should anyone else care? No one could be that happy over a corpse that has just barely cooled down. Who would behave that way before the public, knowing the sensibilities of the relatives and far more?
The purported family has proven it through their fake press release where they are demanding the untenable: that they be left alone and that no one can bother or contact them. This type of family-source press release is a standard in arch-hoaxes: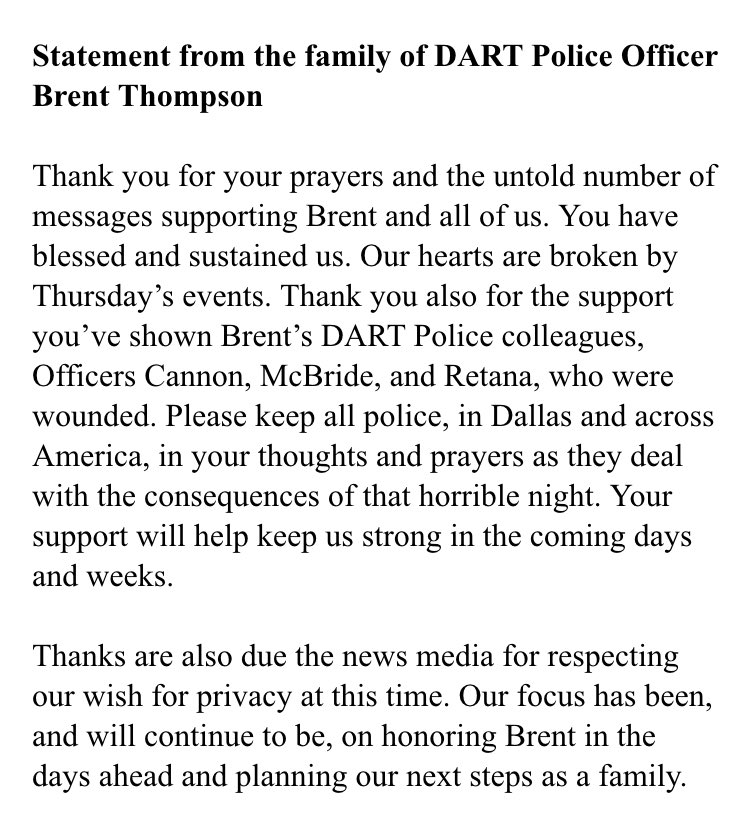 The press release claims that not only was Thompson killed but that also three others were wounded. Officers Cannon, McBride, and Retana were not wounded in the least. Thus, they are lying before the entire world. No wonder they don't want anyone to contact them.
Yet, wait a minute. Is there no interest at all for interaction with the public? None whatsoever? In fact, there is interest: in the public largess. 'Give us your money, but leave us alone, so we can gloat in our fraud.'
https://www.gofundme.com/brentthompson
People should request a refund. The site should be shut down. This is a fake, and there can be no other conclusion.
Some poor bamboozled, gullible goy even donated $500. That's just the beginning. See what else has happened. Someone even provided a check for$50,000:
More than a half a million dollars have been collected to help the families of the five Dallas officers killed and the 12 officers injured in last Thursday's ambush.
Between the 'Assist the Officer Foundation,' GoFundMe accounts and others, volunteers and police groups have seen substantial donations going to the injured officers and the families of those killed. Frederick Frazier with the ATO Foundation said, so far, it's collected well more than $500,000 in donations and counting. Maxwell Drever from California flew to Dallas to hand-deliver his check of $50,000, hoping it will most benefit the children of the officers killed last Thursday.
"It's a start," he said. "Hopefully, we can do more."
A local preacher belittled the process, stating that the final ceremony would occur at a private family site, purportedly the family's own graveyard. How convenient it is, since there is no way anyone could investigate the claim of there being a real death. They even want privacy for grave visits.
He cracks jokes about how Thompson didn't want to be buried near the septic tank but as long as another relative suffered that fate he was fine with the private burial.
No one could be this wildly thrilled, so fully consumed with duping delight, unless this was a fake and a scam.
This is the supposed wife of two weeks. She breaks out into duping delight initially, then, at the end seems to reveal it all as she participates in this arch-con.
The red-headed woman then comes up and no matter how hard she tries it is clear that she is acting on a stage and is not truly grieving any loss.
At one point in the tape if it the sound is turned way up it seems that it is heard, "Action, next one," at which time, exactly, the blonde-haired woman takes the place of the red-head.
In the video the man on the right seems to be holding back laughter, about to burst at the seams on many occasions. The sister seems to jab him, apparently telling him to settle down.
…if looks could kill….
She's awfully happy for just losing her dad to a senseless shooting. Regardless, that's interesting, her point about him being home for good. Where is that, on the private farm where "privacy" must be "respected?"
Share
About Author
(78) Readers Comments