Fake Wounds and Fraud in the Portland Commuter Train Stabbing Hoax
For whatever reason the entire world has been captivated by a fraud and a scam, which is the fake white supremacist-based stabbing of purported heroic good Samaritans. Incredibly, based on a lie some $210,000 dollars has been purged from the public largess.
https://www.gofundme.com/tri-met-hero-recovery
Who is this Carlos Espinoza who posted this? Surely, he knows this is a treacherous lie. Thus, he is defrauding the people, like all the others involved. People should take action and warn others, posting on the site that this is a total scam and that, thus, no one should donate, in fact, that those who've already donated should request refunds.
The individual in question, Micah (David-Cole) Fletcher, is a hoaxer at-large, who has no hesitation to participate in a fraud on a grand scale.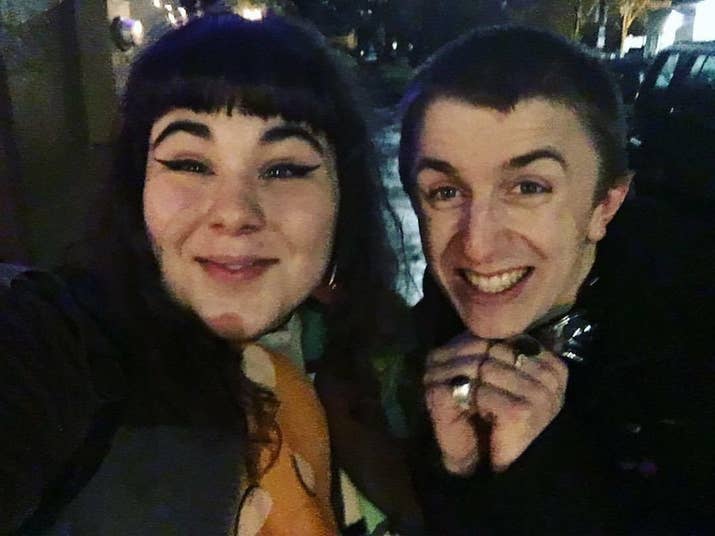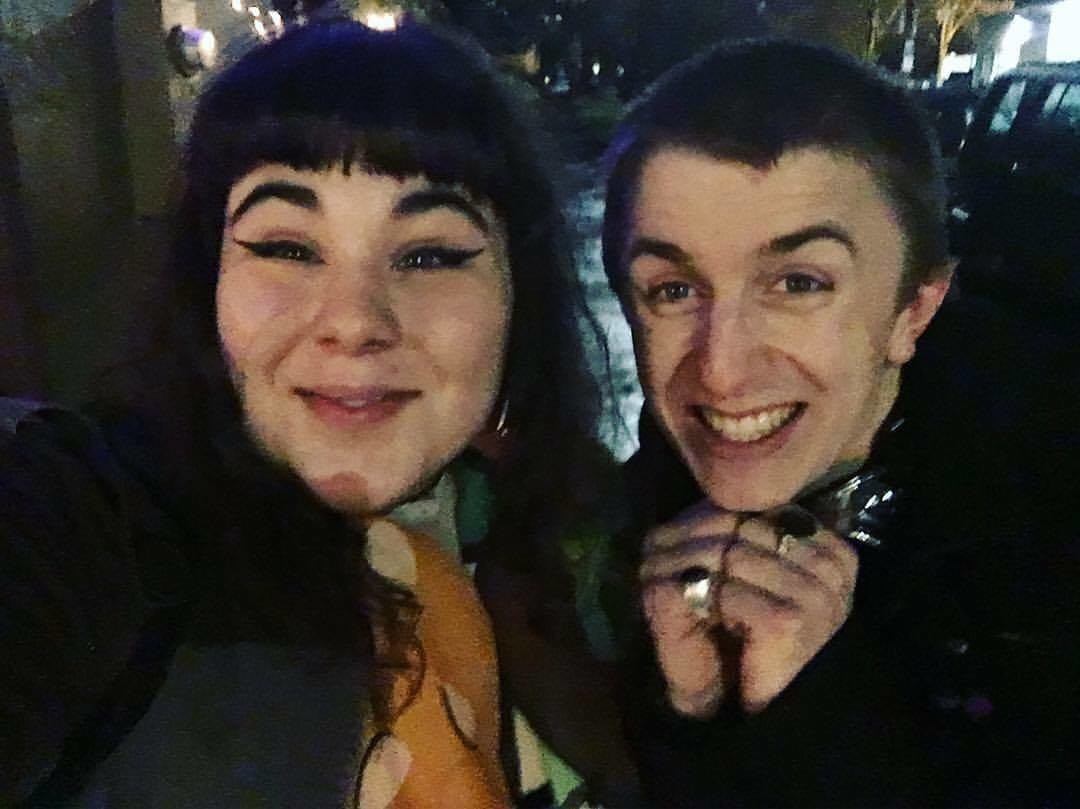 Here he is with amateur actress/photographer and cohort Elie Hoover. Are they wickens? They surely don't believe in justice an decency and responsibility to do the right thing.
Now, this individual was supposed to have suffered an extreme degree of trauma. Such a young person, only 21, having a blade jammed into his neck, slicing tissue, slicing through skin, subcutaneous tissue, muscle, and more: not a pretty scene:
It says what it says, which is that the knife "sliced into Fletcher's neck…" and that there was great force in the stabbing, sufficient to shatter bone. From the imagery available that is patently impossible. Yet, what was the source? Was it the police, fire, or EMTs: or doctors at-large? Not at all, it was merely the "local news."
From the following autopsy photo this is what a slice wound into flesh looks like: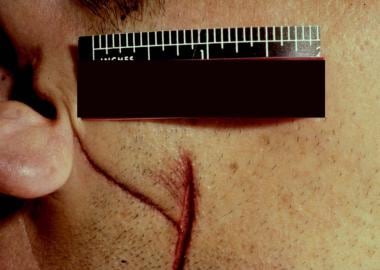 Where is the slice in the Fletcher photo? In fact, there isn't one. No wonder he looks towards the camera with a furtive glance.
This is a staged photo. Notice how his gown was taken off. Notice the lack of any actual cut wound. The flesh is not penetrated to any degree. Any medical expert can realize this; anyone can do so. There is no laceration. It's an amateurish special effects hack job. The drainage tube is also a fake. Regardless, what happened to the wound of sufficient force that it caused bone fragments to be impregnated into the throat, requiring a special surgery to remove them?
How diabolical, it really is moulage painted on to mimic a healing laceration and/or a laceration treated with 'stitches.' The moulage was dotted on by special effects mole to mimic an actual one, 100% fake.
As well, the tube itself is fraudulent. In the Boston smoke bombing hoax such fake tubes were used, some filled with phony blood, others as non-invasive nasogastric tubes which ended right at the nose. Regardless, it doesn't seem to enter anywhere. Too, why is it considerable distance from the 'laceration?'
Even minor cut wounds from a knife, as this one from an altercation, are obviously such: actual cut wounds that penetrate and which are associated with the expected: irritation, redness, induration (swelling), and, of course, cutting.
Here is a healing neck gash in a police officer. Without penetration, there cannot be an actual knife wound. This means that the entire claim of a stabbing and/or slashing of heroic good Samaritans on that commuter train is a terminally corrupt lie.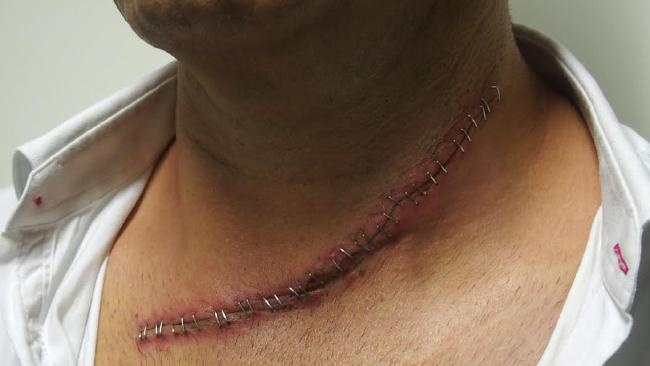 Suddenly, though, and miraculously that slashed neck with crushed bones: suddenly, it is all healed. Moreover, he didn't even need sutures or metal clips.
No wonder he's smirking. Apparently, he believes, he will garner all the money for his act and has good reason to believe so:
https://www.gofundme.com/tri-met-hero-recovery/donate
Micah Fletcher. The beneficiary will receive the donation directly. Donation is protected by GoFundMeGuarantee. 
No wonder she's smiling:
The point is these images were posted on the gomefund page in order to solicit funds, in fact, to increase the donations to the most extreme degree possible. A mere special effects image of a fake laceration, then, leads to the purging of the public mind? How much more terminally wretched than this could it be?
This does not include the other hundreds of thousands collected by so-called Muslim groups. Do not Islamic people know that they are never to participate in a lie or a scam, regardless of the presumed political benefits?
Stabbings on the Portland Max train are routinely faked, as in this example:
Share
About Author
(14) Readers Comments