Fake YouTube Headquarters Shooter Nasim Sabz is a Zionist Agent and Mossad Operative
UPDATE, April 4, 9:00 CST, Title Change (error on title from content)
Like the arch-antagonistic so-called students of the fake Parkland, Florida, shooting the phony YouTube shooter, Nasim Sabz, is a Zionist agent. It's all a terminally corrupt fabrication. The shooter is a hoaxer. Moreover, all the witnesses of the purported YouTube shooting are fake. There was no shooting of any kind at the YouTube headquarters. This was staged, though in the most sophomoric, inane way conceivable.
The eyewitnesses doubled as good Samaritans, dodging bullets, ferrying wounded, applying bandages, stuffing wounds with dressings, and applying pressure. Yet, there are no images to substantiate this. Nor are there any significant, revealing, supportive video. It's the YouTube headquarters, after all. If the claims are true, someone surely would have shot some confirmatory film.
No one can believe that the accused woman did anything, let alone shoot up the facility, while killing two workers. Anyone witnessing otherwise was merely doing their assigned job as crisis actors working on behalf of both YouTube and the so-called federal agencies.
For her it is all a gimmick to gain attention and notoriety. So, it is no surprise that she played this role on behalf of her masters.
In this video she can be seen doing a gig before the Zionist flag. She is a Jew posing on the Mossad plot to destroy guns rights.
The Persian-origin Zionist is a rabid pro-Israeli extremist who gladly is facilitating the plot to undermine the peoples' native rights. Where is she, now? Was she shipped over to the Zionist entity? Or, is she in hiding, here, in the United States?
No one other than a terminally extremist Zionist agent would jump up-and-down in a dance-like gig before the Israeli flag.  As well, it is unknown the amount she was paid to perform this role. However, it was surely considerable.
The so-called relatives don't make it any more believable. Nor does the smirking lady seen just as the video rolls give it any degree of credibility:
This is what the Zionists do. They did it in Parkland and also in the Pulse Nightclub hoax. Moreover, they did it in San Bernardino. They have done this repeatedly in France and to a lesser degree in Britain. By their hand hoaxes were committed in Scotland and Tasmania that led to draconian gun control.
There are those who claim she is a transvestite. She is surely a fake woman of some type, in other words, a male with altered features and possibly fake hair. With the costuming seen, as well as the categorical lack of womanly features, this is surely plausible:
In fact, the individual is muscled like a man and bears no resemblance to a properly formed woman. Not also the brow, the cheek bones, and, the obvious nature of the shoulders and biceps.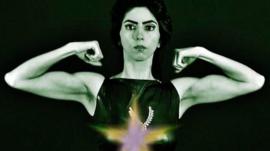 This individual appears to be a male, not a female. Regardless, none of the imagery represents a real, murderous shooting. There are no videos that substantiate the claims as made by law enforcement. No one is in shock. There is no adrenalin flowing. All people are calm and casual.
This is an arch-fake. It is nothing other than yet another foul, hideous arch-Zionist plot. Let anyone prove otherwise.
Share
About Author
(66) Readers Comments