Filthy Zionist Jews Plot to Provoke World War III by Murdering Russian Ambassador
Updated, 12/20/2016
Is it not enough that the vile, hideous agents of world Jewry have murdered some 2 million or more Middle Easterners, all in a span of a mere decade? It was pay-back and more by the Zionist criminal minds to murder the progressive Russian Ambassador to Turkey, Andrey Karlov, doing so in a most cowardly act. It is surely revenge by the Mossad for its losses in the murderous yet catastrophic war plot against the people and government of Syria. Nevertheless, while the world is fixated on the death of Mr. Karlov, the endless murder of innocents in the Middle East, in Yemen, Syria, Iraq, Afghanistan, Palestine, and more, goes unnoticed.
What a horrific act it is, wretched to the extreme. A gunman, poised behind the Russian Ambassador to Turkey, Andrey Karlov, fires a fatal shot at this unsuspecting emissary. By no means did the ambassador have any clue regarding this. Rather, he was several minutes into a speech at a photo gallery in Ankara Monday Dec. 19, 2016, moments before he was shot dead by a gunman, identified as Mevlut Mert Altintas, aged 22. Turkish officials confirmed earlier reports that Altintas was himself a police officer, working riot detail in Ankara. The patsy inspired by his Zionist masters is himself an embedded spy, an agent of the Turkish special forces. How they provoked him to do so is unknown. Yet, without doubt, the gunman is their man, not an agent of any 'Islamic' group.
Yet, who can fathom the degree of this crime? While performing his seminal duties as a foreign dignitary, Mr. Karlov was senselessly gunned down, God rest his sole. An exit explosion from the arch-cowardly gunman's filthy crime can be seen blasting through the victim's left chest. No one but Zionist criminal minds would plot this, setting up an ambassador for an assassination, fully in public view:
Even so, regardless of who is the gunman this is a Zionist provocation, and it serves only the schemes and conniving of world Jewry's plot for world domination.
The premeditated murderer is officially a Turkish policeman. He is, though, not any ordinary one but is, rather, a Sephardic Jew: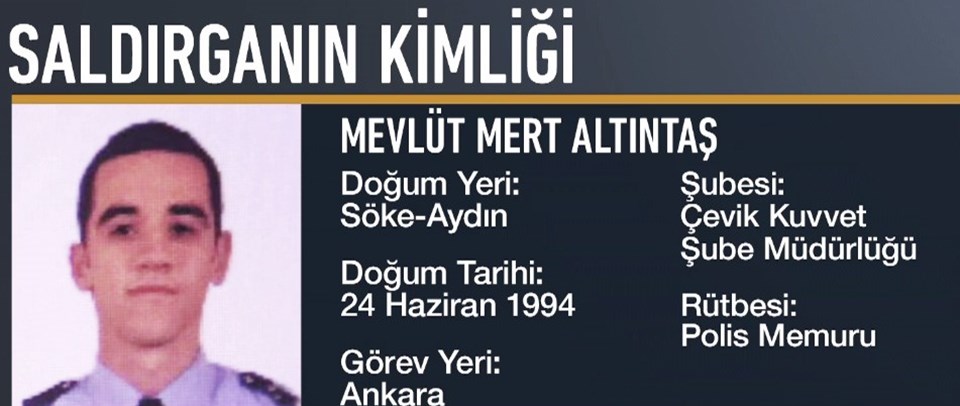 The surname "Altinas" is primarily a Jewish one, technically meaning Goldstein in Turkish. Per Wikipedia:
"Altin" means "gold" in Turkish.
The unrepentant Jew gloated in his crime, while, through screaming Arabic slogans, making it appear as if it was an 'Islamic' act. Yet, Islam categorically condemns it, in fact, condemns any kind of violence against foreign dignitaries or diplomats. Regardless, anyone can look at him and see that by no means is he an devout Islamic individual of to any degree. Then, too, what in the world sense does it make for him to say, 'Don't forget Aleppo or Syria.' He isn't even Syrian. What would he care?
That surname is taken by a number of Turkish Jews:
In fact, a leading arch-pro-Zionist Turkish Communist, Yusuf (Joseph) Altintas has also taken this name.
Notice the role of the so-called opposition/Islamist party. It is an obvious asset of the Communistic Jewish Turkish party.
The claim is that he was an Islamist or an ISIS mole. Regardless, ISIS is a creation of Zionist Jewry. So, even if this were true, still, these treacherous ones are fully responsible. Islam has nothing to do with it.
See his sister and mother, that is the published female relatives of Altintas at their initial detainment. Do they appear to be Islamic even to the least degree?
Why is the mother not covered if this is a family of so-called Islamists?
These are Turkish Sephardic Jews, not Islamic people, once again plotting to sow corruption and devastation throughout the land.
She bears plenty of gold but no religious covering? She looks like a Jew, because that's what she is. So is her husband and the rest of the family. Just how, though, this Zionist agent was seduced into committing this act remains unknown. Islam is diametrically opposed to any such barbaric act of killing a political emmisary, in fact, 1000% opposed.
Purportedly, the terrorist was fired from his job for involvement in the prior 'coup,' although this has yet to be confirmed. What is confirmed is that, according to the Russians, this was not merely a random strike by a mad gunman but a well-plotted provocation. Per PressTV:
Furthermore, Iranian Defense Minister Brigadier General Hossein Dehqan is to hold talks with his Russian and Turkish counterparts Sergei Shoigu and Fikri Isik, respectively, in Moscow on Tuesday to address the latest developments in the region and the situation on the ground in Syria, especially in the newly liberated city of Aleppo.
The Mossad knew this and, thus, plotted this murderous scheme. This is a Zionist plot, make no mistake about it. This murder only serves one beneficiary, Zionism; Islam had nothing to do with it. Regardless, no matter what is the source of the gunman, whether a controlled patsy or a al-Nusra agent, in all cases only the pro-Israeli power-brokers are served. Too, who trains the Turkish special services other than the Israeli Mossad itself?
Furthermore, this occurred virtually simultaneously with the staged truck attack in Germany, also blamed on so-called Islamists, giving further evidence of a secretive plot by godless Zionist Jews.
Source:
http://m.aydinpost.com/saldirgan-mevlut-mert-altintasin-annesi-ve-kardesi-sokede-gozaltina-alindi-259691h.htm
Share
About Author
(31) Readers Comments