Forensic Analysis of Fake Trapped Woman on the 23rd Floor in Grenfell Fire Hoax
It is presumed that, based on reports by the Zionist-controlled media, that people were actually trapped in London's Grenfell Tower and they died there, being burnt up alive. One example of this is the purported family of Rania Ibrahim, an Egyptian woman supposedly living in the building.
Here is the woman in question:
Here is a picture of her, presumably with her family. This image appears to be in St. James Park, London. One wonder what she is doing off in the distance and why she is not holding her daughters.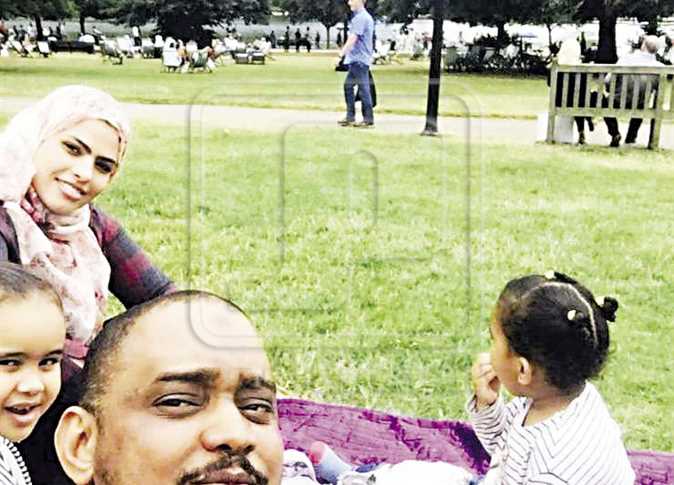 The oft-viewed video of her opening and closing her door has been seen by millions. In this regard it is said:
What normal mother would do this? Obviously, the only thing should would do would be to rush down the stairs or through some other agency and get her children to safety. She wouldn't be fiddling around with a facebook post. This means that her role, if any, was staged by various psyops moles, who aided her in perpetrating this fraud.
Regarding the video the key issue is the existence of a handler, an actual media mole working for the Zionist-controlled networks. What is that handler doing in there? Why is she instructing her regarding what to do? Obviously, this film was a crucial one to perpetuate the fraud.
Here is an transcript of the video to a reasonable degree of accuracy:
Arabic-speaking woman: "Yaa Allaah," that is "O God."
Handler: "Don't open the front door. You're gonna bring the smoke in. You're not going to be able to breath."
NOTE: This is highly telling. The building is burning down, and she needs someone to tell her how to think and react, completely implausible, inane.
Arabic-speaking woman: "Someone (or can we go) outside?"
Handler: They're in the other flats.
Arabic-speaking woman: "Are you sure?"
Handler: "They've gone into the other flats."
Handler: "Listen, you have children. Standing (among) the smoke is not going to help you."
NOTE: She has to remind her she has children?
Arabic-speaking woman: "Yea."
Handler: "Where is your husband (plus, inaudible)?"
NOTE: She has to ask her where is her husband? All this is hard proof of fabrication and staging.
Arabic-speaking woman: "Yea."
Handler: "There's too much smoke; you're not gonna feel good."
NOTE: She has to tell her about the nature of smoke and what it will do to her, as if she can't think for herself?
Arabic-speaking woman: "OK, OK, I'm not open it (plus additional, various Arabic-based invocations)."
Someone, then, opens the door, when it is said, "Hello, come hear, come hear…no?," adding, "Come, come, come, hello." NOTE: This is followed by screaming and various other antics.
Someone (unknown, after the door is open): "Because the stuff is coming (presumably the pyrotechnic smoke)."
Arabic-speaking woman: "The people outside."
Someone: "Close the doors."
Arabic-speaking woman: "Oh my God, I close it. I close it."
Handler: "They've gone into the other flat."
NOTE: all the white, an Anglo-Saxon or, rather, non-Egyptian/Arabic woman, presumably one of the Zionist producers, is saying, "Hello, Hello."
Arabic-speaking woman: "Someone outside (inaudible). OK, I'm going out."
Zionist producer: "Hello, Hello."
Now, during the video there is a revelation. When the door is opened the second time, someone actually comes into the apartment. This is what the images originally looked like as they were screen captured sequentially:
Here they are after being lightened up, color added:
Now, she has two non-Egyptian, non-Islamic people in the room with her, a male and a female. In the final image it can be clearly seen he has made it in with his left hand following. Moreover, his face seems to have been purposely blurred out, as the rest of his body has detail.
The film now is cut and then it goes to the scene where she is looking downward. In that scene there is no fire anywhere to be seen:
How clever of the Zionists to do this, using what appears to be a distressed Islamic woman acting as if she is about to die, saying, "Yaa Allah" or "O my God" in Arabic.
Arabic-speaking woman: miscellaneous Arabic invocations are again said, while she seems to giggle a bit, here. The invocations include, "Laa illaha illallah," meaning there is no God other than the One God.
Arabic-speaking woman: "Get out."
Handler: "We're on the 23rd floor. We're stuck on the 23rd floor. Hello. There are too many people stuck upstairs."
This part is a cut-away in the crafted, fabricated video. They had time to edit this and post it while being burnt up alive. Moreover, where are the children? Why can't they be heard? Why aren't they screaming? She says nothing about them. The handler reminds her of their existence.
To add to the emotional jarring the following was perpetrated, that is fabricated witnessing by a purported friend, who also presumably received specialized messages:
Why would she ask for forgiveness from 'everyone,' instead of, perhaps, her creator? Why would she send out a message of 'goodbye' instead of running for her life?
Every effort is being made to manipulate people's emotions. As a result, they have donated to such a degree that the agencies are saying, "Don't send any further donations." Moreover, regarding the money collected it is now in the millions of pounds. As well, consider the following element, which is supposed to represent the hopes and desires of a burnt alive child. Notice the nature of this. Someone took a match to this. The edges were burnt artificially: no doubt about it.
R. Ibrahim did not die in the fire. Nor did her children. Nor did her husband. Nor did her two arch-Zionist, criminally minded, fraud-committing handlers.
Share
About Author
(60) Readers Comments