Hard Proof the Deaths of Three Israeli Youths is a Fake
Videos courtesy of one of our posters.
Note: The deaths of these Israelis and their subsequent funeral is a complete hoax. Let the entire world know this. Palestinians are being kidnapped and slaughtered based upon a lie.
All of Palestine, in fact, all of the world must rise up against this vile Israeli treachery, which is the faking of the deaths of three (non-existent) Israeli youths. It's all a treacherous lie by world Jewry – the kidnapping, the deaths, the funeral – all fake.
Murderous Zionists, including all those pictured, do not take it lightly when their filthy, Palestinian-slaughtering youths are killed. These wretched ones react violently with heavy emotions when they lose even a single youth, let alone a single 'soldier.'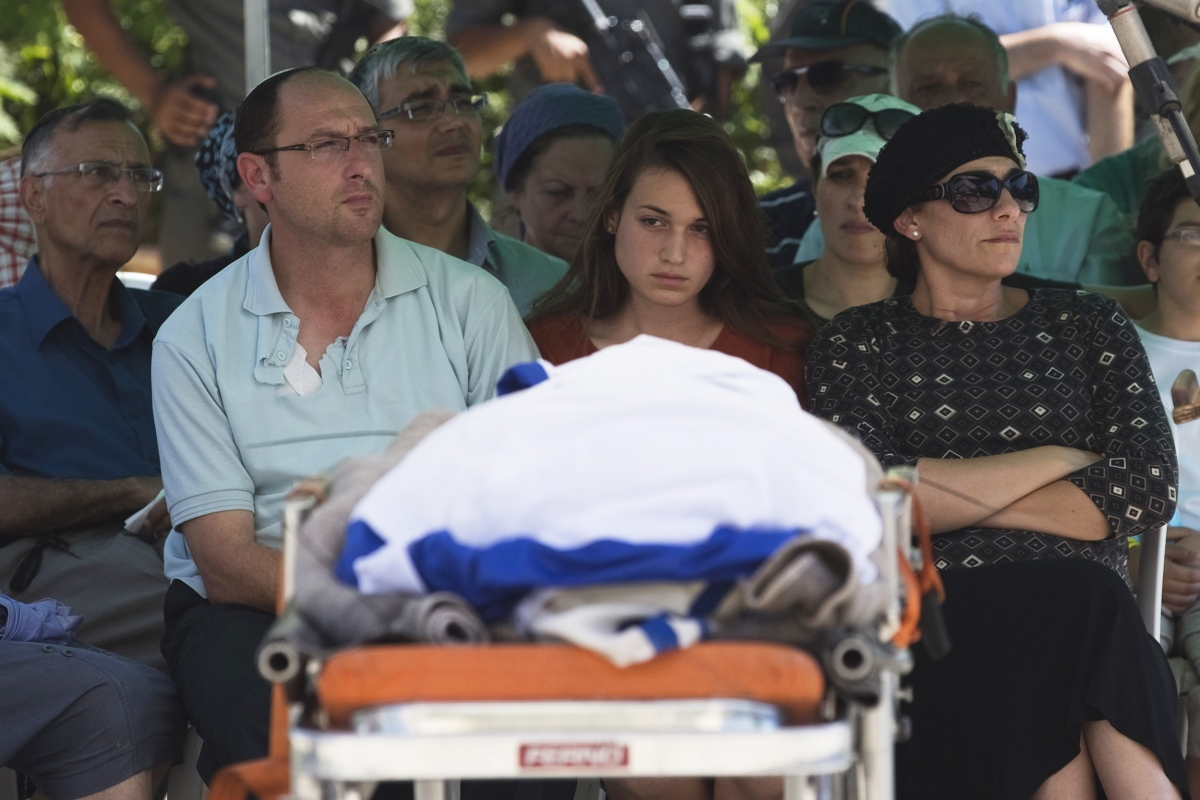 Let it be made abundantly clear. All such Israelis pictures are murderers and/or accessories to murder, including the premeditated, vicious slaughter of unarmed innocents. Let them be taken to task for this. Let them dare and fight any real army in a pitched battle. They will be defeated categorically.
Nevertheless, why should they be 'upset?' Why should they shed real tears? There is nothing to cry about. There are no corpses, there. It is all a fake:
The gurneys are obviously empty. It's a poor job by the Zionists. At least they could have put dummies under there.
There is no conformation that would justify the claim for real corpses; no conformation of feet, legs, torsos, heads, or other.

It is enlarged as much as possible. Through this it can be seen, categorically, that there are no corpses here. No bodies of any Israelis were recovered. That's because the pictured individuals of the acclaimed age don't even exist. Since they don't exist, they couldn't have been kidnapped. Even so, the key evidence here is the lack of corpses on the gurney surfaces despite the claim that these individuals really did die. Clearly, therefore, the funeral is a fake.
These Israelis are older than as depicted in the pictures. Nevertheless, it is all a diabolical hoax perpetrated by the Zionists for the most hideous of all plots. This plot is to draw continuous blood of unarmed, innocent people, that is people who are blamed for what is none other than a filthy Zionist lie.
Once again, the three individuals pictured are nowhere to be found, either as youths of this age or corpses:
Look at these two hideous Jews. They truly are the filth of the earth. See them fake the death of their son, while they endorse, rather, perpetrate the mass slaughter of unarmed people:
She is acting like she is crying. Yet, there is not a tear to be seen. In fact, her arch-Zionist murder-promoting husband is also as dry as a bone, despite his fake grief act.
People throughout the phony funeral appear terminally bored at both Netanyahu's and Peres' words.
The newest tactic by the Zionists is to drop the head down, so that no one can see the real issue. This is the fact that while they are acting as if they are truly despondent and also crying, this is clearly not the case.
As these vile Zionist monsters roast Palestinians alive, while also destroying their homes, businesses, and lives, the world stands by and does nothing, rather, endorses the high crimes of the arch-Zionist cabal.
There are over a dozen Palestinians now butchered on the basis of this lie, one of whom has been apparently burnt to death after being kidnapped. It was a real kidnapping, a real abduction, unlike the fake launched by the Zionists.
These wicked Zionist are lying, an entire regime of liars. It proves that the Zionist entity is unified in the murder of the innocent.
To be updated as soon as possible.
Sources:
http://www.nbcnews.com/storyline/west-bank-kidnappings/revenge-killing-burned-body-arab-teen-found-jerusalem-n146136
http://www.telegraph.co.uk/news/worldnews/middleeast/israel/10939348/Israel-buries-its-three-kidnapped-teenagers-amid-tears-and-anger.html
Share
About Author
(26) Readers Comments