Hard Proof of Staging and Hoaxing in France Concert Terror Hoax
Though some people might believe it is real, it isn't. The purported terror attack at a Paris-area concert, where supposedly some 130 people were killed, is nothing other than a terminally corrupt hoax. This is proven by the extensive use of staging in this arch-fake. No one can doubt this. It is obviously staged. Despite this, it is said in the typical headline:
Paris massacre: World mourns 120+ killed in series of terrorist attacks
What is the world mourning, a mere staged event, an elaborate drill? See the staging, here, where the man is being lifted up by several men after being painted with fake blood. There are no wounds to be seen anywhere and no hard proof of fatality to any degree, despite protestations otherwise:
To the left is the staging mole, the fireman or whomever, who is signaling others to enter into the hoax fray. Notice also the man on his back with his knees up. How in the world could all this be occurring if this was real, with such a vast amount of perfectly placed HD-camera-people capturing it all?
It truly is a grandiose hoax, as demonstrated by the following image. Where are the over 100 dead and hundreds of others wounded? Where are those with actual penetrating wounds, lacerations and entrance bullet wounds? Where are those who were actually shot by an AK-47, which causes significant, highly dangerous blast wounds? Where is a single bullet wound to be seen in anyone?
Instead, all is seen is hoaxing and staging. See this obviously so, here, that is regarding the so-called memorial. What i the world are these people doing placing their hands on other people's' shoulders? They have obviously been instructed to do so?
They do so while others mill around, still others merely standing about: still others looking at documents and/or clipboards. Regardless, what in the world are these people doing? How can anyone regard this as anything other than a terminally wretched fake? Then, on zoom-in what are these individuals doing, including those in the line-up?
It looks like the team was given flowers and other props in advance to capture this element of the hoax while all the photography moles were fully available. Others are seen casually milling around. Where is the fright, the horror, and the urgency here, even if this represents the aftermath?
There is still yet other obvious evidence of staging, which helps further confirm the nature of the scam. How in the world could anyone's shoes be pulled off in a real event? Also, how could any legitimate rescue people simply leave blood-soaked matter in full public view?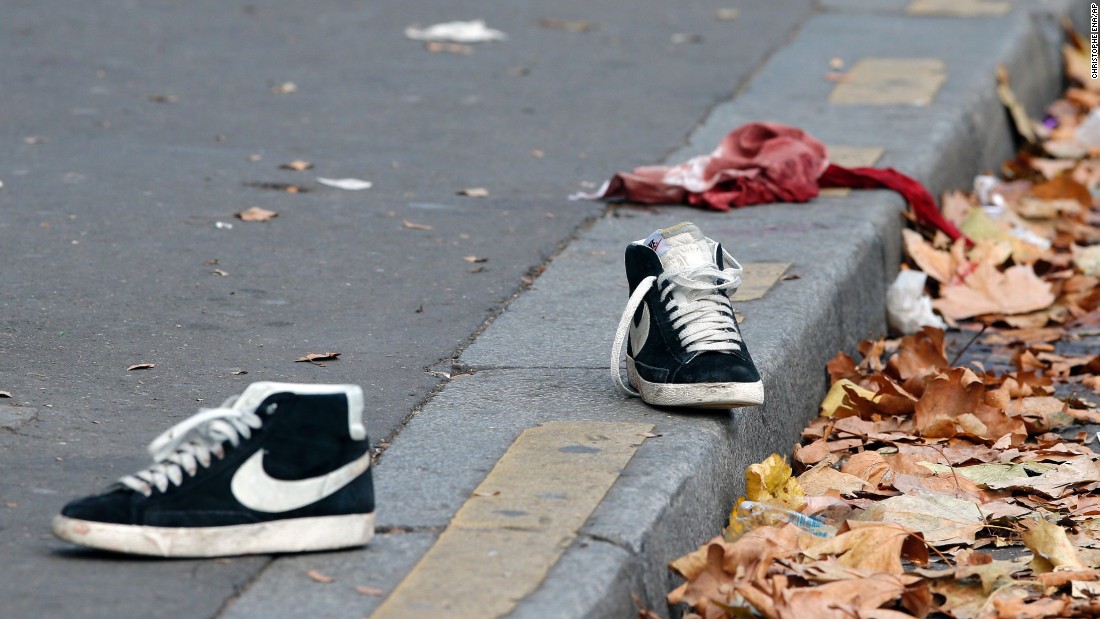 Notice in this image the precise position of the shoe. It is right on the edge of the curb. No one can find this as anything other than proof of staging. The shoes were placed there as props. There is no other possibility.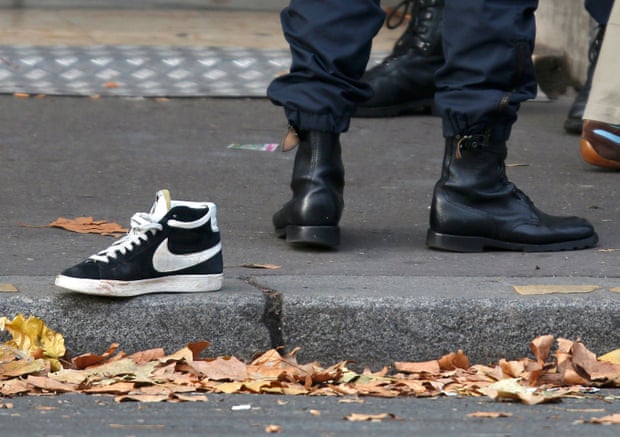 The following is an example of an image touted as "belongings of victims." Who finds this plausible? Who in a real terror act would take the time to strip off such boots and other clothing? It is not plausible in the least and is, rather, categorical proof of the fraud:
At best, a person would run away from shooters, not take the time to strip off boots.
The buses are also a part of the scam, proving the use of crisis actors and extensive staging. Notice how the crisis actor associates take the time to look directly into the cameras: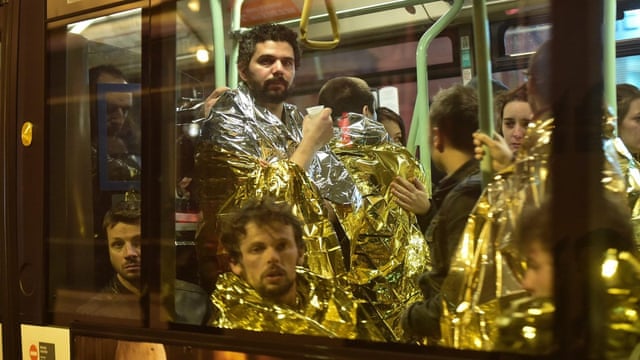 In fact, they are staring directly at the camera, a multitude of them. Yet, what else could be expected from the arch-Zionist Islamophobes of France, that is other than a terminally corrupt fake, where the fabrication is leveraged as an example of so-called Islamic terror. Sure it was. It was ISIS who did it. Then, where are those Israeli-inspired terrorists, and where are their multitude of weapons, bullets, cartridges, bombs, and more?
She looks like she is agonizing. Yet, this is not the case. She is doing so as an actress, merely for staging. Surrounding her are nothing but cameras and a multitude of props, cameras, tripods, flowers, and more.

Then, it could well have been flowers that the hoaxers were carrying in legion.
These people are crisis actors. The wounded are fake wounded. There are no wounds visible anywhere. The corpses are also fake. No one died, and no one was injured. This is an elaborate hoax meant to create  a grand distraction, once again, also to cause the demonization of the faith of Islaam. Yet, people accept it, being readily bamboozled. Somehow, they believe the impossible, that radicalized Muslims could pull this off, right in the middle of a Western country, just slip in, murder, and cause mayhem, and no one would have any idea of the plot.
It's nonsense to the extreme. Who can prove otherwise?
Share
About Author
(111) Readers Comments