Nice Truck Attack was a Movie Stage, Nothing Else
Where is the evidence that the purported Nice truck attack was actually anything other than a staged event? This was nothing other than an extensively scripted, carefully contrived 'theater': in fact, a hoax. Like movies, realism was created by imagery, possibly some modest use of CGI and greens screen, but mainly through imagery through the use of low-resolution cellular phone footage.
It was purposely done to make it appear as if captured by amateur video. Sound effects were added, such as loud fake impact noises, while professional actors feigned grief and shock with their well-trained vocal inflections of "O my God" and more.
Above is a screen capture from the video, which has captivated the world, which has been responsible largely for bamboozling the people.
No one can prove otherwise. In fact, no one will attempt to do so, or, perhaps, may make a modest attempt, feeble though it may be.
One major purported proof that the criminal minds of the Nice hoax are attempting to continuously use is the staged video showing what appears to be a truck barreling down towards people. It's important to show this fake. In fact, the fake was represented to a video produced by Nodisinfo.com as proof that the presumptions made in that video were erroneous.
It was a shill who represented this, a mere Mossad mole, as follows:
Komapatient's protestations are highly suspect. His foreboding about "don't tell me it's CGI" is highly telling. Why would he protest specifically in advance, unless he was attempting to derail the proofs that would indicate that this is precisely what it is.
The corrupt one came to the YouTube channel for no other purpose than to derail it, merely through false representation:
As is typical of the Sayanim arch-Israeli shill, this deceitful one had no real YouTube channel and merely created one to spread his/her venom. Here is the video in question. No one should regard it as as shocking. While people are seen to move to either side of the roadway, there is no evidence that a truck of any kind struck anyone. Sound effects are added to create realism:
This is the image that everyone is talking about. It is seen for about two seconds. Then, all cameras pan away. There is no evidence that a truck strikes anyone, let alone some 300 people, the latter being patently impossible. Was that segment of the truck added in by CGI? This is highly likely, as there is no sound of a truck barreling down the area, yet a multitude of other noises can be heard.
Where are the three hundred people it was supposed to hit? Where are even the 84 it purportedly killed? It's 25 tons. It would have crushed them to death. There's no way 300 people would have waited around to be mowed down by that ambling vehicle. It's physically impossible. It didn't happen. It's a fairy-tale. Count them, there are no more than 25 people in that scene: at the most. Some of them are walking directly towards the truck and show no element of danger or responsiveness.
What is the reflection on the truck, the rectangular one: or the light, or whatever it is? It seems too massive, the windshield seems excessively large. It's more in focus that the people in the foreground. It appears to be a CGI addition to the film.
The skate-board guy seems to be a signaling mole:
Suddenly, the crisis actors are instructed to run, while, once again, no one is hit by any truck. Moreover, the man in white continues to film the whole affair. No need to feel any remorse, hurt, grief, or pain. No one was hurt here, despite the apparent realism that is seen.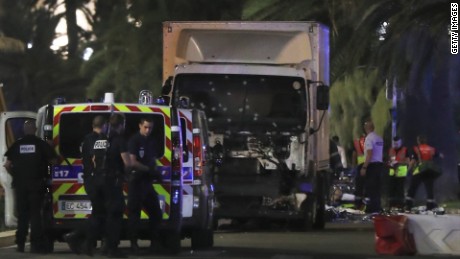 Regardless, clearly, the truck hit no actual humans. See what happens, as below, when a truck hits a mere single animal, in this case a deer:
That truck had no bumper and no front fenders, so the trauma to humans would be even more severe, that is with all those sharp surfaces exposed:
It can be seen from this image that the truck sustained no blunt trauma from impact with humans, not even a single person. Therefore, the claim that this truck struck people is a terminally corrupt lie.
The two second barreling of the truck does appear to be a CGI-fabricated image. It's the same fuzzy kind of image, as seen on 911, which could have easily have been added into the frame after the video was uploaded to the networks.
This is all that is seen. There is no imagery in existence of a truck in Nice, France, at the Bastile celebration running over people. In the clear imagery that is available in the truck there are no people before it, not even a single one:
Clearly, the street had been cleared by the handlers of the crisis actors well in advance of the approach of the vehicle. By this point the motorcyclist was riding along for the ride, after running up to the vehicle, seen prior to that in this image just after the fake crash of the motor-bike:
The bike is down on the asphalt at this time. The truck never touched it, and no one fired a shot at this man. Anyone can see what happens next.
After the staged set-down of the bike, he runs toward the truck. It's him with the grey overshirt. Once again, the street is absolutely clear of all crisis actors.
Yet, suddenly, after such a complete lack of actual imagery of any atrocities, any vehicles strikes to any degree: suddenly, this is seen –
It's a pile of entities well behind the truck, all globbed together. Did the truck transport the dummies to the scene, as one astute poster has surmised?
These are dummies. The first one doesn't even have a thigh, while holding its arm at a right angle, even though it is dead. The second one is an obvious dummy with bizarre legs and lacking a real face. The one with pink and light yellow is a bizarre looking one; regardless, it is all fake; there is no way a truck strike would cause there to be such a pile of dead humans.
Dummies confirmed by Zoom-In imagery:
How could a truck with an I-bar this low to the ground cause the piling up of a wad of corpses, unmarked, unmarred, with no tire tred marks, or filth on them, with no crush wounds of any kind: with no splattering of internal contents? It is patently impossible, let the world know it, which is being fully deceived by this scam. This is a Zionist plot to demonize Islam, and to a degree it has been successful.
What about this image? It had not been analyzed before. This is hard proof of staging of fake injuries in live people who are playing it as dead. Notice the lack of any actual abrasions or wounds but there is a fake abrasion, perfectly square, on the exposed buttocks. The head lesion is also a fake, mere tempura paint, nothing else.
https://www.dailywire.com/sites/default/files/uploads/2016/07/body1_0.jpg
What an arch-staged, Hollywood-style scam it is, orchestrated by the terminally hostile, arch-treacherous Israelis and their collaborators.
No one died, and no one was injured. This is an arch-Zionist plot of conniving and deceit. Let anyone prove to even the most remote degree otherwise.
Sources:
http://i2.cdn.turner.com/cnnnext/dam/assets/160715075058-22-france-nice-0715-restricted-super-169.jpg
Share
About Author
(54) Readers Comments