London Terrorist Attack is a Fake and a Hoax
Updated, 3-23-17
Minor errors were made on the 'dummy' post and also the youtube video on dummies. These are now private posts being updated and correct, to be re-posted shortly. Here is one of the purported dummy images. It's not a dummy. It's a real person, an actor, under the bus:
The person is not injured or run over. It's just for shock effect, nothing else, meant to manipulate public consciousness.
Make no mistake about it the London terrorist attack is a non-event, a mere drill: an absolute fake and hoax. Now, the following is widely touted as "eyewitness video" of the "immediate aftermath" of a supposed attack. What in the world about this looks anything like an attack to any degree? Instead, it looks like a staged event, an amateur movie: a fake and fraud to the extreme:
These are all paid actors. This is a fake, complete with fraudulent blood. There is nothing real about it. Notice the man calmly video-taping the event:
What is the purpose of the shoe off? It's merely more evidence of hoaxing and staging. Here are additional shoes off, which make no sense. Why leave the man on the dangerous lane of the road? At least in this case the used a real person instead of dummies, although, surely, these, too, were applied.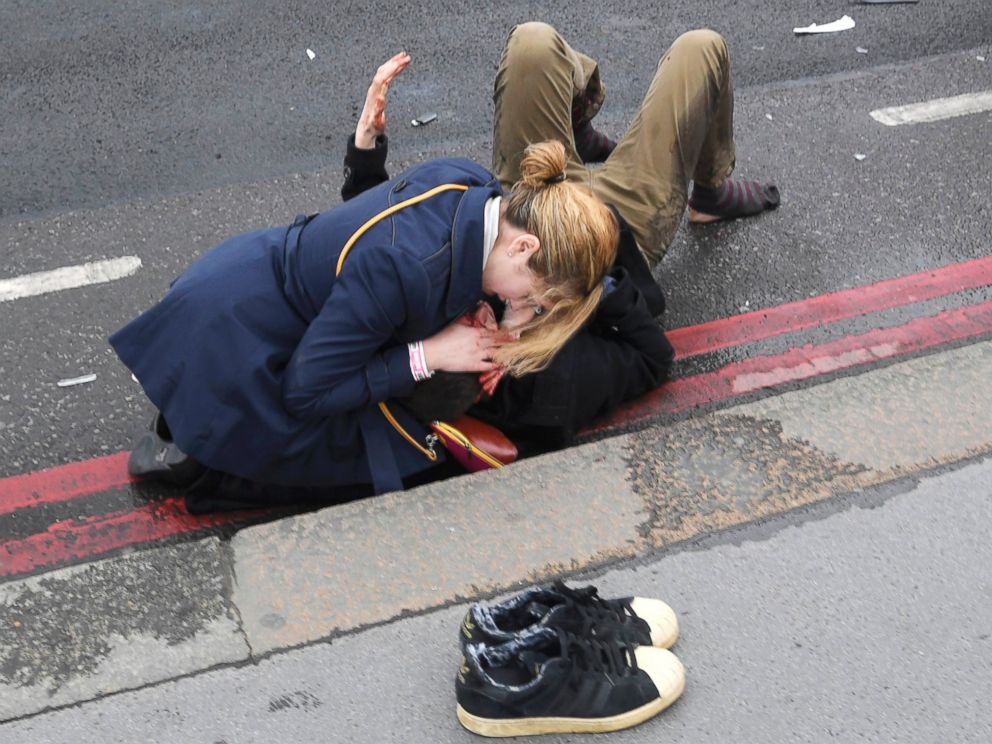 Here is an image which clearly shoes staging with fake blood applied. It cannot be anything else. No wounds are seen anywhere. Notice, too, how nice and neat the shoes are placed on the pavement. None of it makes sense as a real terrorist attack.
This woman, despite being potentially 'mortally wounded,' is taking time to look directly into the camera. It's the same old story with fake good Samaritans and phony heroes, yet another terminally corrupt Islamophobic hoax.
That's fake blood, not real blood, make no mistake. If she was bleeding out that bad, she wouldn't be staring at the camera. She would be in shock, period.  Yet, it is said:
London police say they are treating a gun and knife incident at Britain's Parliament "as a terrorist incident until we know otherwise." The Metropolitan Police says in a statement that the incident is ongoing. It is urging people to stay away from the area. Officials say a man with a knife attacked a police officer at Parliament and was shot by officers. Nearby, witnesses say a vehicle struck several people on the Westminster Bridge
No one can find this plausible. Regardless, what is the purpose for the long-gun? There is no need to be willy-nilly pointing such guns about.
Here is another view of that image with the fake blood being even more obvious than ever:
If she was really struck by a car, hit head or or hit in the head, it would be obvious. This was dressed up to make it look real. If she was run over, where are the tire tire marks? How did she get into that area?
Moreover, for all the purportedly injured people about, for instance, on the bridge, why are there no ambulances found?
Here are some by-standers by a staged wounded person. Notice that, right there, is seen a professional camera-person:
Why doesn't someone attend to the (fake) dying person? Regardless, this is fake blood. It makes no sense that a real person could get knocked over into this region by a car rampage.
How many good Samaritans does it take to deal with the fake wounded?
What about this man? How is he wounded? There are no wounds anywhere; this is supposed to be the result of mouth-to-mouth that he administered. Yet, regardless, this is fake blood, applied by a moulage mole. Originally, it was said this was a fake wound, so this was a minor error that was made.
Hoax index: not measurable.
Sources:
http://www.independent.ie/world-news/europe/britain/eyewitness-video-shows-immediate-aftermath-of-incident-on-westminster-bridge-35555891.html
Share
About Author
(31) Readers Comments