Manchester England Suicide Bombing is a Fake and a Hoax
Make no mistake the purported Manchester, England, suicide bombing at a pop-concert is not real to any degree. Instead, it is a staged fake: no doubt about it. Yet, it is said there really was an explosion. The sound of this on videos sounds like nothing other than a typical pyrotechnic false bomb, a minor boom at best.
It is said that the bombing occurred in the foyer area by the box office. Why would a murderous bomber detonate a device in such an area, where there would be minimal carnage?
This is supposedly the scene of that foyer bombing. How could there be a bomb, here? There is no damage to the structural elements. High explosive would have caused significant damage. There is no such damage seen. In fact, notice how there is no smoke of any kind. Nor is there any char. This is a physical impossibility. Moreover, it is surely not likely that a group of men in green and yellow would be marching about, dealing with these individuals: other than to set them up and any dummies as staged, that is fake, wounded.
What about the injured? Where are they? There is no evidence of any injuries, here. That double streak of red matter is obviously applied as moulage. Symmetrical and unnatural as it is it could not represent the real spillage of arterial blood. This was supposed to be a shrapnel-filled and/or nail-filled bomb. That would have caused severe injuries. There are no such injuries, puncture and shrapnel wounds and more, to be seen anywhere. There are plenty of crisis actors being photographed among the (fake) wounded.
However, what is seen in that background among the images? Look at that huge chest. It appears to be a dapper cadaver dummy.
No one appears to be attending to this dummy: no surprise.
As well, there were supposed to be a number of dead children. Does anyone see any images of children in that scene?
What about this woman? What about this image is real? Why in God's name would a woman bleeding to this degree be allowed to sit there for a camera-shoot?

She's obviously not injured. Why is she given a "number 3" about her torso? Why isn't she being whisked away to the hospital? Of course, this wouldn't be the case, because she wasn't wounded and that is fake blood.

How did that red matter get all the way around her neck and, of course, on a white blouse? Why is there no arterial splatter to any degree to be seen?
What about this man? How could he possibly be wounded? Where are his wounds to any degree? Why doesn't he have shrapnel wounds on his exposed torso? Did the nails only strike his head? Where are those embedded nails?
What about these women? How are they victims? Shouldn't the nails have at least punctured the pink balloon? If there was a terrorist strike, would she really be still hauling that balloon around?
As well, what about these men? On the one hand how is the man, left screen, a wounded person to any degree? Is he allowed to walk around with a nail or two driven into his skull? No one can find this plausible.
What about the other individual? What happened to his pants? Where are any actual wounds? There are no actual wounds, no puncture wounds and no abrasions.
Yet, of course it was staged. As the fake scared people are running off, there are two people before them, front and center, capturing it on their cell phones. Regardless, where is the smoke from the bombs? There isn't even a wisp of it.
Thus, categorically, it was staged. There is nothing real about this. No one died, and no one was injured. It had to be fairly well organized, as it involved a number of people. So, the stage was set well in advance before the letting loose of the (fake) concussion charges.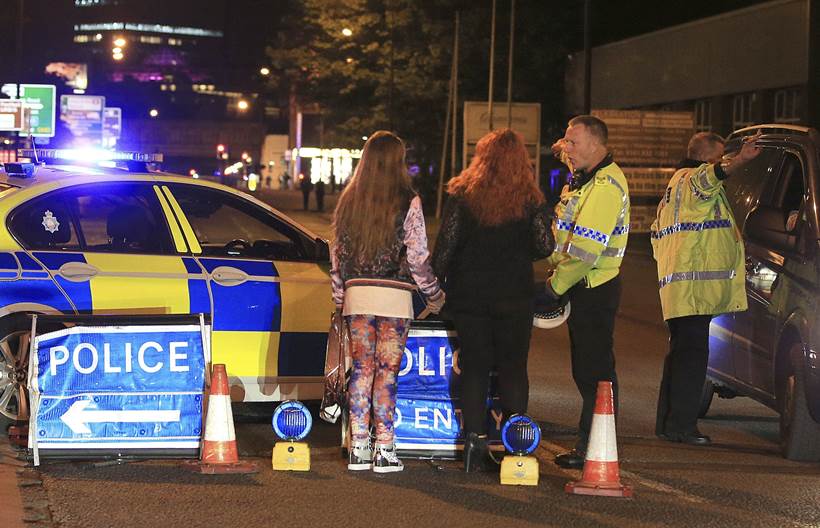 What about these women? What are they doing there? After seeing this, that is the woman with the bunny, how can anyone believe this is real?
Which represents more hard proof of the fake, the bunny lady or the fake streaks of painted-on blood?
These women don't think it was real, all that noise, scream, crawling out of seats, and the rest of it. They obviously think it was a prank, and that is precisely what it is:
It cannot be a coincidence that this is in concert with the US visit to Apartheid Israel. That arch-Zionist criminal regime is fully capable of staging this, once again, as an Islamophobic hoax, just for leverage and power-brokering.
Hoax index: beyond the pale, not measurable.
Share
About Author
(33) Readers Comments