The Zionist Moles of the Malaysian Airlines Crash Hoax
There was no flight in existence known as Malaysian Airlines MH370. It simply didn't take off on March 8. That means that there were no passengers or crew. It means there are no real grieving relatives. It also means there is no wreckage. Nor did the plane land anywhere else, like Diego Garcia. Nor was it stolen or hijacked. It didn't exist. How could it land somewhere else or be stolen/hijacked?
All such claims are disinformation. The important issue, though, is the claims for the existence of real passengers, including any claims for people flying on stolen passports. All such claims are made and endorsed by the Zionist-controlled media.
In this regard certain crisis actors must be hired, that is to fake it as aggrieved and/or shocked relatives. The fake passengers themselves are crisis actors. In this regard a number of these phonies are Zionist agents, known, here, as Zionist moles.
A Zionist mole is defined, here, as consisting of any Zionist Jew who maliciously and purposely plots against the people on behalf of the Zionist entity. Such a person could equally be deemed a "Mossad mole." A Zionist and/or Mossad mole may also be defined as any such person who specifically and through premeditation foments plots to serve the diabolical aims of world Jewry, even if they are not technically Jewish.
As a rule a Mossad agent is anyone who on behalf of the Zionist strip and/or world Jewry spreads great corruption in the land on the basis of its motto, "Through Deception Thou Shalt Commit War." That also includes those who create the basis, through false premises, for the rumbling of war. Using such definitions it becomes clear that in regard to the Malaysian Airlines crash hoax, this was strictly an act by this wicked, scheming agency.
Motive describes all in false flag events. To go to that extent there must always be a motive, that is plot. The Malyasian Airlines Disappearance, then Crash, Hoax is no exception.
Motive can be proven by carefully analysis the key perpetrators, their heritage, denomination, and political bend.
Mole #1: Christian Kozel
There could not be a proper hoax without false blame, in this case it was against Iranian nationals. Could it be, then, a mere coincidence that the two passports associated with blaming such nationals with the 'disappearance' then 'crash' are held by Jews, who are the arch-enemies of the Iranians? Both purportedly stolen passports are held by people of Jewish descent? Could it be a mere coincidence?
The surname Kozel is strictly Jewish. Note the smiley face of Mr. Kozel. He is willing, gleeful participant in this diabolical plot and was put in place in advance for his role in the scam.
How could the media just happen to hunt him down for such a pose? His most incredible claim, though, relates to the purported theft. He states that the passport was stolen on March 8, 2012. March 8 – the same day in 2014 as the phony disappearance? Clearly, then, Kozel is a Mossad agent who has likely received financial renumeration for his role in this fake.
According to news.com.au website, the tickets booked in Maraldi and Kozel's names were printed out on March 6 and issued in Pattaya. The e-ticket numbers for their flights were consecutive and both were paid for in Thai baht. Each ticket cost $690.
So, the Mossad operation was clearly done in Thailand, with Kozel assisting the process by donating his fake stolen passport.
Kozel is a 'retired' masseur. Did he participate in the trade in Thailand? Regardless, how could it be merely happenstance that his passport was involved in the false claims against Iranian nationals? Surely, he is a willing agent in this plot.
Heritage/denomination: Khazarian Jew
Zionist mole #2: Luigi Maraldi
Another essential Zionist agent for this hoax is Luigi Maraldi. Sephardic/Mizrahi Jew and general Mossad agent, Maraldi remained in Thailand as the hoax evolved.
Heritage/denomination: Sephardic/Mizrahi Jew
Zionist mole #3: Sarah Bajc
One of the chief Mossad agents of the Malaysian Airlines hoax is terminal Zionist mole, Sarah Bajc. An international Israeli agent she works out of the Zionist strip as well as Beijing. She is absolutely a rabid Zionist extremist who freely spews endless lies on behalf of Israeli machinations.
Bajc appeared on virtually all the major networks as a favored 'guest':
The media appearances have been virtually endless with virtually every major Zionist-controlled outlet allowing her extensive media time. She is clearly a mole, though a diabolical one. There is no other way to describe her. Note how she speaks out of the corner of the mouth, lower picture:
She tries different hairstyles, but it is irrelevant. If it looks like a mole, acts like a mole, speaks like a mole, and reeks like a mole, it is a mole until proven otherwise.
Even so, never in all her interviews does she shed a tear or show even the slightest evidence of suffering from real grief and/or despair.
The following image gives a new definition to "speaking out of the corner of the mouth." All that issues from her mouth are nothing other than terminal lies.
Heritage/denomination: rabid, fundamentalist Khazarian Jew
Zionist mole #5: Phillip Wood
It is hard to call this man a mole, because, apparently, he doesn't even exist. Just who is being used as the fake Phillip Wood has yet to be fully determined, although there is a high suspicion regarding the actual source. The man shown under this name has the most extensive catalogue of photoshopped images of all the Malaysian Airlines hoaxers.
Heritage/denomination: presumably Khazarian Jew
Zionist mole #6: Madison Bajc
It is Madison Bajc who is playing a relatively significant role in the maintenance of this same. She does so through her highly active Twitter feed, even though she is the primary tweeter. A scam artist to the extreme it can be seen via her Twitter feed that she is expending great energy in the cover-up mode. She is supporting a lie and is doing so willingly and knowingly.
Heritage/denomination: Khazarian Jew
 Zionist mole #7: Stephen Bajc
Acting mostly behind the scenes Stephen Bajc did play a role in this fake crash as support staff for the crisis actor (and his real wife) Sarah Bajc.
 The arch-Zionist agent and Mossad spy Bajc is seen as the man in the red and black shirt, while Sarah Bajc is pictured in the black evening gown. In white is Madison Bajc. The name Bajc is strictly Jewish.
Her are the two Mossad agents together as real husband and wife, not a photoshopped version: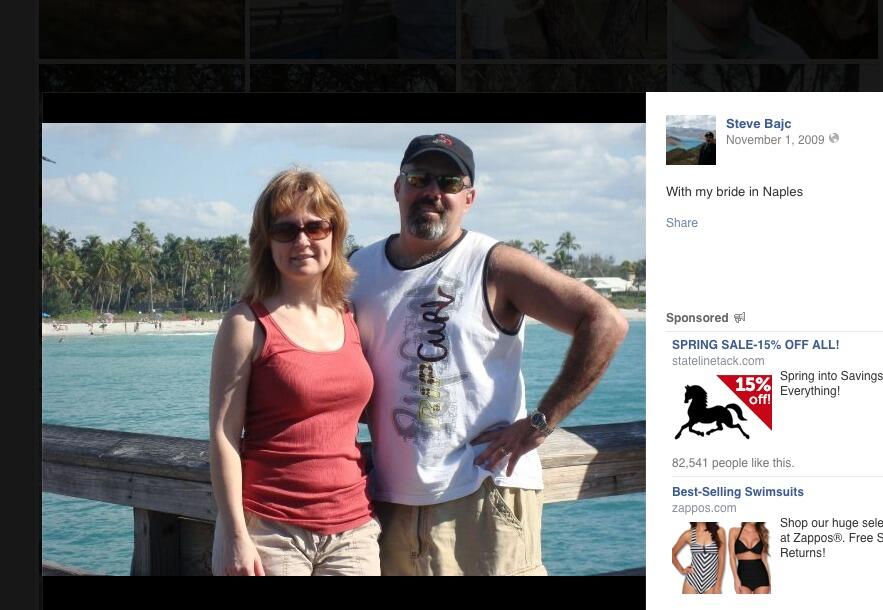 http://www.veooz.com/photos/ZH34a7b.html (revelation by Internet poster, @jenilynn1010, who wrote: This is Sarah Bajc w her REAL husband not Philip Wood & I have more pics!!! #MH370 #DiegoGarcia http://t.co/R19lDCSW9j)
The shadowing is correct. They are both looking in the right direction. The light source is uniform. This is a real picture of these two Zionist moles as actual husband and wife.
It is obvious that these two are the real couple and that the Phillip Wood girlfriend claim is a fake, as is demonstrated by this extensively corrupted photo alone: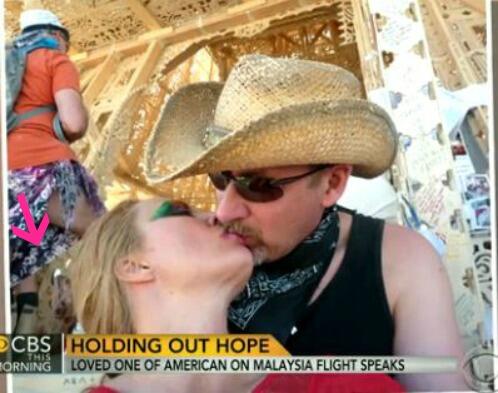 As pointed out with the pink arrow the anomalous section, possibly residual hair, goes out rigidly, a straight line on angle, a physical impossibility. Her right eye is completely anomalous. The Wood head has been cut and plastered onto a torso; there is no neck visible. The white patch of color behind the image of the fake Wood is also anomalous. Virtually no one proffers such images, real images, of themselves in such a pose on the Internet, a complete fake. Even so, regardless of the subject matter photoshopped images often have a rather crude, grotesque aspect, certainly appearing at a minimum staged and/or contrived.
Heritage/denomination: Khazarian Jew
 Zionist mole #8: Nick Wood
There are two Zionist moles playing the fake sons of Phillip Wood, one named Christopher and the other named Nick. Neither of these individuals are real. Both are Mossad agents on hire for this job.
Heritage/denomination: presumed Khazarian Jew
Zionist mole #9: Christopher Wood
Fake son Christopher Wood acted as a major spokesman to support the phony disappearance of Wood. Yet, through this fake son the methodology of the hoaxers is to a degree revealed. It has been determined that the real name of this Zionist mole is Ryan Zoller, a member of an exceptionally rabid, extremist Zionist family.
On the Internet there are a few images of Ryan Zoller. One such image shows that the two are essentially exact likenesses.
The image, right screen, is listed under the name "Ryan Zoller," not Christopher Wood. Therefore, there is no such person as Christopher Wood, at least no in relation to anyone named Phillip Wood.
Heritage/denomination: Khazarian Jew
Zionist mole #10: Danica Weeks
A kind of wicked witch of the Malaysian hoax, like Sarah Bajc, Danica Weeks – or the woman who plays her – holds a highly significant role as is represented by the number and degree of her media appearances.
The diabolical nature of the mole can be seen in the following image from a 60 Minutes video:
Note the pathology, the upturned right eye with the white showing. The woman is a pathological liar who rambles endlessly. Regardless, what airline crash relatives have ever before been given such international publicity? She appears on "60 Minutes," one of the most powerful media documentary shows known, really?
The dirty fraudster tries to fake it; yet, since she is an arch-fraud she does an exceedingly poor job:
She is fooling no one. She can go through every conceivable kind of contortion and fabricated expression – she simply is not believable.
Heritage/denomination: Khazarian Jew
Zionist mole #11: Jonti Roos
An arch-Zionist agent from a family with extensive ties to the world Jewish cause, Jonti Roos was given a specific role in this hoax; it was the fake "women in the cockpit" role for which she was hired. After this PR stunt was spun Roos was then sent on tour in the Australian media to help solidify the fabrication.
Heritage/denomination: Khazarian Jew of Lithuanian descent
Zionist mole #12: Nancy Zoller, aka Elaine Wood
It is a woman named Elaine Wood who acts as the actual ex-wife of the non-existent Phillip Wood. It is believed, though, that her real name is Nancy Zoller, the aunt of Ryan Zoller, who is faking it as Christopher Wood.
The fake Elaine Wood doesn't want anyone contacting her:
Here she is seen in a heavily photoshopped image, where the mangled hands with extra hand parts and fingers are a give-away:
She is clearly a Zionist mole and besides the Photoshop corruption she seeks to hide like a Zionist mole: underground.
Heritage/denomination: Khazarian Jew
Zionist mole #13: Richard Quest
As an arch-Zionist agent Richard Quest was put in place on psyops news (CNN) in order to create a preamble to the hoax. He is the one who claimed, falsely, to have been in the cockpit of a Malaysian Airlines flight, which is completely prohibited, with the acclaimed pilot and co-pilot of the supposedly lost/crashed flight. The fraudster Quest, so-called TV airlines expert, can be seen photoshopped into the picture below:
Pointed out by the arrows is the anomalous nature of the bars and patches; the bars should be on the shoulders, not where they are. Who in this world would believe that Zionist mole Quest would just happen to have caught a ride just a few weeks before with the 'gone missing' Malaysian Airlines crew? It is simply not plausible. Moreover, the odds that this really would happen in concert with a real airline disappearance are billions to one.
Heritage/denomination: Khazarian Jew
Zionist mole #14: Isaac Yeffet
Not merely the former head of 'security' at El Al Airlines Yeffet has played the most preeminent role as a high level spy in the Mossad apparatus, operating as according to AEI Speaking Bureau a chief agent in the "field of anti-terrorism" for the "Israeli Secret Services."
aeispeakers.com160 × 216Search by image
A mole of moles Yeffet has been the chief architect of the attempt to pin the fake disappearance/crash on Islaamic Iran, stating that he believes that the Iranians hijacked the plane. His inane argument collapsed when it was determined that the CCTV images depicting the 'Iranians' had been photoshopped, along with the fact that one of the depicted Iranians is apparently Jewish (that is a Mizrahi agent).
It was Yeffet and other Zionist spy agents who were behind the following story-line, likely fabricated and generated right from Tel Aviv:
"Kazem Ali" is an invention of the Mossad. There were no real tickets. Moreover, and if any 'tickets,' as shown in the media were purchased, they were done so fraudulently – by Mossad agents, not Iranians.
Here is typical quote attributed to him, published extensively in the Israeli press:
"We have bad experiences with the Iranians, unfortunately…. I would not be surprised… if one of the intelligence bodies, group of Iranians, were involved," Yeffet told "The Steve Malzberg Show" on Newsmax TV.
It is the Israelis alone who are suspect in orchestrating this plot, including the generation of tickets, bought at the same time for the same amount, from a seedy group in Thailand. It would also be the style of these vile ones to pay cash for any such purchase, if such purchases were really made (as there was no such flight for which to purchase them) in order to prevent a paper trail.
This interview by Yeffet demonstrates the entire nature of the Zionist plot and, in fact, proves that this criminal cabal is behind this hoax. It also proves that the original intent by the Zionists was to fully place the blame on Islaamic Iran.
Heritage/denomination: rabid, fundamentalist Khazarian Jew
Zionist mole #15: Daniel Eleff
Rabbi Daniel Eleff had advance knowledge of the plan to fake the plane crash of a Malaysian airliner. Fully in place when the scam was first publicized, he lunged for publicity for his Website through concocting a ruse. This ruse was based on the claim of his saving the life of a less-than-orthodox Jew who would against the orthodox code fly on the Sabbath.
Sure, the rabbi saved the day and was the Orthodox Law that was responsible. It's just another Zionist lie.
A typical write-up of the vague nature of Ellef's claims found on the Web regarding this scam regards the attempts by other bloggers to confirm the claim. According to one blogger:
When I tried to verify the authenticity of the story with Daniel Eleff of Dan's Deals, he sent me this message:
At this time the travel agent and the passenger are opting to remain anonymous. There has been a fair amount of negative feedback and they are choosing to wait until the fate of the flight in known to determine if they'll go public.
Heritage/denomination: Khazarian Jew
Zionist mole #16: Nikolai Brodsky
The naming of Brodsky was an early attempt by Chabad Lubovitch to gain sympathy for Zionism/Jewry by creating a fallacious Jewish victim. This was on the basis that, yes, despite the fact that it was not a flight boarded by Jews and that it was on the Sabbath, still, a Jew died.
Zionist mole #17: Aaron R. Handler
It was Aaron R. Handler, associated with the Zoller cabal, who made his move for profit and personal gain on the heels of the fake Malaysian Airlines crash. This is through his entity, FreeFlight Acquisitions.
Initially, he did give interviews. However, now, information about Handler and his hoax on the Internet is difficult to find.
That's 17 different fundamentalist Zionist moles which represents merely a modicum of the hoaxers and players. Clearly, the disappearing act of Malaysian Airlines MH370 was a hoax created and orchestrated from the Zionist entity itself through the auspices of that lying and deceiving cabal, the Mossad.
Sources/see also:
http://www.newsmax.com/NewsmaxTv/iran-malaysia-flight-missing/2014/03/18/id/560348#ixzz2ygz4brP9
http://www.thephuketnews.com/passport-given-to-wrong-customer-at-bike-shop-phuket-owner-explains-45106.php#sthash.5Wokb3e4.dpuf
http://www.nationmultimedia.com/national/Probe-into-stolen-passports-used-by-pair-on-missin-30228911.html
Share
About Author
(38) Readers Comments