Mossad Strikes Back At Russia – Murders its Ambassadors
While the Russian ambassador to Turkey, Mr. A. Karlov, was shot dead in cold-blood, it is surely not the only terrorist attack by deception in recent times committed by the Mossad. The Auditor General of NATO, Yves Chalendon, while investigating ISIS criminal activity, was also recently assassinated, as was Russia's Latin American envoy, Ambassador Polshikov. These diplomats are a portion of the countless murders committed by Israeli extremists and their collaborators. The fact is the entire ISIS terrorist campaign, responsible for some 300,000-plus deaths in Syria alone, is a Zionist creation, it's lead agents being rabid, extremist arch-Zionist Jews. The purpose is the ill-conceived plot by Zionist fanatics for the creation of so-called Eretz Israel. It is also a plot to simultaneously demonize Islam, creating a black mark against it: or at least attempting to do so.
Meanwhile, the Russian Federation has entered the front, pushing back the terrorists and their Zionist leaders to the point of no return. The Zionist plot is neutralized: at least at this time. Thus, clearly, the Zionists are raging mad and will commit all conceivable crimes, including the slaughter of diplomatic attaches. They are desperate, so they will commit great acts of desperation.
No doubt, countless fanatics and criminal elements have been solicited by Jewry, many of whom are 'born' into the Islamic faith. Even so, despite using non-Jews as its frontal force, including, by the way, criminals released from Middle Eastern prisons, all the despair and destruction, all the bloodthirsty murder and senseless devastation, is on the hands of the criminally corrupt Zionist mob.
The fact that these ruthless thugs are mere proxy Zionist agents is obvious for all to see, for instance, the above image depicting Takfiri agents meeting with occupying Israeli 'soldiers' in the Golan Heights. Here is an image of high-level IDF agents, along with Bibi Netanyahu, consoling not a refugee or wounded civilian, as advertised, but, rather, a Takfiri criminal element:
…and another image of that murderous one, this time for a photo-op shaking hands with the smiling terrorist, with plenty of cowardly Zionist moles smirking and smiling in tow:
It also has its Western-based proxy agents, for instance, that terminally vile, proven mass murderer John McCain:
The US-Israeli joint alliance, along with numerous European elements, placed countless Zionist agents in Syria, running weapons, training mercenaries, and even doing the shooting and killing themselves, for instance, this Mossad mole caught in action in Syria:
Below is a video of Mossad thugs bearing false Swedish passports, caught in the Middle East as secretive assassins. It is obvious that he bears only a hit-man's gun:
Who knows how many there are who infested Muslim-dominated Syria? The only reason they were there is to sow great corruption in the land and to perpetrate high crimes against humanity, for instance, these two scheming, treacherous Jewesses operating in Syria: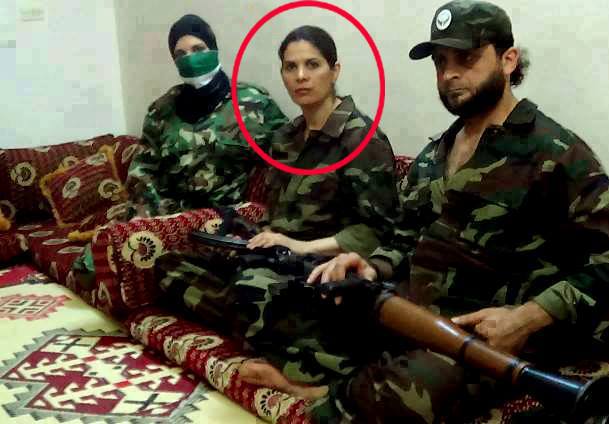 Egyptian security forces arrested Hossam El Din Malas, pictured far right, and seized at his home military allowances and other important documents, along with photos, one of which was of these Mossad agents.
On the far right is confirmed Zionist spy, Canadian-Israeli duel national, Dalia Shimon, 25 years old. Shimon lives in the Zionist strip and is a known Mossad agent and trained IDF militant. The identity of the other Zionist mole is unknown.
Now, a number of these Zionist agents have been killed and wounded in Syria, that precise number being unknown. Yet, surely, this demonstrates the extremes to which these fanatical ones will go in order to achieve their hideous plots.
The firepower, though, brought to bear by Russia made a decisive difference, driving the Israelis and their collaborators virtually into oblivion.
Russia Bombs 30 CIA, Qatari, Mossad Officers in Secret Allepo Bunker
In an offensive to liberate Aleppo the Russian military identified a command post, which was directing the terrorist activities. That command post was struck by two surface-to-air missiles and obliterated. In the command post was a joint 'NATO' command consisting primarily of Mossad agents supported also by commanders from the US, Turkey, Qatar, and Saudi Arabia.
http://en.farsnews.com/newstext.aspx?nn=13950631000607
In addition, it is reported:
In scores of air raids launched early Friday, Sept. 23, Syrian and Russian bombers pulverized Syrian rebel strongholds in eastern Aleppo, while, on the ground, Syrian military, Hizballah and pro-Iranian Shiite militia forces hammered those targets in one of the most destructive onslaughts yet seen in the nearly six-year Syrian civil war.  Cries of "annihilation!" came from rebel commanders, as they came under intense aerial bombardment, combined with a fierce ground assault, backed by heavy Russian T-90 tanks and artillery."
Yet, it all started with the Mossad, which likely orchestrated the original 2011 protests, which were the basis of the destabilization campaign. Moreover, as seen here and as in the Ukraine and Egypt, it was well-positioned Zionist snipers who created the provocation by shooting and injuring, as well as in some cases killing, the protesters, then spreading false blame against their enemies.
Surely, the plot to assassinate, in particular, Ambassador Karlov is directly related to the losses of Jewish mercenaries in the Russian strike. This is how these extremists operate. They must draw blood in retribution, even though it is they who are the cause of all the criminality and bloodshed.
Sources:
http://www.timesofisrael.com/russia-mossad-other-foreign-agents-killed-in-aleppo-strike/
Syria's Terrorist, Dalia Shimon 25 years old, Mossad agent and a female soldier in the Israel DF (IDF) from the Tel Aviv area
https://geopolitics.co/2016/09/24/russia-bombs-30-cia-mossad-officers-in-secret-allepo-bunker/
Share
About Author
(8) Readers Comments