Muslim Palestinian Youth Running for His Life Shot Dead by Zionist Criminals
UPDATED, April 3, 2018
A Muslim youth attempting to run away from the danger of gunfire was shot dead by cowardly Zionist criminal elements. It is clear that this youth,  Abed el-Fatah Abed e-Nabi, was shot in the back. Moreover, he was only 19 years old.
How could he have possibly harmed anyone, especially those fully armed, militarized Zionist militants? He was running precisely away from them, attempting to avoid being shot dead. Yet, the cowardly Israelis shot him regardless.
These are the same Zionist extremists that blew people to smithereens in the WTC complex. They got away with that there, just like they are doing so in the Zionist strip.
Martyred by the Zionists, he is yet another example of the nature of treachery committed by the Israelis and their collaborators. People are  protesting their tremendously oppressive living conditions and also all the suffering they have endured, including continuous loss of lives and assets. It is hopelessness imposed upon them by the Israelis, who have stolen not only their land and physical assets but also their potential for even the most minimal opportunity in this life.
These brave youths and others have no option but to challenge the Zionist hostile ones who continue to through criminality and treachery still all that they have. Even so, the Zionists will lie. They will say he was a danger, like the other 15 or so they have just slaughtered. They will claim he was armed with God knows what, perhaps, a gas bomb, a rock—that the martyred youth was somehow threatening them. It is all lies, as anyone can clearly and undeniably see.
The arch-Zionist criminal mind can conceive other than this. It is incapable of acting in any way legitimate. All this hideous one can do is, to shoot dead the one who has no weapon to defend the self:

Israeli sharpshooters (actually, mercenaries) take position at the border with the Gaza Strip. (Atef Safadi/Atef Safadi/European Pressphoto Agency-Efe/Shutterstock)
So, the Zionist shoots the youth in the back, killing him virtually instantly. This is all such a one knows to do, which is to kill those who have no means to fight back against them.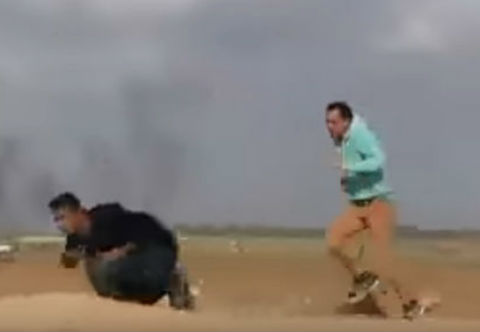 The youth bravely saved the other man with him, by taking the tire away from him, after which he was targeted by the Zionists and murdered. Both these men were running away, attempting to dodge the gunfire.
Here is an image of the youth just before he was senselessly gunned down. He was killed for protesting the oppression that he and fellow Palestinians are enduring. Thus, Israeli repression leads to protest, and the Zionists respond through adding oppression upon oppression.
Here is an image of Abed al-Fatah just before he was martyred by those Zionists whose modus operandi is to commit great acts of vileness, in this case, is to cowardly shoot a person in the back, while such a one is fleeing for his life:
God rest his soul and that of his family he bravely went against the violent, murderous Zionists with no means to protect himself, and as can be seen from the video seemed to help assist his fellow, and for that he was shot dead. Moreover, it is these arch-rabid ones, these religious fanatics of Zionism, who feel that can do whatever they want, slaughtering youths and other unarmed people at-will, godless that they are, as if there will be no consequences.
Consequences there will be, make no mistake, the one gaining the pleasure of Paradise before his Lord, the other roasting in misery alive in the fires of Hell.
Anyone can see from the video that the Zionists were merely committing what is nothing other than target practice against these youths. Claims by the Zionists that this was self-defense is merely another standard of their way: which is to lie, cheat, and defraud: all whom they encounter.
See these noxious ones here. See their cowardice. They are so feeble in their nature that, under the slightest threat, they lose bladder control: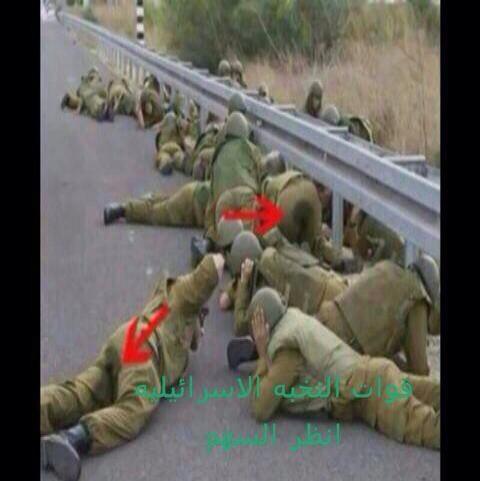 Can anyone imagine what would happen to these obnoxious ones if they were forced into a real battle against even a reasonably armed enemy? So, yes, the Zionist sits hidden behind the hill, so that no rock could strike him. Then, for fun, he shoots dead a Palestinian youth.
This is his way. The entire world sees it. He has no spine, no capacity: no means to actually fight a legitimate fight. All he can do is be a coward to the extreme and to torment, torture, and slaughter the innocent, including children, pregnant women, the elderly, mere stone throwing, oppressed youths, and even crippled people.
Sources:
https://sputniknews.com/middleeast/201804011063111603-palestinian-shot-gaza-protests/
Share
About Author
(39) Readers Comments