No Bodies Recovered at Germanwings Site – It's all Fake
Despite claims otherwise there were no human remains to be found at the purported crash site of a Germanwings jet. Regardless, it wasn't a crash site but was instead a dumping site. There was nothing there to be found, because there was no crash into that mountain slope of a real plane.
Even so, in the Daily Mail it is said:
The hellish task of identifying 149 victims: 600 body parts removed from site as it emerges killer co-pilot's remains have already been found
Forensic experts painstakingly try to identify 600 body parts of victims and have isolated 78 distinct DNA strands
Remains will be photographed and scanned in 3D before being placed in morgue until identification has occurred
It is hoped 95% will be identified within next three weeks as guards continue to keep 24-hour watch at site in Alps
Leading forensic expert Michael Tsokos told of horrifying task, saying: 'These images will never go out of my head' 
Yet, now, as of April 4, 2015, what does the Daily Mail say about the search? It is a complete turn around, to the degree of the unbelievable:
France halts search for bodies at Germanwings crash site.
"The search for bodies is over, but the search for the victims' personal belongings is continuing," a spokesman for the local government authority in the Alpes-de-Haute-Provence region told Reuters.
"Lufthansa has also hired a specialist firm to remove the debris of the aircraft, under the authority of the French public prosecutor and an expert in charge of environmental supervision of the operations," he said.
According to the online feed they've got enough parts, now, to identify the people, supposedly through DNA testing. They'll just leave the rest of the human matter there to rot. Sure they will. It will all be rotting away, while the carnivores feast over it.
Too, it was also said as part of the psy-ops distraction display:
Families of victims of Germanwings plane crash could face up to four months waiting for loved ones' remains to be identified
DNA identification of victims will take two to four months, police chief says
Warning came from the Head of the Criminal Research Institute in France
Colonel Francois Daoust fears it may not be possible to identify all victims
In other words, it will take so long that this will all be forgotten from the public consciousness, which is especially important now that the nature of this arch-hoax is being revealed.
"A picture of horror," the arch-Zionist narrator says. Sure it was: a horrible mess.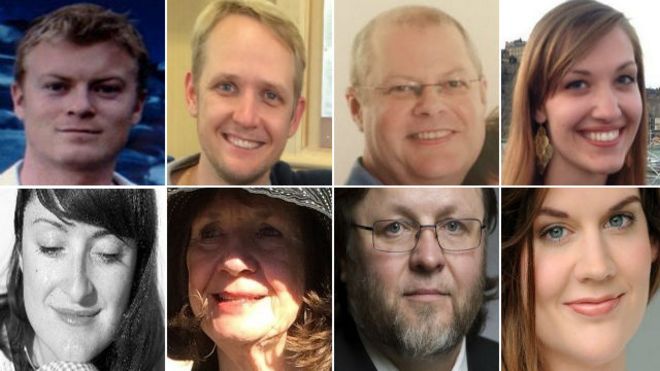 All these people are supposed to be dead. Where are their bodies?
How about this Zionist? What happened to him?
There are always plenty of boo-hoo'ers about to give the fraud a semblance of realism. Most people think it's real. "Why would they fake an airplane crash? What happened to the passengers?"
Remember these people? They switch from one faker to the other. Who are they supposedly grieving for?
Yet, originally it was the sandy-haired woman that was dying in grief, while the lady behind her seem to be a bit more composed. What happened to the lady with the water bottle in the prior image?
What happened to Selke or whatever is her name? It's likely an alias. Her fake relatives act as if they don't actually know her.
How is this a body?
See how massive it is compared to the man's body behind it. What is in it, rocks and shale? Whatever it is it isn't human.
What is this supposed to represent? All those bags, and there is nothing to put within them?
Why is the corpse bag tied down so greatly? Did they hope people wouldn't look and presume it to be a corpse?
150 corpses and corpse parts, likely more than this as people surely would be dismembered, and this is the best they can do, just three or four images?
Why is that entity so heavy that it tilts so greatly to one direction? Did they really pack rocks and soil in there?
Look at the man with the brand-new shovel. What in the world is he doing? He should at least be cleaning up the wretched mess. What does he do instead?
He starts randomly digging in the shale, even though there is nothing there. The shovel is a prop, and so is its administrator:
How in the world is digging in that shale going to unearth anything? There isn't even any wreckage there. This alone proves the entire event as a scam, a terminally wretched hoax orchestrated by the high priests of the arch-Zionist cabal.
What about these men? What are they doing? Why are they merely mindlessly digging at the mountain?
They should be cleaning up all the trash that the helicopters dumped on site instead of making an additional environmental mess.
What are these men doing? Why don't they do something productive, like restore the environment to its original condition:
Finally, they have gone to work but it is irrelevant. It's all a wretched fake, all fully staged: a hoax to the extreme.
Who are these hoaxers in white? What are they doing there? Why in the world did they mess the area up with crime scene tape?
What did the people in white find? What is it, a crab leg/claw?
Sure they cut off the search. Of course they did. Why not? There's noting to find. Moreover, the crisis actors have long ago gone home. No one wants to play the game anymore. Just looking for jewelry and luggage now. By the way, where is all the luggage? Where are all the seats? Where are the other engine components? Where are they wings?
Bye-bye, hoax. You are rotten to the core. How desperate these criminal minds are to fake yet another plane crash, testing the sheeple, taunting them, evaluating them: how many will still fall. How many: millions or countless billions?
Read more:
http://www.dailymail.co.uk/wires/reuters/article-3025678/France-halts-search-bodies-Germanwings-crash-site.html#ixzz3WOpAvFmR
http://www.dailymail.co.uk/news/article-3016622/The-hellish-task-identifying-149-victims-600-body-parts-removed-site-emerges-killer-pilot-s-remains-found.html#ixzz3WOg3eZUq
Share
About Author
(87) Readers Comments