Paul Walker Death Photos are Fakes
UPDATED, 10:00 a.m. Dec. 09, 2013, again, 1:30 P.M. CST
Regarding the Paul Walker hoax look carefully at the image, despite the apparent horror. There is a woman in the midst of it. Here, in the center of the image, is the dummy detail in real life, the Paul Walker moulage mole. She's attempting to make a get-away, but she got caught. Note the red packet and/or residue of fake blood squeezed between her fingers.
Moreover, why show them of such famous people before the whole world, then, ending up essentially anonymously posted on the Internet? It does not seem plausible.
Even so, there is no attempt, here, to violate the sensibilities of real trauma victims or their families. Yet, if it is a fake, it must be uncovered, and nothing about this appears real. Just review the claims. They all turn out to be false, including the claims for desperately grieving loved ones.
This photo showed up on the Internet exclusively, sent by reportedly an N. Morgan to BeforeItsNews.com. N. Morgan is  a BIN (Before it's News) reporter.
Though it might seemingly violate people's senses to see this, in fact, it doesn't even look real. It looks like a bunch of something, thrown on top of the wreckage. If these corpses, or body parts, were real, they would be at least mangled within the car, not just laying there on top of everything.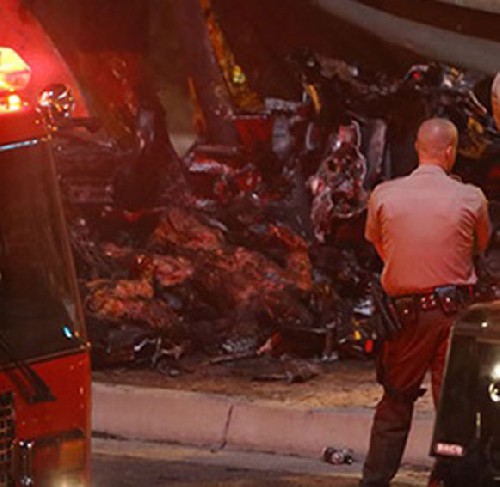 Look at the size of that whatever it is? It is monstrous, too big for life: a giant. A bloated carcass you might say? Not in a burn victim. The tissues are rendered into carbon.
Those images have pink or flesh-toned skin. Burned to death in such an inferno? Trapped in the car? They would be nothing but char, and they surely wouldn't be naked. Their clothes would be roasted into their skin in a charcoal corruption.
The men were supposedly burned beyond recognition. That is certainly not the case, here. Again, "Walker and Rhodes were burned beyond recognition." Whatever these images are this is not the case. This is burned beyond recognition:
And here, civilians in a warehouse in Libya, acclaimed as being killed during that propped-up conflict, again, really and truly burned beyond recognition:
Turns out, this may be a hoax to be blamed on "pro-Qaddafi forces," as some reports have these as people dug out a cemetery, corpses, which were set on fire. It's plausible considering the lack of flesh, which, too, would have been burnt into the face.
It seems to be open season in respect to Mr. Walker. In a Jamaica newsletter this photo is promoted as being an example of his corpse, which it obviously isn't, but what is crucial is the number of photos which have appeared as "evidence of Paul Walker's death." Yet, too, this is what a corpse looks like that is burned to death, though no necessarily and conveniently "beyond recognition." What money can buy, even a fake death.
http://eliteja.com/graphic-photo-whats-left-paul-walkers-body-badly-burnt/
Notice how the legs are burned all the way through, bones and flesh turned into ashes. No bright red blood anywhere.
Regardles, the above as actually being attributed to Walker is a complete hoax.
The following is a fake image of a dummy burned beyond recognition but not really.
http://www.rogersfx.com/sitebuilder/images/NCIS_Burned_Body_4_net-595×394.jpg
Here is another one:
This, too, is a dummy. Moreover, it is a dummy which is not well-charred.
Look at this. These are not real people. Look at the torso. Also, with shoulders like that he would have been a great recruit for the Raiders. Regardless, there is no charring of the (fake) bodies. These are dummies and parts of dummies soaked and painted with fake blood.
Incredibly, the color is merely flesh tones and bright red, a physical impossibility in the event of truly trapped or unconscious bodies, that is people who can't escape an inferno. Pink and red, really: 1000% a hoax.
Bright red blood, really, in two men who have been burned to death in a roasting inferno? This is impossible. It's all fake, mere moulage, standard Hollywood-style.  The arrows point out the obvious: pools of fake blood, a fake blood soaked fake leg and foot, and drizzle or symmetrical, repeating lines of fakery all over the dummy and partial dummy. The face was charred with moulaage for shock and awe and for realism.
Charred to death: what a hoax.
A Pinochio dummy, right out of the catalogue. Straight out of Halloween, or should it be said, "Hollywood-een." A sick joke to play on the people, and Walker is the key perpetrator.
Then, there are these images, floating about, including the grey-faced dummy. What is this, a cartoon? Or, is it merely another mole hidden amid the rubble?
Looks like the moulage mole might be carrying a few spare dummies on her possession that they decided they didn't need. The Paul Walker moulage mole, the dummy and fake blood lady, is attempting to make a get-away, but she got caught. Note the red packet and/or residue of fake blood squeezed between her fingers.
Compared:
The whole world is crying, but there are no tears. Even fake tears would help considerably in supporting the hoax.
Where is Walker? Taking a few years off with his daughter, who will be the latest newbie in the land of fairy tales.
Share
About Author
(220) Readers Comments