PhotoShop Fakes and Dummy Cadavers in Phony Jerusalem Truck Attack
Using a CGI and splicing techniques the Mossad and its collaborators created a ruse, making it appear that there really was a truck attack against Israeli soldiers. There was no such attack. It's all fake, proven, here. It is an elaborate fake with soldiers being used as stage hands. Once again, as in Nice and Berlin no one died, and no one was injured.
You can see the arch-fabrication here. That truck, according to the 'CCTV' images, barreled into this region at high speed. Yet, it didn't tear up the grounds to any degree? These are obviously dummies they are dressing, not real humans.
It's a sympathy canard by the Zionists. There is nothing real about it. While they perpetrate this these criminal minds continue to commit high crimes against humanity: such as orchestrating mass slaughter of Islamic people, among others, in Syria and Yemen.
Now, the reports are that four died and that the deaths were horrific, via being run over and crushed to death by the lorry. Where is the evidence of any crush injuries in the image below? Moreover, the claim also is that the corpses were "trapped" under the vehicle. Then, what is that entity doing out on the grass in this position?
That's easily explained. Rather than a human it is a dapper cadaver dummy, clearly evident by the fake hand, reaching out:
See the reticulations in the joints? It looks real enough. Who could determine otherwise?
Then, there is this Zionist seated in the gurney chair, who was supposedly wounded, actually struck, it is claimed, by the truck. What about this cowardly Zionist appears to represent a real truck-strike injury?
Once again, where are this cowardly Zionists obvious injuries?
Obviously, he is acting, which is proof of the scam and arch-fraud.
Then, if it is just dummies, what about the supposed victims, the four Zionist dead. At first it was reportedly two women and two men, then switched to three women and one man.  What about this individual? What about her is real? Who is she looking at? What a bizarre image it is:
See how vague is her image and how much more crisp is the background. She's a Photoshop addition to the background, a hack image: a total fake. It is possible to see right through her arms, regarding the left one it appears that the background bleeds right through.
Look at her face, loaded with blur tool marks and cut lines. This is fake beyond belief, no doubt about it.
See the multiplicity of blur tool lines and cut lines. No family in this universe would release such a hack-job image of a loved one. The cut lines ride right over the upper lip to the teeth.
What kind of a finger is this, as above? Why are the waves more distinct than the focus point of the image, the woman herself? Moreover, there are plenty of other suspect images, such as this one of yet another fake dead Zionist, whose image is clearly digitally installed:
Notice how soft are her features and how they are not the focus of the camera, how they are less distinct than the background.
Then, why are the involved Zionists so gleeful, smirking about the entire ordeal.
They can fake it all they want. Not a tear has been shed.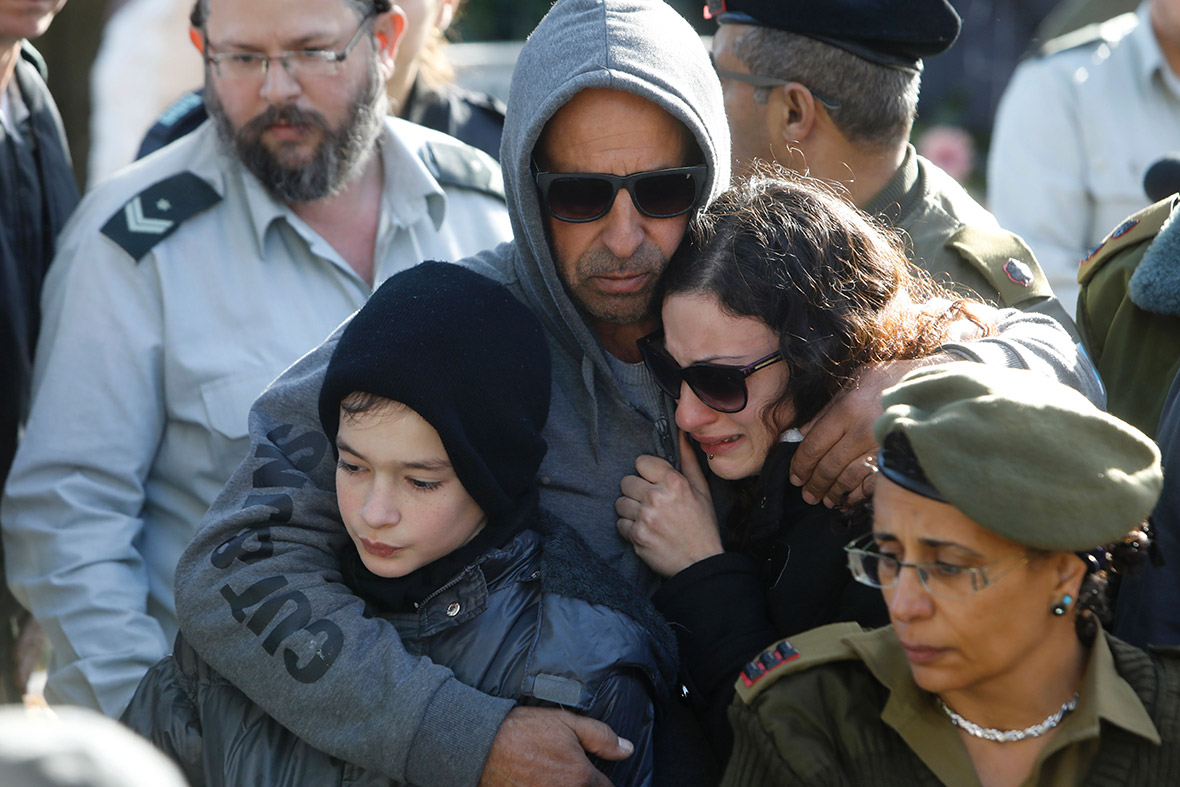 Now comes Netanyahu, complaining about terror, leveraging, in this case, correctly, ISIL and ISIS, both of which are Zionist creations. 'We are all in this together, fighting terror. We need to do it as one, as a global force.' It's the same old story from the same, less than inventive Zionist perpetrators:
If, then, his Zionist mercenaries were terrorized by a truck, knocked down and killed, run over, as many as 20 of them, where is the evidence? Where are the dents on the truck from striking humans at such a high speed?
There are no such dents. There is 'charcoal.' Was that added as a Hollywood-style affect:
It could be, because it has an artificial pattern and there are no dents of any kind seen. It does look applied charcoal to create a sense of realism, painted on.
Oh, but. yes, there is real terror: committed exclusively by arch-Zionist criminal minds. The only tears shed are by the imprisoned, brutalized Palestinians.
They act out their fake grief while imposing endless horror upon humanity, for instance, this child shot by a Zionist sniper while she was playing outside.
Share
About Author
(27) Readers Comments