Hard Proof that the Boston Bombing was a Staged Hoax
The vast, powerful Zionist-controlled media is used to overpowering all other forces, overriding the system, and thus preventing any real inquiry. Thus, a hoax can be perpetrated, and few if any people will realize it. Such was the case of the Boston smoke bombing hoax which had the appearance of a real massacre with real injuries, amputations, and possibly fatalities but, in fact, wasn't real. This may be difficult for most people to believe, but upon careful inquiry it becomes clearly evident that this event is not to any degree as advertised.
Yet, could it have been instead a staged event? There is an entire FEMA/DHS PowerPoint which indicates that this is the case. It is a presentation specifically about the staging of a terror-like exercise in Boston and not just anywhere or regarding anything but specifically regarding the Marathon. That PowerPoint can be seen, here:
http://memorygapdotorg.files.wordpress.com/2013/05/course_18_-_tale_of_two_cities_and_the_running_of_a_planned_mass_casualty_event_-_serino_richard.pdf
The fact that this was staged is made abundantly clear by precisely the first page of the presentation:
There can be no doubt about what it says, that this is the plan for a staged terror attack, RE: the Boston Marathon false flag act. This cannot be a coincidence. To reiterate, "Running of a Planned Mass Casualty Event." The use of the Dickens novel in the title is merely further evidence of the planning of a spoof. This is Richard Serino. He was there, conducting the scam:

It can be seen upon careful analysis that he is conducting the event and in almost every instance he wears his badge backwards.
Same man less the moustache planning such events within the Obama White House:
One of the most crucial slides in that PowerPoint presentation is as follows:
||
If this was a staged event, this supposed bombing massacre by deranged Muslim terrorists, then, this would be represented by staging agents, that is people identified on the ground with such IDs and badges, people such as this, extracted from the PowerPoint, with lanyards and IDs, including in some cases photo IDs:
Or this:

Note the color-coding. Note also that this manager of the lady with the supposed IV bag has the actual logo, Homeland Security, emblazoned on his sweatshirt. Too, if this was a drill it would be  expected that there would be other means of identifying the operatives, something more readily visible from a distance, like the kind of outer ware used:
…as seen throughout the Boston Marathon bombing hoax, like this photo represented by the Chicago Tribune and Boston Globe of on-site staging: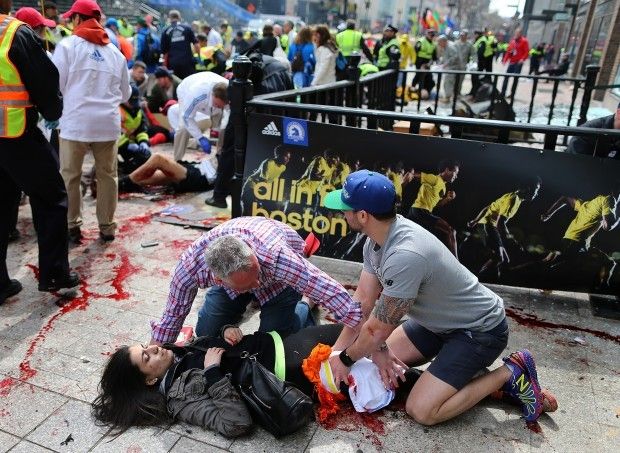 See the Adidas logo and similar cotton shirts for the fabrication of these wounds. These are taxpayer-funded DHS agents, not emergency medical personnel. Then, there is also this, which shows the staging at a variety of levels, including operatives working on the fake wounded and the individuals responsible for the photo-shoots running such individuals across the finish line in wheelchairs, an act that is never done in really wounded people who might be bleeding or suffering from potential internal injuries: such individuals are always rendered recumbent for purposes of stalling blood flow. To reiterate these are faked injuries achieved through the use of multiple disguises, including the application of make-up-like material, fake blood, and even Teflon-silicon devices, in other words, fare gore. Hard as it might be for many people to believe this has been carefully researched and proven on this Website, for those who have the desire and foresight to investigate it.

There is an even more significant finding, as pointed out by the red arrow aiming at the man in white. What is it?


This is the infamous zip-style plastic bag of fake blood, revealing the method used by such DHS moles to create the fake effect: the appearance of an actual wounded person who despite having no obvious open wounds or lacerations is colored red. It appears that he is attempting to disguise this from view, since he is being recorded; it will likely be kept hidden for a more opportune time when the fabricated blood can be applied clandestinely.
Where were those fake blood packets stored? In was mainly in various bags or even on people's persons, like in sweatshirt pouches and more. Regarding the sources of other items of Hollywood-style gore, like paint, dust, oil, charcoal and more, there is this finding:
EMTs leaving their valued emergency medical kits behind in a messy glob of slop? People taking no precaution about 'blood'? Why would they since it is mere paint. Red kits/bags marked in yellow, green in red with also an empty fake blood-stained Ziploc bag marked, the various transporting agents can be found in the FEMA/Serino PowerPoint:
Therefore, just as is established in the FEMA/DHS manuals and PowerPoint presentations the Boston "smoke bomb" event was a true fabricated hoax, a "training event," which was fake in every respect and wherein no one was seriously wounded and no one died. All injuries were appearance only and were achieved through Hollywood-style special effects through the use of fake blood and moulage kits, the kits themselves being discovered on-site during the clean-up. Who will dispute this categorical proof, now, that this entire event was a sham where, once again, no one died, and no one was seriously injured?
Share
About Author
(18) Readers Comments