Jews Blow Up and Kill Palestinian Boy By Force-Feeding Him Gasoline
UPDATED with new imagery, 6:00 a.m. CST, July 13, 2014
WARNING: Graphic image included, as released by the murdered youth's family.
Regarding the ruthless slaughter of the Palestinian youth Muhammad Abu Khdeir an image has been released proving the extent of the injuries he suffered. The image is in the public domain, provided and released by the family of this martyred youth.
He was selected by the Zionists for ritual slaughter, because he was unable to defend himself, being of a weak, frail nature. Against three violent, rabid extremist Israeli Jews he stood no chance:
The degree of treachery committed by the Zionists should surprise no one. This is what these brutal, hedonistic Jews did to this youth. They truly did roast him alive:
It is far worse than this. The filthy Jews caused the boy's body to explode, the guts fully exposed, as seen in the image. When they did so, surely they laughed in jest. The  imagery clearly shows an exploded body. Therefore, this youth was likely attacked with accelerants – gasoline – in an act of savagery which is beyond comprehension.
In other words, they poured gasoline down his throat and then set him on fire.
Knowing he was of a mild, vulnerable, and weak nature, his attackers readily constrained him. Then, they force-fed him gasoline. Then, they ignited him, causing him to explode.
So, rather than as reported earlier, that is that he was stabbed to death, it was a fire-based injury which killed him. In fact, he was murdered by a petrol-induced explosion, a result of the trapping of the gasoline and its fumes in his body.
The trapped space in which the gasoline was poured (and its resultant fumes) acted as a means to turn the youth's body into a petrol-based bomb.
This can be seen through zooming in on the image. The face appears to have undergone an internal detonation. Following this downward it can be seen that he has been blown up, linearly, down through the body cavities. There is significant evidence of explosive damage to the body in the neck and running down a line in the anatomical region of the esophagus and also the bronchial region. In this regard soot was found in the lungs.
There was an explosion in his intestinal tract, blowing off the muscles of the abdominal wall. He was eviscerated, but not in this case through the cutting of a knife. Rather, it appears to have been an explosive detonation from within the cavities of the body. The explosion rammed all the way through his body through the rectum. There is also great char seen in the pelvic region.
No wonder CNN is doing damage control, saying the statements that Abu Khdeir was force-fed gasoline is only a "rumor." From the anatomical damage seen,  here, a damage which is unprecedented, it appears that these 'rumors' are categorically true.
In Haartez this is seemingly confirmed (per the Richard Silverstein blog):
With each day that goes by the
murder of Mohamed Abu Khdeir becomes ever more bestial.  Haaretz reports (Hebrew print edition only so far) that before he was burned to death he was doused with gasoline
and 
forced to drink the fluid.
 No doubt, the killers wanted him to burn from the outside and inside:
According to Palestinian public prosecutor, the findings of the autopsy were that Abu Khdeir was struck on the head and then burned to death:  there were signs of ash in his lungs showing that he was alive when his body was incinerated.  The police investigation determined that the youth was forced to drink the gasoline used to set his body alight.
Now, then, regardless of what vileness the Zionists spew it is clear that these criminal elements were all along attempting to commit such a ritual murder, in fact, multiples of them:
Who could be surprised at their wretchedness. They even attacked the funeral procession of this martyr, as is their tradition: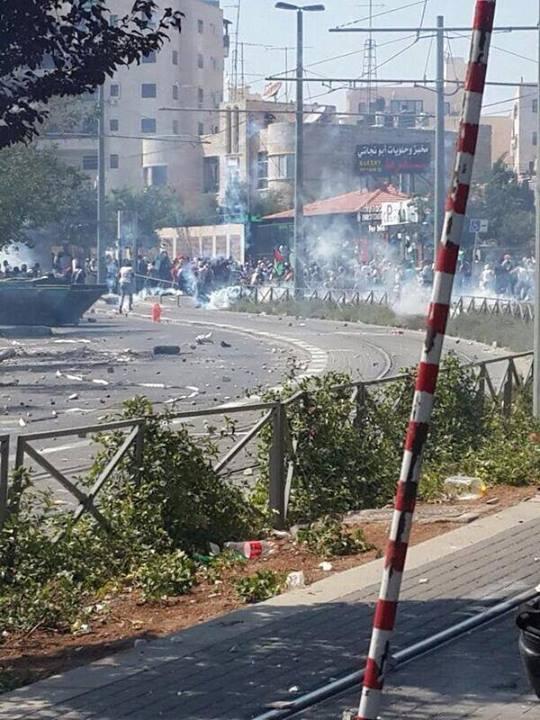 It is to be expected of these savage ones who would burn and blow up a child with petrol to such a degree that he is no longer recognizable.
Yet, the perpetrators can be recognized. Here are two of the rabid Zionist extremists captured on CCTV images:
The images prove that the act was fully planned. It was an act of premeditated, ritual murder by murderous Zionist Jews:
As he gives the signal, the hand to the ear and then the arm launched out, which he does repeatedly, the kidnapping car moves away from the curb towards the unsuspecting Abu Khdeir. It truly is the epitome of bestiality, this act committed by these Zionist hideous ones.
A variety of Mahyudi monsters, such as these treacherous ones, had taken to social media to encourage great hatred against an entire race of people – yet, it was not merely hatred but was, rather, incitement to further and further violence:
These arch-Zionists gloated in it, and many smiled and smirked as they called for the extermination of a people.
Initial autopsy findings from the body of an east Jerusalem youth who Palestinians believe was kidnapped and killed by far-right Jews showed that he was burned alive, the Palestinian attorney-general is reported as saying.
"The direct cause of death was burns as a result of fire and it's complications," Mohammed Al-A'wewy was quoted as saying by Palestinian official news agency Wafa late on Friday.
In fact, he wasn't merely set on fire but was, more diabolically, consumed by it – from the inside-out. The Jews turned this innocent, God-fearing youth into a human petrol bomb, then detonated him by setting him on fire. He was exploded to death rather than burned to death, as the image makes clear.
The soot in the lungs wasn't from inhaling residues of fire but was, rather, from the burning internally of the gasoline, of which he was force-fed.
He was picked on not only because he was Palestinian but also because he was weakly. Once again, it is proven that despite all their armaments and murderous devices the Jews are terminal cowards.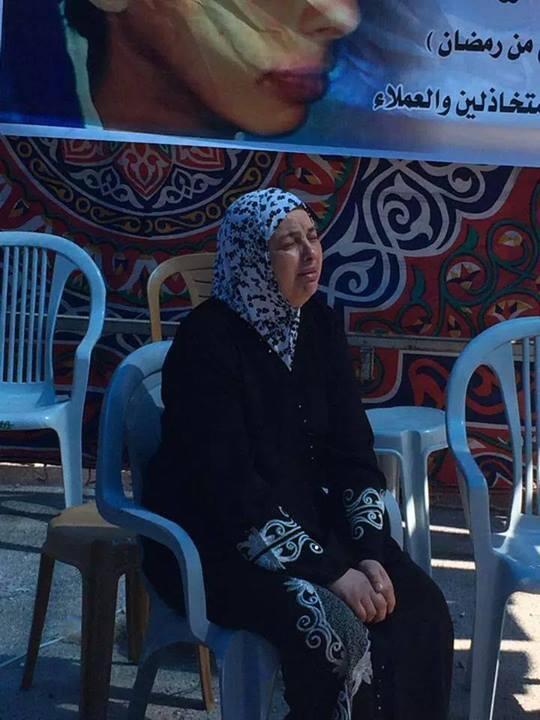 'We could not be given big enough hearts to absorb all this hardship.'
Relatives of the deceased in California grieve in preparation for a memorial. Truly, the boy and his family are loved greatly by many.
Photo credit: Jose Luis Villegas,  [email protected]
It wasn't enough that they had to destroy this one youth of the Abu Khdeir family. The Zionists attacked and brutalized another family member, 15 year-old Tareq Abu Khdeir:
Muhammad Abu Khdeir was martyred while still a hopeful, vital youth through ritualistic murder. There was no basis for this murder as a result of vengeance. There was nothing to be vengeful about, since the kidnapping was a categorical hoax.
These Jews murdered this youth for a thrill. There will be no justice against them, because they reside in the realm of ultimate injustice, the Apartheid Israeli regime.
UPDATE from an Israeli source:
The car then traveled at great speed in the direction of French Hill, ran a red light and continued to speed toward the Jerusalem Forest. According to Google Maps, when the roads are clear it takes just 12 minutes to drive from the mosque in Shoafat to the place where Abu Khdeir's body was dumped. The teen's family notified police immediately, who traced his phone and found his burnt body about an hour later.…
http://failedmessiah.typepad.com/failed_messiahcom/2014/07/who-murdered-16-year-old-mohammed-abu-khdeir-more-and-more-it-looks-like-right-wing-jews-did-678.html
Sources:
http://www.jpost.com/National-News/Autopsy-finds-murdered-Palestinian-teen-was-burned-alive-361571
http://www.nytimes.com/2014/07/03/world/middleeast/israel.html?_r=0
Share
About Author
(49) Readers Comments