Role of the Mossad in Peshawar Terror Attack
UPDATED, Dec. 19, 2014
Was the mayhem, injuries, and deaths at the Peshawar-area military school rather than an act of Muslim extremists a plot of the Mossad? It was strictly the Mossad and its assets which was responsible for the Mumbai carnage; there was no Islamic 'plot' of any kind. The Israeli Secret Intelligence Services (ISIS) have a long history of mass slaughter of innocents, particularly in India and Pakistan. Moreover, it is high time for the Zionists to actually slaughter people after committing endless numbers of hoaxes, where the killing was faked.
It was blamed on Islaam at least by proxy through invocation that it was an act of supposedly extremist Muslims, named as "Pakistani Taliban." Yet, this was a senseless killing, true debauchery. People who had no means to defend themselves were brutally murdered, others injured.
Make no mistake about it certain individuals, apparently gunman, were shot and obvious shot dead. Entrance bullet holes can be seen on their bodies in the videos. Thus, there was real gunfire, real killing, occurring in the Pewshawar-area school, in what was surely horror zone.

Caption: Two abdominal entrance wounds seen from gunshot injury; the man dies shortly thereafter.
Even so, it is not plausible that Islaam to any degree was behind this carnage. This faith bans the slaughter of innocents and absolutely bans the killing of women and children as well as teachers, instructors, and clergy. For anyone who knows even the most minimal bit of this faith to kill even one such person, and particularly to murder a child, sends shivers down the spine. The mind of a Muslim cannot even fathom it or consider it to even the most minimal degree. Moreover, to shed the blood of nearly 150 children plus teachers: it is completely untenable.
The Qur'aan categorically bans such acts, and there is no wiggle room. There can be no excuse, no cause, for a faith-minded Muslim to even consider murdering school children, even if such a one is a victim of such acts, as is surely true of the people of Afghanistan.
It must be kept in mind that in regard to hard proof it is the people of Islaam who suffer such losses: routinely. The bombs of Western powers do not differentiate. These bombs slaughter all manner of people, seemingly with specificity against children, the elderly, and women. Moreover, through these acts the culprits, that is the perpetrators, can be readily proven: as Israeli, American, British, Canadian, or other soldiers and their commanding elements.
Can the same be said, here? It cannot be said so. It is not known who is behind the actual murderers. The activity, though, of the Mossad in the area is highly suspect. In contrast, there was no advance activity of Islamic individuals in the months prior that could tie any such persons to a plot. The Zionists perpetrated Mumbai. They are thus the presumed force/culprits behind this horror, too, unless proven otherwise.
Who, then, is specifically responsible for the slaughter of Pakistani innocents? Once again, it surely isn't an Islaamic group. The murderers were hired to commit this high crime.
Notice the tattoo impressed into the back of one of the murderers. It is a skull with wings.
Such disfiguring of the body is banned in Islaam. It is virtually unknown for devout Muslims to bear tattoos, let alone ones of this nature. To use a skull in this fashion would be considered sacrilegious, if not outright evil.
Therefore, this clique of terrorists are unassociated with Islaam and are instead almost assuredly associated with arch-criminal groups such as the MI6, CIA, and Mossad. Too, a FBI connection to plots in the sowing of terror has already been demonstrated through the arrest of arch-Zionist mole Joel Cox, and this ties directly to the Peshawar area. In contrast, there was NO FINGERPRINT of an Islaamic group in the months prior to the massacre.
It is a mark of Satan; it has nothing to do with Islaam or Islaamic groups.
This is is one of the purported gunman. He does look like he is dying. Was he set-up, or did he commit any murders?
The fake killings have failed miserably. Now, it is time for the Zionist criminal elements to actually murder people: in large numbers, the larger the better. It can't be done, though, unless it is blamed on Islaam and/or Muslims. Otherwise, such slaughter serves little or no purpose. Moreover, if this mass slaughter fails to achieve arch-Zionist goals, then, what are the options and expectations? The Zionists will plot an even more horrific, even more dramatic, mass slaughter of innocents.

Cox, a Mossad infiltrator, was let go. Does that not prove who the Pakistani secret services work for? It certainly isn't the people of Pakistan.


He is a mole of mole, and he has no basis for such transport of ammo and knifes other than the perpetration of great terror: Mossad style.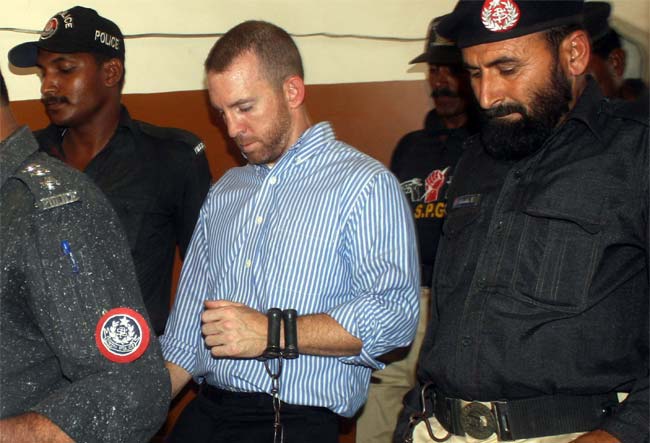 One of the most terminally rabid, arch-corrupt Zionist agents of all is the New York Times' and Wall Street Journal's Mathew Rosenberg. He is no doubt an pro-Israeli infiltrator, a paid agent of the spy agencies:
Because of his treachery Rosenberg has been forced out of Afghanistan. Here, it should be kept in mind that there is only one purpose of such a hedonistic Zionist to be a fixed element in a Muslim country, and that is acting in the capacity as a spy:
A few years earlier In 2009 it was reported by TheNation that agents of notorious spy agencies (that is the Mossad and MI6) were using journalistic cover to engage themselves in intelligence activities in NWFP and FATA. To the surprise and shock of many, top bosses of Federally Administrated Tribal Area (FATA) Secretariat were allegedly feeding these journalists with secret reports and information regarding Pak Army and militant groups operating there.
Matthew Rosenberg, South Asian correspondent of Wall Street Journal, had been spotted travelling frequently between Washington, Islamabad, Peshawar and New Delhi. His frequent and secret meetings with Secretary Law and Order FATA Secretariat, Capt (Retd) Tariq Hayat Khan, and Additional Chief Secretary FATA, Habib Khan, have raised several questions.
Then, too, there is that arch-criminal Dawood Ibrahim (David Abraham), who is directly implicated in perpetrating great acts of terror. It is well established, for instance, that Ibrahim played a key role in orchestrating the Mumbai mass carnage.
'CIA asset' Dawood Ibrahim is the top gangster in Pakistan and in India. 
Zionist mole and arch-gangster Ibrahim likely played a role in coordinating this hit.
In the Peshawar terror attack how many people really did die and were wounded? Were any crisis actors added to the mix, since there is an element of hoax, here, which is that this was, somehow, an Islamist attack. Note the smile on the man who was moving this youth on the gurney.
He may have thought he was off-camera. This is a serious debacle. What is the smile all about? This could be just an unexplainable coincidence. Even so, this student has what appears to be a gunshot wound to the chest; the chest area is blood-soaked.
Then, what about this is real, and which element has been falsified, staged? What is staged, or fabricated, is not the massacre itself but, rather, the claim that an actual Muslim group, that is a group of people motivated by their faith, perpetrated this massacre. It is simply not plausible, as the faith of Islaam categorically bans the slaughter of innocents, particularly the killing of children and women.
BANNED, BANNED, BANNED: No Muslim person or group could commit this carnage and even to the most remote degree justify it.
By no means could a devout Muslim commit such an act, even if such a one is suffering under dire oppression.
This is evidence of the mayhem and destruction which occurred, as well as the senseless injuries and killings, which is a laceration over the child's eye. The child was being rushed for medical care:
What really happened in the Peshawar-area school? Was such a massive number of children and teenagers really lost? This would be a monumental catastrophe. Even the loss of a single child would horrific, considering the suffering the family wound endure. But 141? How is that possible? Was there not even a few guards in the area that would have effectively fought back?
Murdering a number of Muslim adults may not have brought much world attention; in fact, some people would relish in it. However, slaughtering children would surely grab the entire world's focus.
"From God do we come and to Him do we return." Anyone who is murdered by such Mossad plots will never suffer in any fear or remorse. Moreover, all family members must know that the Peshawar strike is a plot by the great arch-Zionist global powers. Islaam had nothing to do with it.
Islaam, really, and Islaamists: honestly? They went out and murdered 141 8- to 18-year olds in cold blood who could in no way defend themselves? They simply killed a bunch of children and youths, hunting them down like wild animals? Muslims, really?
Share
About Author
(69) Readers Comments