The CNN Fake Massacre Photos – DHS Mole Detected
Note: new finding, DHS mole detected at fake Boston bombing site by embossed emblem on shirt.
Here are the CNN Fake Massacre Photos for your reivew. They are highly revealing in a number of ways. Commentary will follow as soon as possible.
Source: http://www.cnn.com/2013/04/15/us/boston-marathon-explosions
Editor's note: More commentary later, as these photos will be analyzed. Your comments and links will be appreciated.
Evidence of DHS control and involvement, per psyops news (CNN):
Rep. Bill Keating of Massachusetts, meanwhile, said two more were found.
One unexploded device was found at a hotel on Boylston Street near the bomb site and another unexploded device was found at an undisclosed location, Keating, a Democrat and member of the House Homeland Security Committee, said. He called the bombing a "sophisticated, coordinated, planned attack."
Note: the whole article is filled with lies, and many of the key scoundrels behind this act are revealed by-name, including numerous Zionist moles. Here are the photos provided: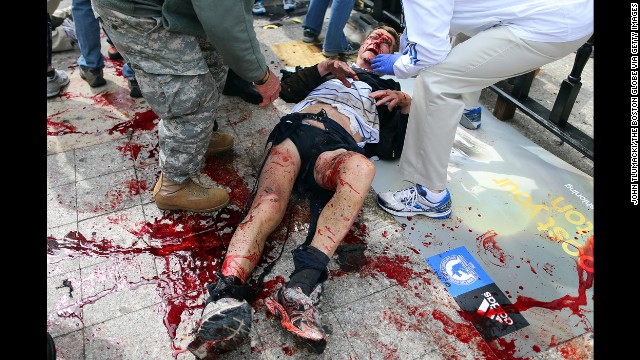 Note that there is what appears to be blood on this individual but no evidence of lacerations.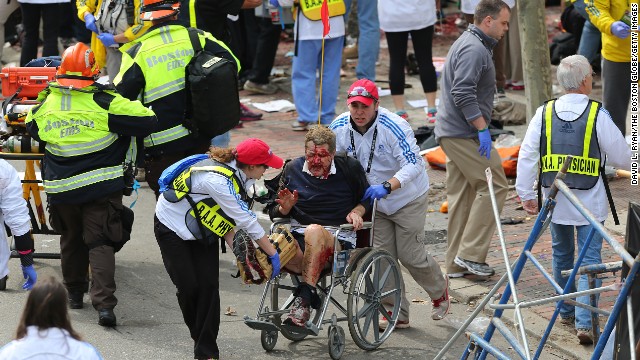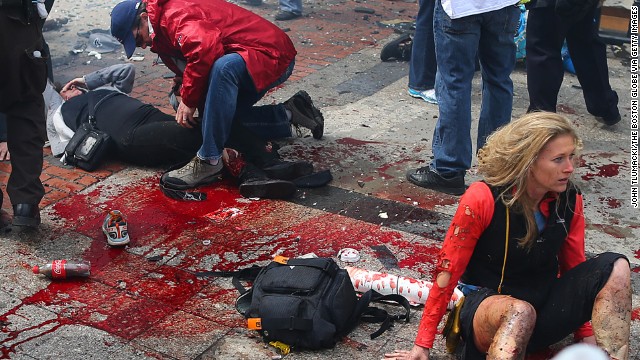 More blood but no obvious wounds. Woman in the red and black outfit holds same position for many minutes. Has filth or other matter on her legs, holes in her shirt, but no bleeding wounds.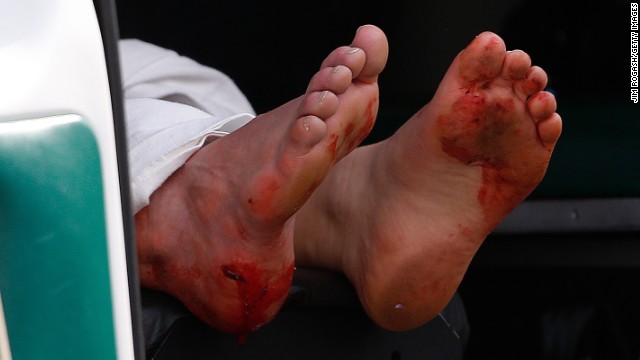 The CNN caption for this was "blood-stained feet." That they seemed to have gotten partially right; there are merely stains, no wounds, but there is no evidence that this is blood.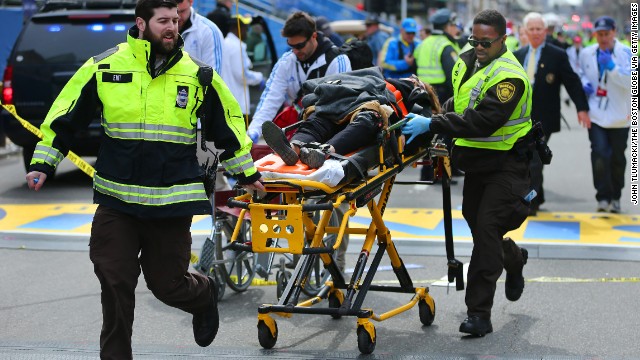 Woman with what appears to be a knee injury, again, no obvious bleeding. One of the few people who was actually rendered recumbent.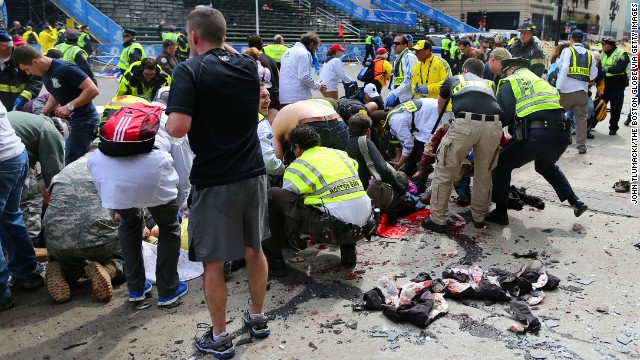 Looks horrible but up-close inspect will reveal the fakery.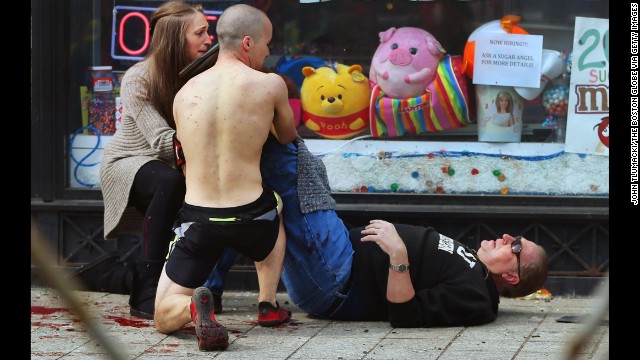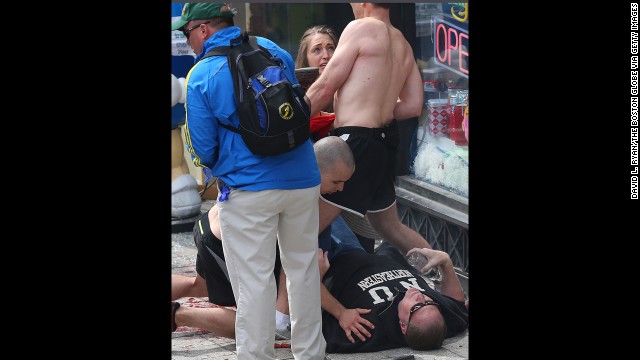 This man is a fake victim. DHS (taxpayer)-supplied water bottle in-hand. Careful analysis of this from various vantage points will prove it. They are applying a fake tourniquet with a scarf. Where are the real emergency care workers? Marathons contain legions of them.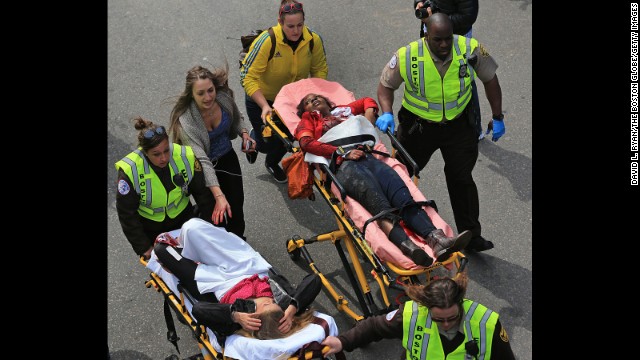 Two fake victims in a row.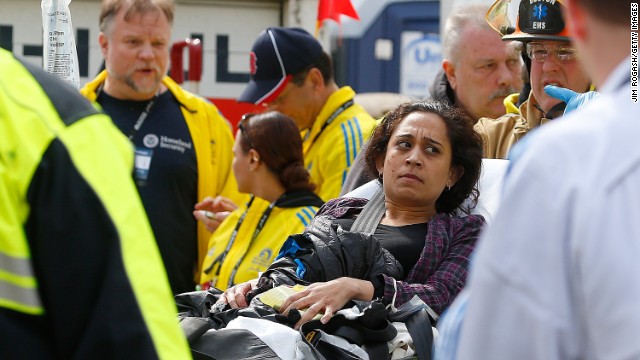 Zoom in closely to this. What do you see?
It's as expected a DHS mole. Note the blue badge; different colors, different roles. The whole operation was run, incredibly, by the so-called federal goverment, paid for by American taxpayers. Here is the code which identifies these moles, useful, especially if all that is visible is the color of the badges:
An area infested with various Zionist operatives masquerading as DHS agents and play actors, all working for the same Great Satan: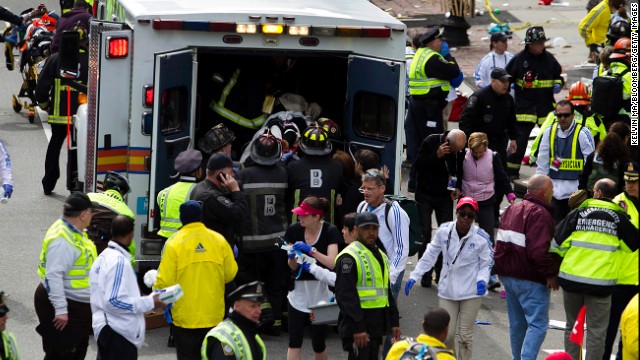 More moles and operatives, as well as fake injured.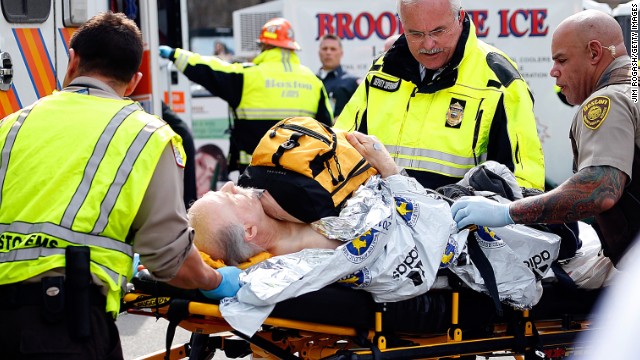 Acclaimed by CNN as an active runner in the Marathon, this cannot be. No runners were injured with bloody injuries. This is a total fake.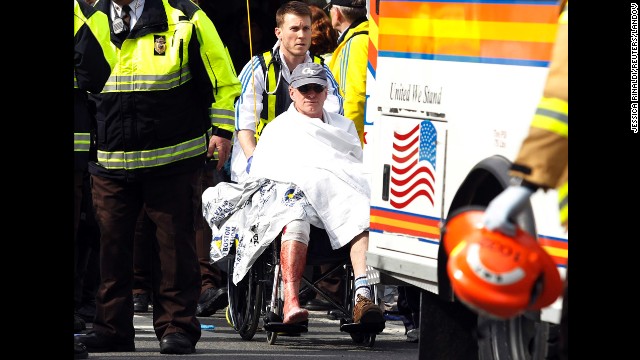 More fakery. Notice the flag bag for effect.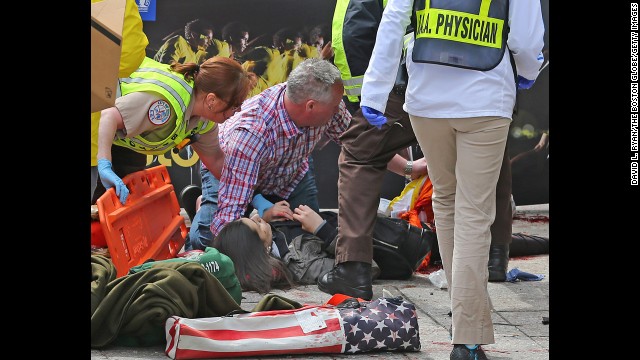 See something? CNN blocked out the face of one of the individuals with a Red triangle is merely a flag (correction).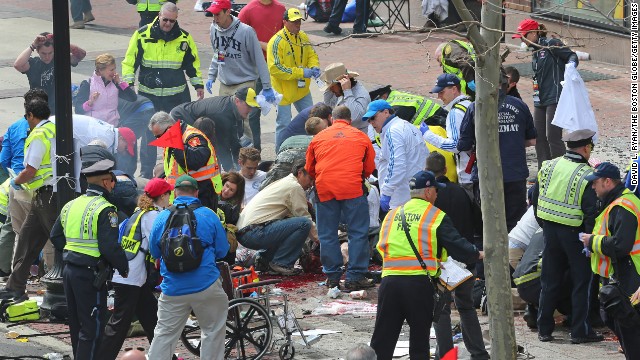 This woman is also an actor: fake injury, once again.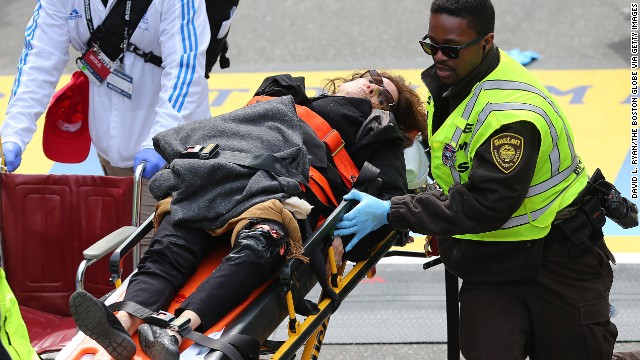 Fake smoke and dust bomb. Jungle Surfer was first to discover another crucial finding: the area of the smoke-dust is empty. It must have been corydoned off from the beginning. After all, as can be seen by the downed runner, this is the area of the initial bomb. Where are the people?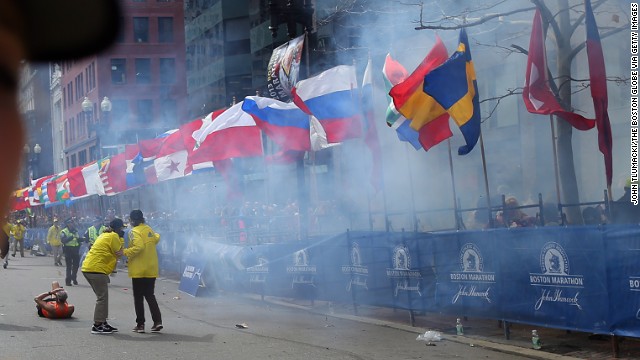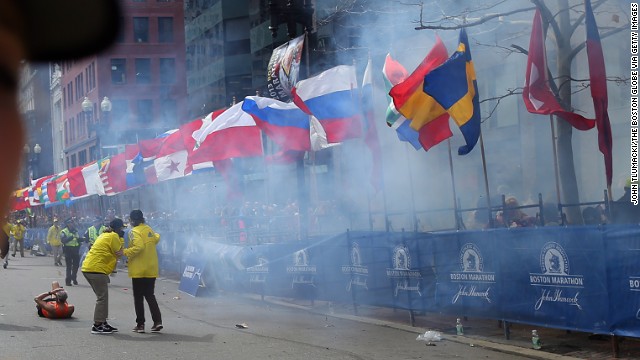 Post-Hollywood skit scene before the street cleaners got to it.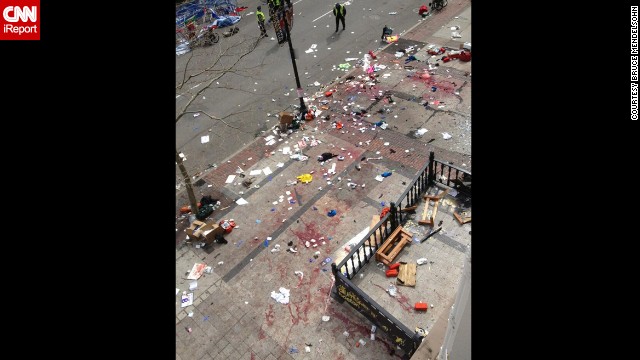 Another DHS agent representing a bit of fake pain before the cameras: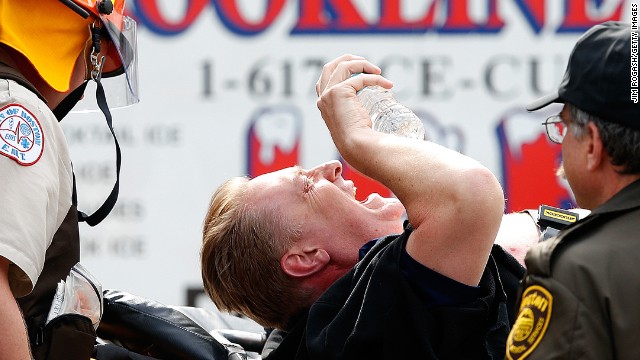 Share
About Author
(18) Readers Comments