Truck Attack in Sweden is Not Very Real with Not So Horrific Fatalities
Updated, April 08/2017, 11:00 CST, again, 4-11-17
Newly Updated, fully corrected: There are many suspect elements of the Sweden event which are now being more thoroughly analyzed. Thanks to the updates from numerous posters the information in this post is now under intensive scrutiny. Expect an updated post shortly. Therefore, the conclusions of this article cannot be certain and may be erroneous. We got trolled and made an error is now confirmed. Moreover, our posters were right to call it a hoax from the beginning, and the the fluctuation in position, here, was merely an error in analysis, being fooled by CGI and fake gore.
Initial confusion was admittedly related to the video, below, which shows, apparently, people running for their lives into stores with images of a truck in pursuit. This is now being analyzed more thoroughly. This means that the following may be largely incorrect; note the x'd out sections.
Nodisinfo issues an apology of the deepest degree for errors in the original post. Because these errors are wrong and potentially hurtful, they have been corrected and removed. This is an attempt to make amends for the great error, alerted by a poster, as well as avoid the dissemination of wrongful information. This Website is dedicated to not spreading misinformation to any degree, and, so, when errors are made, they are corrected. In this regard this truck attack is very real with real fatalities and injuries, unlike the original assessment, which was completely erroneous.
It is true that the truck or car attacks in Nice, Westminster, and Munich were faked, which is obvious from careful scrutiny. Those attacks are being leveraged, as if this is a global trend. This could lead to so-called copy cat attacks. However, the attack in Sweden is real and treacherous. The truck sped down the street, striking and killing people. It was barbaric to the extreme, where people were maliciously run down and killed by a truck-driving madman. As a result, there was  great fear and panic, because people were actually run over and crushed to death. Per CNN:
According to CNN:
The attack happened just before 3 p.m. local time. Eyewitnesses reported seeing the beer truck speeding along Drottninggatan before it crashed into the front of a department store. The company that owned it said it had been hijacked as it made a delivery nearby. The nature of such an act must thoroughly be investigated. What in the world is behind this? What was the motivation behind this terror? The world must join together to ensure that such an act never again occurs.
According to eyewitness Veronica Durango, the driver "put his foot on the gas and ran through the crowd." That can be seen clearly, as below, from the CCTV camera capture:
Here is the footage that is used as the basis for this claim. Yet, upon careful scrutiny it can be found that it is not completely real but is staged, the truck apparently being added in at the precisely correct time via CGI, that is to create a sense of realism:
"
This gives the appearance of a truck speeding by, with people running for their lives to avoid it.
There is a great appearance of realism, movie-like, in such imagery, which does show real people running about, looking back towards the area of the truck's approach. It could have actually been a real truck, though spliced in, the running in panic being done at a different time.
Notice how the clothes fly up on the rack, that is in reaction to the by-passing vehicle. There is no way to fake this. That means that the truck imagery was real, since only motion from a speeding vehicle is likely to do this at that specific timing. Even so, never is there any imagery or CCTV showing anyone being struck by such a truck. This means the claims of the truck-related fatalities and injuries are suspect.
It is also reported:
"He came from Olof Palmes Street and drove down to Drottninggatan," Durango told CNN in a phone interview.
"It was like he was driving through paper. It's like it was nothing. I can't even believe how a person could do such a thing. And then he just kept on going. I was in shock."
http://www.cnn.com/2017/04/08/europe/sweden-stockholm-truck-attack/
The claim is that the truck was hijacked, yet to be confirmed.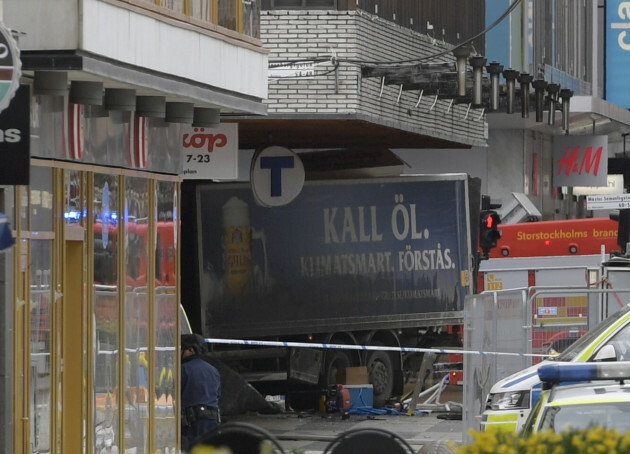 The fence was up in-advance. There was no initial crash-related smoke. Thus, pyrotechnic devices were used to mimic real fire and smoke.
The path of the truck can be seen, here. Is is said that it was a main pedestrian street and was full of people, but, once again, there is no confirmation of this. Fortunately, these people, alert to the rampaging truck, largely escaped:
The above is an image of the path taken by the truck before it struck the building. It would seem impossible that it didn't knock over the umbrella and/or the convenience food stand.
The right-sided tires spread blood over the street from those the truck had previously struck. The destruction is obvious. Nodisinfo issues the most extreme apologies to all for erring in this regard and, rather, fully supports the people of Stockholm in their loss. Surely, it is crucial to determine precisely what is the basis of this murder and if there are, besides the purported terrorist/driver, any additional accomplices.
The following image appears to be staged. Also, there is no way that the truck knocked over the cement statue, so this was turned over manually by the staging hands. It came from a different direction and couldn't have struck it.
It is true that there was no means to protect the people from such a horrific plot and scheme. The injured and dead are victims to true terror, where a vehicle was used as a murder weapon. The innocents were caught unawares by the rampaging truck, bent on killing perhaps as many people as possible. Some were simply run over and killed, may God have peace on their souls
It was wrong to call these graphic images, as it appears that these are not real people but are instead cadaver dummies, yet the site leaves in the original warning: (WARNING: Graphic image, below):
(The above image courtesy of one of our posters, graphic element blackened-out)
The truck, with vast weight and power and operating at a high speed, was sufficiently capable of splitting peoples' limbs off, but would it appear, as advertised? Regardless, once again, it is good Samaritans that are dealing with the 'injuries.' Wouldn't they be horrified by dismembered limbs? There is little to no bleeding from these limbs, which makes no sense.  Imagery of a person actually being struck by the vehicle would give credence to the claims.
The image of the deceased dog (or is it a dummy?) is added in for those who might question this act:
Was this man hired to do this? Was he high on drugs? There has to be a reason which explains his vile actions. Regardless, he was intent on killing as many people as possible, then, attempting to get away with it. In fact, it can be seen by the pathway of the treacherous driver that the people were clearly targeted. As people cleared the street he drove towards them.
Here is the truck, which apparently caught on fire after crashing into the building. It looks more like an attack by a pyrotechnic device.
Even so, it is said:
Eyewitnesses reported fatalities in the street, with dismembered bodies. People were murdered senselessly. Our support to all in Sweden for suffering from this horrible crime.
Sources:
http://www.thecourier.com.au/story/4585024/sweden-has-been-attacked-truck-driven-into-people-on-crowded-stockholm-street/
Share
About Author
(56) Readers Comments