Turkish Government Commits Fake Ankara Terror as Cover Up for Failed ISIS Enterprise
Repeatedly, the US- and Zionist-controlled Turkish government commits fake terror attacks, largely in its home base of Ankara, as a cover-up and arch-ruse in relation to its failed pro-Zionist ISIS enterprise.
It chose the wrong side, one of evil and terminally vile corruption, which never sees any progressive end.
Sure it was, right. The Syrians did it. Oh, wait a minute, it was the Kurds. Oh, and, right, it was suicide bombers or a car-bomber, so there's no way to 'catch' or 'interrogate' those terrorists. What perfect timing it is to go and invade or bomb someone, wildly, no doubt, all on behalf of the government's arch-Zionist masters. Regardless, who in the world believes such nonsense?
Note: it's a very poorly contrive hoax. See the fact that the pyrotechnic fires are not anywhere near the bus. Nor are they arising from within it or in front of it. The Zionist-controlled Turks should stay out of the hoax business. They are very bad at it.
ISIS, ISIL, IS, or whatever the Israeli (fake) State wants to call itself – whatever in the world it is it is all a mere smoke-screen, a false front, as Hezbollah deems it, a mere "paper tiger." Regardles, it's pure treachery, of this no one can be in doubt.
It was staged, this presumed Feb. 18 attack, right there in Zionist-occupied Ankara, right near the Turkish parliament:
It all occurs in full view of the photographers, who garner first-class images. Yet, what is seen in these images? Let us have a close-up view:
It is hard proof of staging. That glass has been popped out of that bus from the inside-out. The glass is there nice and neat. There is no bomb going off in that bus. How did the glass get there unless it was popped out? This type of hoaxing has been seen before, that is where the glass is expected to be blown in by the nature of the of the presumed assault or bomb-blast, yet, the opposite is seen. Now, what shall the Turks say, that there was a bomb inside the bus?
It has no relevance to the explosion. It's done for the cameras for international consumption, make no mistake about it.
Who is this man on the ground? What is he doing there? How did he get there next to the fencing or whatever it is? Is he the fake bus driver? Is he the same man who is being photographed as if he is wounded in the hospital, the one who was visited by Erdogan?
He crawled a long way from that pyrotechnic fake bomb to get there. Now, he is the audience of Erdogan. No one can believe this is real.
It was, in fact, nothing other than a mere pyrotechnic display, fake and fabricated to the extreme.
It can be clearly seen that this is not a car bomb or anything similar to it. Regardless, where are the 28 dead and 61 injured? It adds up to 89. Who writes these plots, arch-Zionist agent Rothschild himself?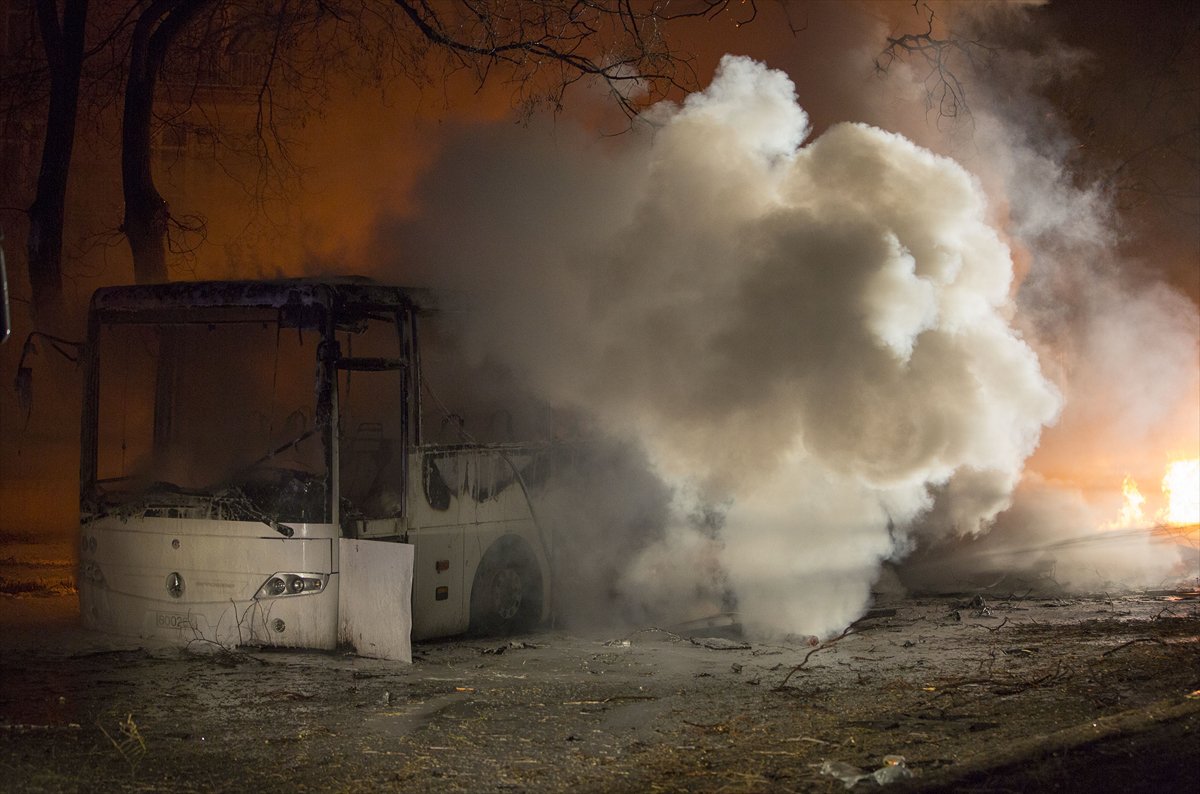 This is obvious pyrotechnics. At this point the Turks decided to blow out the tires. Why did they do that? Moreover, with all those firemen around why didn't they put out those flames? Now, it will take it more difficult to haul the carcass away. Make no mistake about it this is the same bus as was seen earlier at some distance from the fake wounded man:
You would have thought that those firemen could at least have prevented those tires from blowing out.
Regardless, once again, the fire doesn't relate to the bus. There is no way it could encroach upon it. This is a set-up; there can be no other conclusion. See also the lifting up of the coach luggage door. That could well be were the pyrotechnic devices will be exploded.
No doubt, the image below says it all; it screams fake to the most extreme degree.
NOTE: They have to guard the place with long-rifles, so no true investigative mind can evaluate the scene and determine its real nature: as an arch-fake.
Now, then, they show the world the morgue scene, which for 28 dead would surely be macabre. How horrific it would truly be. Then, why are these people fake crying? How much does the average Turkish woman receive to put on such a fake act?
Yet, it is said by the so-called "Local Editor," whatever that means:
A powerful explosion shook the Turkish capital Ankara on Wednesday as  a car bomb targeted a passing military vehicle.
AFP news agency reported that at least 28 people were killed and 61 others were wounded. Ambulances and fire brigade have been dispatched to the scene, AFP
Share
About Author
(39) Readers Comments