Two More Cosby Fraudsters Exposed Completely – Linda Brown and Lise-Lotte Lublin
Among the more obvious fraudsters who are claiming false witness are the fabricators Linda Brown and Lise-Lotte Lublin. Desperate for money they have taken cash bribes for their roles in this arch-scam.
Make no mistake about it there is no evidence that the claims of made by these women have any basis. How can anyone believe that they are representing the truth? By no means do their actions make sense. She is strictly reading from a script. While doing so she acts as if she is breaking down, but she is not; no tears of any kind are seen.
Now, see what happens. She gets a signal. That signal is to look into the camera for a clear shot. Yet, just before this she was acting it out as is she was too full of anguish to even survive.
Who in the world believes that real rape victims would dryly and casually speak this way, always reading from paper:
Dry, dry, dry as a bone, both in her aptitude and speech but also about her eyes.
In the process she clearly becomes frustrated at her next role in the script, and frustrated is the correct description. She could be seen to inhale and exhale in that frustration.
No wonder she had to get into character for the coming story line:
Obviously, Ms. Brown is not telling the truth, confirmed by her need to read from the script as if she was doing an acting role.
Next is Lise-Lotte Lublin, who claims a 1989 incident, making the actual claim in Feb. 12, 2015:
Like Brown, she acts as if she is dying in anguish but never seems, afterwards, the least bit distressed and surely never cries: ever.
When describing her interaction with Cosby she added that she requested if he would agree for her sister and mother to join them, at which time she shutters her eyes and breaks into a smile.
That claim appears to be related to the following photo, which appears to be manipulated or staged.
Lublin said her modeling agency connected her with Cosby when she was 23. She said the comedian invited her back to his hotel room for what he described as an audition, later asking her to put on an acting display.
She said the comedian then fixed her a shot of alcohol to calm her nerves. "I told him I did not drink, but he insisted, so I drank it … I trusted him because of who he was, and how well he was respected around the world," she said. "My next memory was waking up at home, and for me, it felt like several days had passed."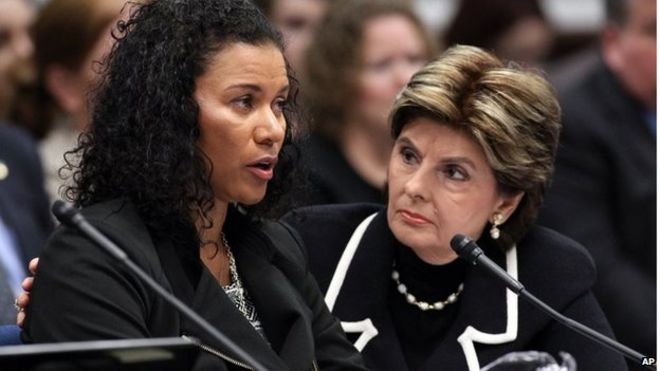 A woman who claims she was assaulted by Bill Cosby has asked law-makers in Nevada to repeal the statute of limitations on reporting such crimes.
Lise-Lotte Lublin says she passed out after the comedian gave her two alcoholic drinks in 1989.
She tried to file a police complaint in January after hearing similar allegations and concluding something had happened while she was unconscious.
Note: the entire issue appears contrived. Why attempt to create a police report only in 2015? Clearly, she is being used as an agent in the plot. She is now a political tool for so-called women's rights, all at the behest of feminist and known lesbian Gloria Allred. She is clearly driving it. Her presence as a political agent, a kind of feminist sledge-hammer, is exceedingly suspect.
But she was told victims were required to file a report within four years.
"I now understand that the law prevents the victim in my circumstances from seeking justice," she told a Judiciary Committee on Friday. "Why would the law want to prevent me from seeking justice?"
***
It's clear that this is mere posturing, a kind of distraction to take away from the real issue, which is that this is all a lie, fully staged. This brings the total number of proven fake accusers to some 10, nearly 25% of all those claiming allegations. Among these known falsifiers include Janet Dickinson, a woman called "Kasey," Linda Kirkpatrick, two people with unknown names, Sunni Welles, Lili Bernard, Cloe Goin, now adding Linda Brown and Lise-Lotte Lublin. That's ten down and 30 to go.
Sources:
http://www.bbc.co.uk/news/entertainment-arts-31896451
Share
About Author
(33) Readers Comments