Zionists Bomb Their Own Bus with Smoke Bombs Faking Suicide Bombing
In November 21, 2012, arch-Zionist criminal minds perpetrated yet another one of their standard acts, faking a bus bombing while blaming on Muslims or Islamic groups. It's a total fake, no doubt about it, easy to realize. This was done supposedly to 'derail' peace talks occurring through Egyptian and US power-brokers. More likely, it was a fraud to divert attention from high crimes being simultaneously committed by these treacherous elements.
It can be seen that this is merely a set-up with a pre-arranged, pre-damaged bus, while Zionist agents detonated smoke bombs about it. Does anyone see even the slightest evidence of a detonation on that bus, with fire or post-fire acrid fumes, with metal and other matter strewn about?
The phony attack occurred near a major military headquarters and was staged by elements of the Shin Bet and Mossad. Yet, it was said for purposes of mere propaganda:
"A bomb exploded on a bus in central Tel Aviv. This was a terrorist attack." A spokesman for Prime Minister Benjamin Netanyahu said. Israel holds Hamas responsible for all terror attacks emanating from the Gaza Strip, which it controls.
"We're talking about a terrorist organization [that carried out the attack]…We will continue to deal it severe blows but here and there it will succeed in carrying out attacks," said Internal Security Minister Yitzhak Aharonovitch.
Thus, this is merely a false front in order to justify aggression by the Zionist entity; at that time the criminal regime was committing military incursion into the Gaza strip. Thus, it is reported:
The attack happened on the eighth day of an Israeli offensive against the Gaza Strip which it launched (supposedly) with the stated aim of preventing rocket strikes from the Palestinian enclave.
Here is an image of the actual terrorist acts being committed at that time, and they were being exclusive enacted by Zionist agents:
With this manner of horror, this degree of treachery, and this method of fomenting destruction, surely the number of casualties suffered by unarmed, unprotected civilians was extreme. Per Electronic Intifada there were a number of deaths, including fatalities in children, including the slaughter of infants, a specialty of filthy, criminally minded Zionist Jews:
The claim was that 21 people were injured. Yet, how could so many people be injured by pyrotechnic smoke bombs? What a litany of arch-cowards and fanatical elements they are. No one was injured of any kind. While these treacherous ones were claiming this they were wholesale slaughtering innocents:
See these cowardly Zionists and how they feign injury and/or shock. How were any of them wounded or injured even to the slightest degree?
Really, they endured a bomb-blast? Where is the evidence to even the most miniscule degree of even a scratch or a scrape? Absolutely no one was hurt. It was all staged as a plot to advance arch-Zionist schemes.
The Zionists even went so far as to claim that a person set off an IED on the bus, then, alternatively giving out the story line of a backpack planted, then saying someone 'tossed' a backpack onto or into it. The story changed repeatedly: all lies.
Sources:
http://www.theisraelproject.org/breaking-news-bus-bombed-in-tel-aviv/
https://electronicintifada.net/content/photos-israel-relentlessly-bombs-gaza-west-bank-protests-repressed/11901
After slaughtering innocents indiscriminately the Zionists committed a hoax, faking a bus-bombing attack. This is the standard of this crime syndicate, which is to commit great acts of treachery, while using deception to cover the crimes.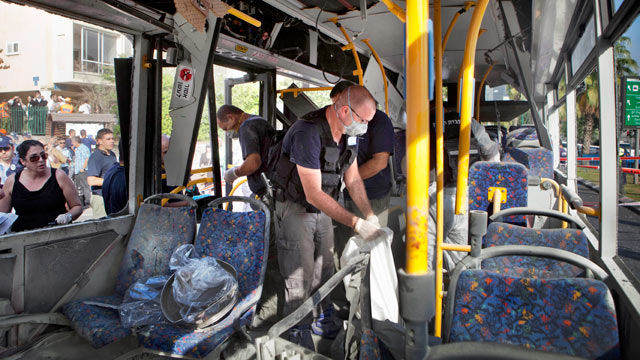 It can be seen that by no means did a bomb go off in that bus. There is no heat- or bomb-related damage of any kind seen, no char, no smoke damage, no explosives-related destruction. Bombs were being dropped by rabid Zionist extremists. Any reaction against this was a matter of self-defense. In this case it was nothing other than a ruse. There was no Palestinian attack against a so-called Israeli bus in November 2012.
See this Zionist treacherous one as she spews lies as further evidence of the degree of the scam. See her, too, in comparison to her victims, the mother, her loss, and the infant, sent to paradise with her lord, never even having a day to live a knowing existence in this life.
Let the entire world realize it. They are mass murderers by nature. The phony bus bombing was a mere distraction for their genocidal acts, which they had already committed and desired to continue to commit, with the full support of virtually all so-called Israeli citizens:
The plot was, in fact, a scheme to attempt to gain international justification for even further murderous acts, to set this as the basis for a ground excursion.
Share
About Author
(11) Readers Comments